Abstract
Although perigraft seroma (PGS) is a well-known complication of vascular surgery, optimal therapy has not yet been established. A 90-year-old patient underwent a bypass from the right subclavian artery to the left carotid and subclavian arteries for debranching thoracic endovascular aortic repair. Four years post-surgery, computed tomography revealed PGS at the anastomosis site. Percutaneous needle aspiration and surgical drainage were ineffective in treating PGS. We performed a relining procedure using covered stents for the bypass graft that resolved the PGS. This procedure is minimally invasive, avoids graft excision, and can be especially valuable for elderly patients.
Access options
Buy single article
Instant access to the full article PDF.
US$ 39.95
Tax calculation will be finalised during checkout.
Subscribe to journal
Immediate online access to all issues from 2019. Subscription will auto renew annually.
US$ 79
Tax calculation will be finalised during checkout.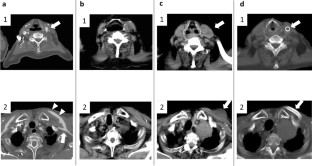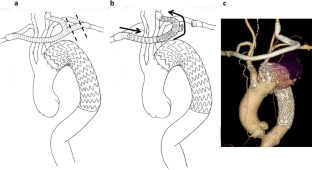 References
1.

Blumenberg RM, Gelfand ML, Dale WA. Perigraft seromas complicating arterial grafts. Surgery. 1985;97:194–204.

2.

Yamauchi T, Kubota S, Hagawa K, Suzuki A. Mediastinal perigraft seroma after repair of type A dissection with a polyester graft. Ann Vasc Surg. 2017;10:51–3.

3.

Salameh MK, Hoballah JJ. Successful endovascular treatment of aneurysm sac hygroma after open abdominal aortic aneurysm replacement: A report two cases. J Vasc Surg. 2008;48:457–60.

4.

Bissaco D, Domanin M, Romagnoli S, Gabrielli L. Perigraft seroma after extra-anatomic bypass: case series and review of the literature. Ann Vasc Surg. 2017;44:451–8.

5.

Ahn SS, Machleder HI, Gupta R, Moore WS. Perigraft seroma: clinical, histologic, and serologic correlates. Am J Surg. 1987;154:173–8.

6.

Kadakol AK, Nypaver TJ, Lin JC, Weaver MR, Karam JL, Reddy DJ, et al. Frequency, risk factors and management of perigraft seroma after open abdominal aortic aneurysm repair. J Vasc Surg. 2011;54:637–43.

7.

Goodney PP, Fillinger MF. The effect of endograft relining on sac expansion after endovascular aneurysm repair with the original-permeability Gore Excluder abdominal aortic aneurysm endoproshesis. J Vasc Surg. 2007;45:686–93.

8.

Lee MI, Shin WY, Choe YM, Park JY, Kim JY, Jeon YS, et al. Relining technique for continuous sac enlargement and modular disconnection secondary to endotension after endovascular aortic aneurysm repair. Ann Surg Treat Res. 2014;86:161–4.

9.

Lachat M, Toledo MR, Glenck M, Veith FJ, Schmidt CA, Pecoraro F. Endoluminal stent-graft relining of visceral artery bypass grafts to treat perigraft seroma. J Endovasc Ther. 2013;20:868–71.
Ethics declarations
Conflict of interest
The authors declare that no conflicts of interest exist.
Additional information
Publisher's Note
Springer Nature remains neutral with regard to jurisdictional claims in published maps and institutional affiliations.
About this article
Cite this article
Abe, S., Kamikubo, Y., Shingu, Y. et al. Endovascular relining of a Dacron graft for refractory perigraft seroma. Gen Thorac Cardiovasc Surg 69, 340–342 (2021). https://doi.org/10.1007/s11748-020-01430-2
Received:

Accepted:

Published:

Issue Date:
Keywords
Perigraft seroma

Covered stent

Relining procedure