Abstract
Removal of the infected prosthesis is considered an essential procedure in the treatment of prosthetic graft infection following cardiovascular surgery. Here, we present a case of left ventricular patch infection following repair of left ventricular rupture that was successfully treated by coverage with a latissimus dorsi muscle flap without patch removal. A 61-year-old man underwent double-patch repair for left ventricular-free wall rupture following posterior myocardial infarction. He underwent drainage and omental transposition with re-sternotomy for postoperative mediastinitis by Candida albicans, followed by pericardial fenestration via left thoracotomy for infectious pericarditis; however, left ventricular patch infection was detected. Considering the high invasiveness of a reoperation for patch removal, we preserved and covered the patch using a left pedicled latissimus dorsi muscle flap via left thoracotomy. The postoperative course was uneventful, and the patient was asymptomatic with no signs of recurrence at 30 months.
This is a preview of subscription content, log in to check access.
Access options
Buy single article
Instant access to the full article PDF.
US$ 39.95
Price includes VAT for USA
Subscribe to journal
Immediate online access to all issues from 2019. Subscription will auto renew annually.
US$ 99
This is the net price. Taxes to be calculated in checkout.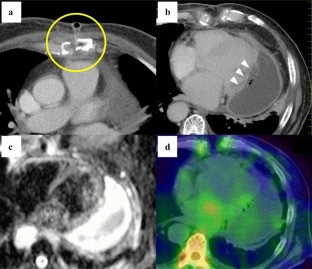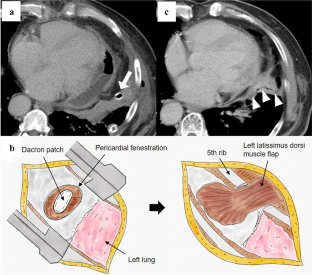 References
1.

Coselli JS, Koksoy C, LeMaire SA. Management of thoracic aortic graft infections. Ann Thorac Surg. 1999;67:1990–3.

2.

Hargrove WC III, Edmunds LH Jr. Management of infected thoracic aortic prosthetic grafts. Ann Thorac Surg. 1984;37:72–7.

3.

Calligaro KD, Veith FJ, Schwartz ML, Savarese RP, DeLaurentis DA. Are gram-negative bacteria a contraindication to selective preservation of infected prosthetic arterial grafts? J Vasc Surg. 1992;16:337–46.

4.

Darouiche RO. Treatment of infections associated with surgical implants. N Engl J Med. 2004;350:1422–9.

5.

Akowuah E, Narayan P, Angelini G, Bryan AJ. Management of prosthetic graft infection after surgery of the thoracic aorta: removal of the prosthetic graft is not necessary. J Thorac Cardiovasc Surg. 2007;134:1051–2.

6.

LeMaire SA, Coselli JS. Options for managing infected ascending aortic grafts. J Thorac Cardiovasc Surg. 2007;4:839–43.

7.

Fansa H, Handstein S, Schneider W. Treatment of infected median sternotomy wounds with a myocutaneous latissimus dorsi muscle flap. Scand Cardiovasc J. 1998;32:33–9.

8.

Dejesus RA, Paletta JD, Dabb RW. Reconstruction of the median sternotomy wound dehiscence using the latissimus dorsi myocutaneous flap. J Cardiovasc Surg. 2001;42:359–64.

9.

Taguchi S, Mori A, Suzuki R, Ishida O. Technique for using pedicled latissimus dorsi muscle flaps to wrap prosthetic grafts in an infected thoracic aorta. Ann Vasc Surg. 2013;27:1223–7.

10.

Tizian C, Borst HG, Berger A. Treatment of total sternal necrosis using the latissimus dorsi muscle flap. Plast Reconstr Surg. 1985;76:703–7.

11.

Izaddoost S, Withers EH. Sternal reconstruction with omental and pectoralis flaps: a review of 415 consecutive cases. Ann Plast Surg. 2012;69:296–300.

12.

Owen K, Wilshaw SP, Homer-Vanniasinkam S, Bojar RA, Berry H, Ingham E. Assessment of the antimicrobial activity of acellular vascular grafts. Eur J Vasc Endovasc Surg. 2012;43:573–81.

13.

Leontyev S, Borger MA, Modi P, Lehmann S, Seeburger J, Doenst T, Mohr FW. Surgical management of aortic root abscess: a 13-year experience in 172 patients with 100% follow-up. J Thorac Cardiovasc Surg. 2012;143:332–7.

14.

Hostalrich A, Ozdemir BA, Sfeir J, Solovei L, Alric P, Canaud L. Systematic review of native and graft-related aortic infection outcome managed with orthotopic xenopericardial grafts. J Vasc Surg. 2019;69:614–8.
Acknowledgements
The authors would like to thank Enago (www.enago.jp) for the English language review.
Ethics declarations
Conflict of interest
The authors declare that they have no conflict of interest.
Additional information
Publisher's Note
Springer Nature remains neutral with regard to jurisdictional claims in published maps and institutional affiliations.
About this article
Cite this article
Mori, K., Furukawa, K., Ishii, H. et al. Successful treatment of left ventricular patch infection by latissimus dorsi muscle flap covering without patch removal. Gen Thorac Cardiovasc Surg (2020). https://doi.org/10.1007/s11748-020-01422-2
Received:

Accepted:

Published:
Keywords
Ventricular patch infection

Latissimus dorsi muscle flap

Xenopericardium