Abstract
Roentgenographically occult squamous cell carcinoma (ROSCC) was reported to have been cured after complete resection. We experienced unusual local and distant metastases after complete resection of a ROSCC of left B6 bronchus. During the operation due to the proximal bronchial stump being positive for squamous cell carcinoma (SCC), a left lower sleeve lobectomy was performed. Six years after the operation, a chest CT showed no abnormal shadows. 6 months later a PET-CT showed metastases on bilateral supraclavicular lymph nodes, mediastinal lymph nodes, and the right adrenal glands. A biopsy of the right supraclavicular lymph node revealed that it was a metastatic SCC. The possibility of recurrence from a second pulmonary SCC might still remain. A prolonged follow-up over many years is desirable for a heavy smoker with a ROSCC.
This is a preview of subscription content, log in to check access.
Access options
Buy single article
Instant access to the full article PDF.
US$ 39.95
Price includes VAT for USA
Subscribe to journal
Immediate online access to all issues from 2019. Subscription will auto renew annually.
US$ 99
This is the net price. Taxes to be calculated in checkout.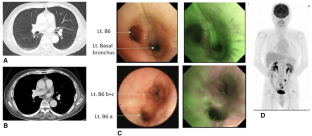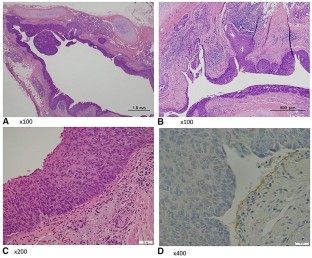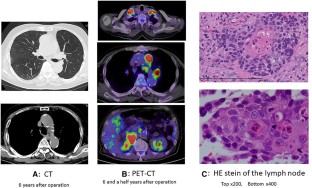 References
1.

Saito Y, Nagamoto N, Ota S, Sato M, Sagawa M, Karma K, et al. Results of surgical treatment for roentgenographically occult bronchogenic squamous cell carcinoma. J Thorac Cardiovasc Surg. 1992;104:401–7.

2.

Fujimura S, Sakurada A, Sagawa M, Saito Y, Takahashi H, Tanita T, et al. A therapeutic approach to roentgenographically occult squamous cell carcinoma of the lung. Cancer. 2000;89:2445–8.

3.

Mason MK, Jordan JW. Outcome of carcinoma in situ and early invasive carcinoma of the bronchus. Thorax. 1982;37:453–6.

4.

Usuda K, Saito Y, Kanma K, Sagawa M, Sato M, Nagamoto N, et al. Resected roentgenographically occult bronchogenic squamous cell carcinoma tumor size, survival and recurrence. Nihon Geka Gakkai Zasshi (Jap J Surg). 1993;94:631–6 (in Japanese).

5.

Miwa K, Fujioka S, Adachi Y, Haruki T, Taniguchi Y, Nakamura H. Mediastinal lymph node carcinoma of an unknown primary site: clinicopathological examination. Gen Thorac Cardiovasc Surg. 2009;57:239–43.

6.

Mason MK, Jordan JW. Carcinoma in situ and early invasive carcinoma of the bronchus. Thorax. 1969;24:461–71.

7.

Choi PJ, Jeong SS, Yoon SS. Prognosis of recurrence after complete resection in early-stage non-small cell lung cancer. Korean J Thorac Cardiovasc Surg. 2013;46:449–56.

8.

Matsumoto AJ, Schmitt AR, Skelley LM, Baum CL. Factors influencing squamous cell carcinoma in situ recurrence and implications for treatment choice. Dermatol Surg. 2018;44:613–20.

9.

Thompson AK, Kelley BF, Prokop LJ, Murad MH, Baum CL. Risk factors for cutaneous squamous cell carcinoma recurrence, metastasis, and disease-specific death: a systematic review and meta-analysis. JAMA Dermatol. 2016;152:419–28.
Acknowledgments
We are grateful to Prof. Sohsuke Yamada (Department of Pathology and Laboratory Medicine, Kanazawa Medical University) and Prof. Yo Niida (Center for Clinical Genomics, Division of Genomic Medicine, Kanazawa Medical University) for supporting this study.
We are grateful to Mr. Dustin Keeling for proofreading this paper.
Ethics declarations
Conflict of interest
The authors have no conflict of interest to declare.
Additional information
Publisher's Note
Springer Nature remains neutral with regard to jurisdictional claims in published maps and institutional affiliations.
About this article
Cite this article
Usuda, K., Iwai, S., Yamagata, A. et al. Unusual local and distant metastases after complete resection of roentgenographically occult squamous cell carcinoma. Gen Thorac Cardiovasc Surg (2020). https://doi.org/10.1007/s11748-020-01420-4
Received:

Accepted:

Published:
Keywords
Roentgenographically occult squamous cell carcinoma

Bronchogenic squamous cell carcinoma

Early invasive squamous cell carcinoma

Recurrence

Oncogene