Abstract
Objective
Regarding intraoperative complications and troubles during robot-assisted thoracic surgery, few data are available especially in Japan. This study was aimed to elucidate intraoperative complications and troubles in robotic anatomical lung resection, and to present managements and outcomes of those.
Methods
This was a retrospective singe-institutional study. The first 192 consecutive patients who underwent robot-assisted anatomical lung resection between January 2017 and August 2019 were evaluated. We examined the frequency, management and outcomes of intraoperative complications and troubles.
Results
Of the 192 eligible patients who underwent robotic anatomical lung resection, lobectomy was performed for 156 (81.2%), and segmentectomy for 36 (18.8%). Three (1.5%) required conversion to open thoracotomy. Of these, bleeding from the pulmonary artery was the cause in two patients (1.0%) and inflammatory adhesion of hilar lymph nodes in 1 (0.5%). Other intraoperative complications and troubles included bronchial injuries in 3 patients (1.5%), lung injury by assistant in one patient (0.5%) and horizontal movement limitation of da Vinci arm in one patient (0.5%). Regarding bronchial injuries, two of three were stump injuries related to stapling, the remaining was to dissection of the bronchial tissues. All bronchial repairs were completed without conversion, and postoperative complications related to bronchial injury were not observed. The 30-day and 90-day mortality rates were both 0%.
Conclusions
The frequency of intraoperative complications and troubles in robot-assisted thoracic surgery was low in our first series. All conversions were related to bleeding and impending bleeding, and no conversion was required for bronchial injury.
This is a preview of subscription content, log in to check access.
Access options
Buy single article
Instant access to the full article PDF.
US$ 39.95
Price includes VAT for USA
Subscribe to journal
Immediate online access to all issues from 2019. Subscription will auto renew annually.
US$ 99
This is the net price. Taxes to be calculated in checkout.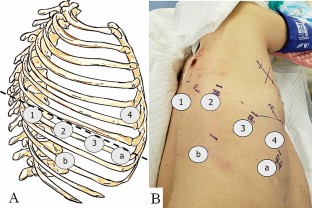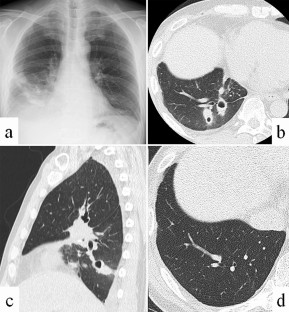 Abbreviations
RATS:

Robot-assisted thoracic surgery

MIS:

Minimally invasive surgery

VATS:

Video-assisted thoracic surgery
References
1.

Cerfolio RJ, Bryant AS, Skylizard L, Minnich DJ. Initial consecutive experience of completely portal robotic pulmonary resection with 4 arms. J Thorac Cardiovasc Surg. 2011;142:740–6.

2.

Cao C, Manganas C, Ang SC, Yan TD. A systematic review and meta-analysis on pulmonary resections by robotic video-assisted thoracic surgery. Ann Cardiothorac Surg. 2012;1:3–10.

3.

Cerfolio RJ. Total port approach for robotic lobectomy. Thorac Surg Clin. 2014;24:151–6.

4.

Kent M, Wang T, Whyte R, Curran T, Flores R, Gangadharan S. Open, video-assisted thoracic surgery, and robotic lobectomy: review of a national database. Ann Thorac Surg. 2014;97:236–44.

5.

van der Ploeg APT, Ayez N, Akkersdijk GP, van Rossem CC, de Rooji PD. Postoperative pain after lobectomy: robot-assisted, video-assisted and open thoracic surgery. J Robot Surg. 2019. https://doi.org/10.1007/s11701-019-00953-y.

6.

Infante MV, Benato C, Silva R, Rocco G, Bertani A, Bertolaccini L, et al. What counts more: the patient, the surgical technique, or the hospital? A multivariable analysis of factors affecting perioperative complications of pulmonary lobectomy by video-assisted thoracoscopic surgery from a large nationwide registry. Eur J Cardiothorac Surg. 2019;00:1–7.

7.

Wei S, Chen M, Chen N, Liu L. Feasibility and safety of robot-assisted thoracic surgery for lung lobectomy in patients with non-small cell lung cancer: a systematic review and meta-snalysis. World J Surg Oncol. 2017;15:98.

8.

Emmert A, Straube C, Buentzel J, Roever C. Robotic versus thoracoscopic lung resection: a systematic review and meta-analysis. Medicine. 2017;96:35e7633.

9.

Cao C, Cerfolio RJ, Louie BE, Melfi F, Veronesi G, Razzak R, et al. Incidence, management, and outcomes of intraoperative catastrophes during robotic pulmonary resection. Ann Thorac Surg. 2019;108:1498–504.

10.

Ramadan OI, Wei B, Cerfolio RJ. Robotic surgery for lung resections-total port approach: advantages and disadvantages. J Vis Surg. 2017;3:22.

11.

Suzuki K, Saji H, Aokage K, Watanabe S, Okada M, et al. Comparison of pulmonary segmentectomy and lobectomy: safety results of a randomized trial. J Thorac Cardiovasc Surg. 2019;158:895–907.

12.

Decaluwe H, Peterson RH, Hansen H, Piwkowski C, Augustin F, Brunelli A, et al. Major intraoperative complications during video-assisted thoracoscopic anatomical lung resection: an intension-to-treat analysis. Eur J Cardiothorac Surg. 2015;48:588–98.

13.

Cerfolio RJ, Bess KM, Wei B, Minnich DJ. Incidence, results, and our current intraoperative techniques to control major vascular injuries during minimally invasive robotic thoracic surgery. Ann Thorac Surg. 2016;102:394–9.

14.

Louie BE. Catastrophes and complicated intraoperative events during robotic lung resection. J Vis Surg. 2017;3:52.
Funding
This study was supported in part by a Grant-in-Aid for Cancer Research from the Ministry of Health, Labour and Welfare of Japan.
Ethics declarations
Conflict of interest
We have no conflict of interest.
Additional information
Publisher's Note
Springer Nature remains neutral with regard to jurisdictional claims in published maps and institutional affiliations.
About this article
Cite this article
Ueno, H., Watanabe, Y., Hirayama, S. et al. Intraoperative complications and troubles in robot-assisted anatomical pulmonary resection. Gen Thorac Cardiovasc Surg (2020). https://doi.org/10.1007/s11748-020-01419-x
Received:

Accepted:

Published:
Keywords
Intraoperative complication

Robot-assisted thoracic surgery

Anatomical lung resection