Abstract
Background
Minimal Invasive Direct Coronary Artery Bypass Surgery (MIDCAB) is becoming popular and an important armamentarium for cardiac surgeons. We aimed to evaluate the result of MIDCAB total arterial revascularization.
Methods
We have evaluated 216 patients who underwent MIDCAB multivessel total arterial revascularization through a left anterolateral mini thoracotomy. LIMA harvested in every patient, RIMA or radial artery used as second conduit. LIMA-RIMA Y or LIMA-RADIAL Y was made to accomplish multivessels total arterial revascularization. Post-operative graft patency was evaluated in all patients by CT coronary angiography at 6 months following discharge.
Results
Mean age of patients was 52.5 ± 9.8 years. Average number of anastomosis performed were 2.34 ± 0.75. Multivessels total arterial CABG was accomplished in all individuals. There was no mortality or deep wound infection. Re-exploration was done in two patients for bleeding. In one patient emergency CPB was required. Average ICU and hospital stay was 1.52 ± 0.77 and 4.92 ± 1.46 days, respectively. Patients were mobilized earlier due to less pain. Wound healing of anterolateral thoracotomy was faster. In the follow up CT angiography 100% of the LIMA grafts were patent.
Conclusions
Multivessels total arterial MIDCAB can be accomplished safely in selected individuals. RIMA can be harvested in long standing diabetic patients with no concern for sternal wound healing. MIDCAB patients experience better cosmetics and early return to daily activities.
This is a preview of subscription content, log in to check access.
Access options
Buy single article
Instant access to the full article PDF.
US$ 39.95
Price includes VAT for USA
Subscribe to journal
Immediate online access to all issues from 2019. Subscription will auto renew annually.
US$ 99
This is the net price. Taxes to be calculated in checkout.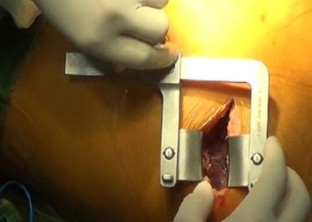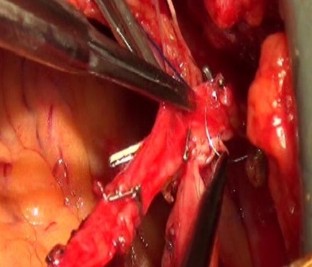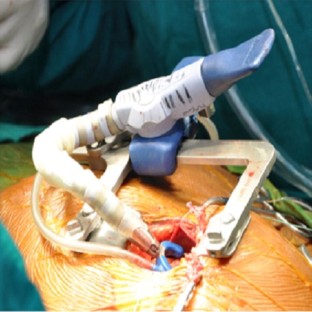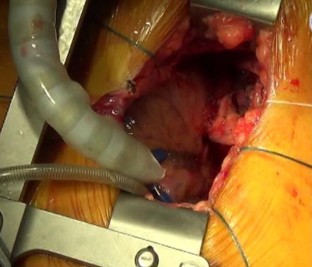 References
1.

Ko W, Tranbaugh R, Marmur JD, Supino PG, Borer JS. Myocardial revascularization in New York State: variations in the PCI-to-CABG ratio and their implications. J Am Heart Assoc. 2012;1(2):e001446.

2.

Jaffery Z, Kowalski M, Weaver WD, Khanal S. A meta-analysis of randomized control trials comparing minimally invasive direct coronary bypass grafting versus percutaneous coronary intervention for stenosis of the proximal left anterior descending artery. Eur J Cardiothorac Surg. 2007;31(4):691–7.

3.

Diegeler A, Thiele H, Falk V, Hambrecht R, Spyrantis N, Sick P, et al. Comparison of stenting with minimally invasive bypass surgery for stenosis of the left anterior descending coronary artery. N Engl J Med. 2002;347(8):561–6.

4.

Calafiore AM, Di Giammarco G, Teodori G, Bosco G, D'Annunzio E, Barsotti A, et al. Left anterior descending coronary artery grafting via left anterior small thoracotomy without cardiopulmonary bypass. Ann Thorac Surg. 1996;61(6):1658–65.

5.

Fitzgibbon GM, Kafka HP, Leach AJ, Keon WJ, Hooper GD, Burton JR. Coronary bypass graft fate and patient outcome: angiographic follow-up of 5,065 grafts related to survival and reoperation in 1,388 patients during 25 years. J Am Coll Cardiol. 1996;28(3):616–26.

6.

Bypass Angioplasty Revascularization Investigation (BARI) Investigators. Comparison of coronary bypass surgery with angioplasty in patients with multivessel disease. N Engl J Med. 1996;335(4):217–25.

7.

Mohr FW, Morice MC, Kappetein AP, Feldman TE, Ståhle E, Colombo A, et al. Coronary artery bypass graft surgery versus percutaneous coronary intervention in patients with three-vessel disease and left main coronary disease: 5-year follow-up of the randomized, clinical SYNTAX trial. The Lancet. 2013;381(9867):629–38.

8.

Pu A, Ding L, Shin J, Price J, Skarsgard P, Wong DR, et al. Long-term outcomes of multiple arterial coronary artery bypass grafting: a population-based study of patients in British Columbia, Canada. JAMA Cardiol. 2017;2(11):1187–96.

9.

Kofidis T, Chang GH, Lee CN. Establishment of a minimally invasive cardiac surgery programme in Singapore. Singapore Med J. 2017;58(10):576.

10.

Cosgrove DM III, Sabik JF, Navia JL. Minimally invasive valve operations. Ann Thoracic Surg. 1998;65(6):1535–9.

11.

Raja SG, Uzzaman M, Garg S, Santhirakumaran G, Lee M, Soni MK, et al. Comparison of minimally invasive direct coronary artery bypass and drug-eluting stents for management of isolated left anterior descending artery disease: a systematic review and meta-analysis of 7,710 patients. Ann Cardiothorac Surg. 2018;7(5):567.

12.

Raza S, Deo SV, Sabik JF III. On-pump total arterial revascularization. Ann Cardiothorac Surg. 2018;7(4):561.

13.

Raza S, Blackstone EH, Bakaeen FG, Ravichandren K, Tappuni B, Ahmad MA, et al. Long-term patency of individual segments of different internal thoracic artery graft configurations. Ann Thorac Surg. 2019;107(3):740–6.

14.

Glineur D, Boodhwani M, Poncelet A, De Kerchove L, Etienne PY, Noirhomme P, et al. Comparison of fractional flow reserve of composite Y-grafts with saphenous vein or right internal thoracic arteries. J Thorac Cardiovasc Surg. 2010;140(3):639–45.

15.

Maniar HS, Sundt TM, Barner HB, Prasad SM, Peterson L, Absi T, Moustakidis P. Effect of target stenosis and location on radial artery graft patency. J Thorac Cardiovasc Surg. 2002;123(1):45–52.

16.

Lingaas PS, Hol PK, Lundblad R, Rein KA, Mathisen L, Smith HJ, et al. Clinical and radiologic outcome of off-pump coronary surgery at 12 months follow-up: a prospective randomized trial. Ann Thorac Surg. 2006;81(6):2089–95.

17.

Ali JM, Wallwork K, Moorjani N. Do patients who require re-exploration for bleeding have inferior outcomes following cardiac surgery? Interact Cardiovasc Thorac Surg. 2019;28(4):613–8.

18.

Robicsek F, Fokin A, Cook J, Bhatia D. Sternal instability after midline sternotomy. Thorac Cardiovasc Surg. 2000;48(01):1–8.

19.

Harjula A, Järvinen A. Postoperative median sternotomy dehiscence. Scand J Thorac Cardiovasc Surg. 1983;17(3):277–81.

20.

Xu Yet al., MIDCAB versus off-pump CABG: Comparative study, Hellenic Journal of Cardiology, https://doi.org/10.1016/j.hjc.2018.12.004.
Ethics declarations
Conflict of interest
All authors declare that they have no conflict of interest.
Additional information
Publisher's Note
Springer Nature remains neutral with regard to jurisdictional claims in published maps and institutional affiliations.
Electronic supplementary material
Below is the link to the electronic supplementary material.
Supplementary material 1 (MP4 114610 kb)
About this article
Cite this article
Tiwari, K.K., Wadhawa, V., Jawarkar, M. et al. Total arterial multivessels minimal invasive direct coronary artery bypass grafting via left minithoracotomy. Gen Thorac Cardiovasc Surg (2020). https://doi.org/10.1007/s11748-020-01412-4
Received:

Accepted:

Published:
Keywords
Coronary artery bypass surgery

Minimal invasive direct coronary artery bypass surgery

Total arterial revascularization

Minithoracotomy

Percutaneous coronary intervention