Abstract
Endovascular repair can be an alternative to conventional surgery for arch and thoracoabdominal aneurysms; however, it has the limits of available stent-grafts in anatomy. We present the case of an 87-year-old woman who had dual aneurysms in the arch and thoracoabdominal regions. We considered that traditional open surgery was of extremely high risk, because she was an octogenarian and had multiple comorbidities. We successfully treated the aortic arch aneurysm and the thoracoabdominal aortic aneurysm using endovascular stent-grafts in a high-risk patient who was a poor candidate for the conventional open surgery.
This is a preview of subscription content, log in to check access.
Access options
Buy single article
Instant access to the full article PDF.
US$ 39.95
Price includes VAT for USA
Subscribe to journal
Immediate online access to all issues from 2019. Subscription will auto renew annually.
US$ 99
This is the net price. Taxes to be calculated in checkout.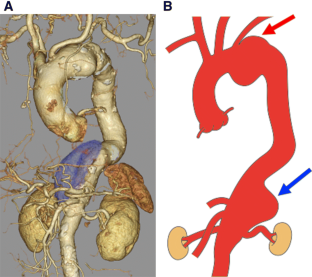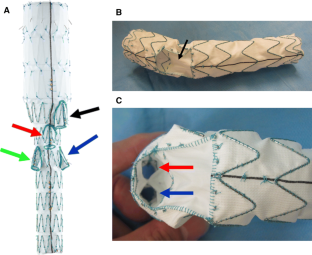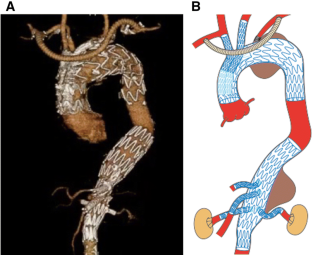 References
1.

Etz CD, Plestis KA, Kari FA, et al. Staged repair of thoracic and thoracoabdominal aortic aneurysms using the elephant trunk technique: a consecutive series of 215 first stage and 120 complete repairs. Eur J Cardiothorac Surg. 2008;34(3):605–14 (discussion 14-5).

2.

Murashita T, Matsuda H, Domae K, et al. Less invasive surgical treatment for aortic arch aneurysms in high-risk patients: a comparative study of hybrid thoracic endovascular aortic repair and conventional total arch replacement. J Thorac Cardiovasc Surg. 2012;143(5):1007–13.

3.

De Rango P, Ferrer C, Coscarella C, et al. Contemporary comparison of aortic arch repair by endovascular and open surgical reconstructions. J Vasc Surg. 2015;61(2):339–46.

4.

Milewski RK, Szeto WY, Pochettino A, et al. Have hybrid procedures replaced open aortic arch reconstruction in high-risk patients? A comparative study of elective open arch debranching with endovascular stent graft placement and conventional elective open total and distal aortic arch reconstruction. J Thorac Cardiovasc Surg. 2010;140(3):590–7.

5.

Svensson LG, Kim KH, Blackstone EH, et al. Elephant trunk procedure: newer indications and uses. Ann Thorac Surg. 2004;78(1):109–16 (discussion-16).

6.

Safi HJ, Miller CC 3rd, Estrera AL, et al. Optimization of aortic arch replacement: two-stage approach. Ann Thorac Surg. 2007;83(2):S815–8 (discussion S24–31).

7.

Preventza O, Garcia A, Cooley DA, et al. Total aortic arch replacement: a comparative study of zone 0 hybrid arch exclusion versus traditional open repair. J Thorac Cardiovasc Surg. 2015;150(6):1591–8 (discussion 8–600).

8.

Eagleton MJ, Follansbee M, Wolski K, et al. Fenestrated and branched endovascular aneurysm repair outcomes for type II and III thoracoabdominal aortic aneurysms. J Vasc Surg. 2016;63(4):930–42.

9.

Kanaoka Y, Ohki T. Midterm results of endovascular treatment for the patients with thoracoabdominal aortic aneurysms. Ann Vasc Dis. 2019;12(2):163–70.

10.

Verhoeven EL, Katsargyris A, Bekkema F, et al. Editor's choice—ten-year experience with endovascular repair of thoracoabdominal aortic aneurysms: results from 166 consecutive patients. Eur J Vasc Endovasc Surg. 2015;49(5):524–31.

11.

Mascoli C, Vezzosi M, Koutsoumpelis A, et al. Endovascular repair of acute thoraco-abdominal aortic aneurysms. Eur J Vasc Endovasc Surg. 2018;55(1):92–100.

12.

Riambau V. Application of the bolton relay device for thoracic endografting in or near the aortic arch. Aorta (Stamford). 2015;3(1):16–24.

13.

Czerny M, Rylski B, Morlock J, et al. Orthotopic branched endovascular aortic arch repair in patients who cannot undergo classical surgery. Eur J Cardiothorac Surg. 2018;53(5):1007–12.

14.

Moulakakis KG, Mylonas SN, Avgerinos E, et al. The chimney graft technique for preserving visceral vessels during endovascular treatment of aortic pathologies. J Vasc Surg. 2012;55(5):1497–503.

15.

Shimamura K, Kuratani T, Kin K, et al. Effectiveness of embolic protection filter devices in stroke prevention during endovascular aortic arch repair in significant aortic atheroma patients. Interact Cardiovasc Thorac Surg. 2019;28(6):974–80.
Ethics declarations
Conflict of interest
The authors have declared that they have no conflict of interest.
Additional information
Publisher's Note
Springer Nature remains neutral with regard to jurisdictional claims in published maps and institutional affiliations.
About this article
Cite this article
Kudo, T., Kuratani, T., Shimamura, K. et al. Total endovascular aortic repairs using branched devices for arch and thoracoabdominal aneurysms. Gen Thorac Cardiovasc Surg (2020). https://doi.org/10.1007/s11748-020-01411-5
Received:

Accepted:

Published:
Keywords
Endovascular procedure

Aortic arch aneurysm

Thoracoabdominal aortic aneurysm