Abstract
As several complications can develop after the atriopulmonary Fontan procedure, total cavopulmonary connection conversion is often considered. We report two cases in which total cavopulmonary connection conversion was performed with a modified Glenn procedure. We used an expanded polytetrafluoroethylene graft between the superior vena cava and extracardiac conduit. This procedure ensures that a balanced hepatic blood flow is perfused into both lungs to avoid pulmonary arteriovenous malformations.
This is a preview of subscription content, log in to check access.
Access options
Buy single article
Instant access to the full article PDF.
US$ 39.95
Price includes VAT for USA
Subscribe to journal
Immediate online access to all issues from 2019. Subscription will auto renew annually.
US$ 99
This is the net price. Taxes to be calculated in checkout.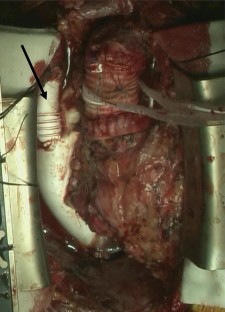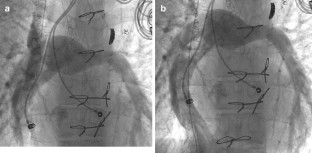 References
1.

Caspi J, Coles JG, Rabinovich M, Cohen D, Trusler GA, Williams WG, et al. Morphologic findings contributing to a failed Fontan procedure: twelve-year experience. Circulation. 1990;82(Suppl. IV):177–82.

2.

Said S, Burkhart H, Schaff H, Cetta F, Driscoll DJ, Li Z, et al. Fontan conversion: identifying the high-risk patient. Ann Thorac Surg. 2014;97:2115–21.

3.

Brown JW, Ruzmetov M, Vijay P, Rodefeld MD, Turrentine MW. Pulmonary arteriovenous malformation in children after the Kawashima operation. Ann Thorac Surg. 2005;80:1592–6.

4.

McElhinney DB, Kreutzer J, Lang P, Mayer JE Jr, del Nido PJ, Lock JE. Incorporation of the hepatic veins into the cavopulmonary circulation in patients with heterotaxy and pulmonary arteriovenous malformations after Kawashima procedure. Ann Thorac Surg. 2005;80:1597–603.
Additional information
Publisher's Note
Springer Nature remains neutral with regard to jurisdictional claims in published maps and institutional affiliations.
Electronic supplementary material
Below is the link to the electronic supplementary material.
Supplementary material 1 (MP4 6749 kb)
About this article
Cite this article
Tatewaki, H., Fujita, S., Kimura, S. et al. Modification of Glenn anastomosis for total cavopulmonary connection conversion after atriopulmonary Fontan. Gen Thorac Cardiovasc Surg (2020). https://doi.org/10.1007/s11748-020-01407-1
Received:

Accepted:

Published:
Keywords
Total cavopulmonary connection conversion

Glenn anastomosis

Pulmonary arteriovenous malformations