Abstract
Objective
This study was designed to assess structural and dynamic changes in the mitral annulus in patients before mitral valve reconstruction for degenerative mitral regurgitation with or without chronic atrial fibrillation.
Methods
One hundred and fifty one consecutive patients undergoing mitral valve reconstruction for mitral regurgitation due to myxomatous disease between July 2013 and May 2016 were included. Of these, 117 had a sinus rhythm (SR group) and 34 had chronic AF (AF group). Patients who underwent aortic surgery and were found to have no underlying cardiac valve disease nor coronary artery disease were included as the control group (n = 20). Real-time three-dimensional trans-esophageal echocardiography (3D-TEE) was used to assess mitral annulus shape, size, and movements.
Results
Annular areas in the control group were the smallest of the three groups and changed considerably through the cardiac cycle. Mean anteroposterior and intercommissural diameter measurements in the SR group were significantly larger but oscillated less than in the control group. Those diameters were the largest in the AF group and oscillated very little. Dilatation of the annulus in the AF and SR groups was accompanied by flattening and marked loss of oscillation in the height-to-intercommissural-width ratio which should peak in early systole.
Conclusions
In patients with degenerative mitral regurgitation undergoing mitral valve surgery, preoperative chronic atrial fibrillation is associated with more progressed annular remodeling, characterized by marked enlargement of annular area, circumference, and anteroposterior diameter.
This is a preview of subscription content, log in to check access.
Access options
Buy single article
Instant access to the full article PDF.
US$ 39.95
Price includes VAT for USA
Subscribe to journal
Immediate online access to all issues from 2019. Subscription will auto renew annually.
US$ 99
This is the net price. Taxes to be calculated in checkout.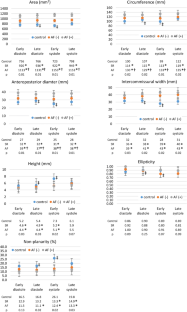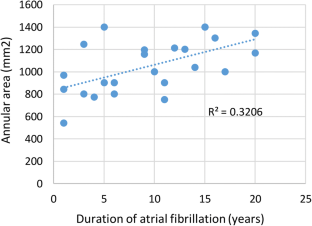 References
1.

Iung B, Vahanian A. Epidemiology of valvular heart disease in the adult. Nat Rev Cardiol. 2011;8:162–72.

2.

Gammie JS, Haddad M, Milford-Beland S, Welke KF, Ferguson TB Jr, O'Brien SM, et al. Atrial fibrillation correction surgery: lessons from the Society of Thoracic Surgeons National Cardiac Database. Ann Thorac Surg. 2008;85:909–14.

3.

Cox JL, Ad N, Palazzo T, Fitzpatrick S, Suyderhoud JP, DeGroot KW, et al. The Maze-III procedure combined with valve surgery. Semin Thorac Cardiovasc Surg. 2000;12:53–5.

4.

Wang B, Xu ZY, Han L, Zhang GX, Lu FL, Song ZG. Impact of preoperative atrial fibrillation on mortality and cardiovascular outcomes of mechanical mitral valve replacement for rheumatic mitral valve disease. Eur J Cardiothorac Surg. 2013;43:513–9.

5.

Lim E, Barlow CW, Hosseinpour AR, Wisbey C, Wilson K, Pidgeon W, et al. Influence of atrial fibrillation on outcome following mitral valve repair. Circulation. 2001;104:I59–63.

6.

Bando K, Kasegawa H, Okada Y, Kobayashi J, Kada A, Shimokawa T, et al. Impact of preoperative and postoperative atrial fibrillation on outcome after mitral valvuloplasty for nonischemic mitral regurgitation. J Thorac Cardiovasc Surg. 2005;129:1032–40.

7.

Enriquez-Sarano M, Schaff HV, Orszulak TA, Tajik AJ, Bailey KR, Frye RL. Valve repair improves the outcome of surgery for mitral regurgitation. A multivariate analysis. Circulation. 1995;91:1022–8.

8.

Suri RM, Schaff HV, Dearani JA, Sundt TM 3rd, Daly RC, Mullany CJ, Enriquez-Sarano M, Orszulak TA. Survival advantage and improved durability of mitral repair for leaflet prolapse subsets in the current era. Ann Thorac Surg. 2006;82:819–26.

9.

Clavel MA, Manitoban F, Malouf J, Michelena HI, Vatury O, Jain MS, et al. Dynamic phenotypes of degenerative myxomatous mitral valve disease: quantitative 3-dimensional echocardiographic study. Circ Cardiovasc Imaging. 2015;8(5):e002989.

10.

Adams DH, Anyanwu AC. Seeking a higher standard for degenerative mitral valve repair: begin with etiology. J Thorac Cardiovasc Surg. 2008;136:551–6.

11.

Grewal J, Suri R, Mankad S, Tanaka A, Mahoney DW, Schaff HV, et al. Mitral annular dynamics in myxomatous valve disease: new insights with real-time 3-dimensional echocardiography. Circulation. 2010;121:1423–31.

12.

Levack MM, Jassar AS, Shang EK, Vergnat M, Woo YJ, Acker MA, et al. Three-dimensional echocardiographic analysis of mitral annular dynamics: implication for annuloplasty selection. Circulation. 2012;126:S183–S188188.

13.

Otsuji Y, Kumanohoso T, Yoshifuku S, Matsukida K, Koriyama C, Kisanuki A, et al. Isolated annular dilatation does not usually cause important mitral regurgitation: comparison between patients with lone atrial fibrillation and idiopathic or ischemic cardiomyopathy. J Am Coll Cardiol. 2002;39:1651–6.

14.

Lang RM, Badano LP, Tsang W, Adams DH, Agricola E, Buck T, et al. American Society of Echocardiography; European Association of Echocardiography. EAE/ASE recommendations for image acquisition and display using three-dimensional echocardiography. J Am Soc Echocardiogr. 2012;25:3–46.

15.

Asai T, Kinoshita T, Suzuki T, Shiraishi S, Koike M. Early and follow-up results of butterfly resection of prolapsed posterior leaflet in 76 consecutive patients. J Thorac Cardiovasc Surg. 2015;149:1296–300.

16.

Asai T, Kinoshita T, Hosoba S, Takashima N, Kambara A, Suzuki T, Matsubayashi K. Butterfly resection is safe and avoids systolic anterior motion in posterior leaflet prolapse repair. Ann Thorac Surg. 2011;92:2097–102.

17.

Lancellotti P, Tribouilloy C, Hagendorff A, Popescu BA, Edvardsen T, Pierard LA, Badano L, Zamorano JL, Scientific Document Committee of the European Association of Cardiovascular Imaging. Recommendations for the echocardiographic assessment of native valvular regurgitation: an executive summary from the European Association of Cardiovascular Imaging. Eur Heart J Cardiovasc Imaging. 2013;14:611–44.

18.

Clavel MA, Mantovani F, Malouf J, Michelena HI, Vaturi O, et al. Dynamic phenotypes of degenerative myxomatous mitral valve disease: quantitative 3-dimensional echocardiographic study. Circ Cardiovascular Imaging. 2015;8:e002989.

19.

Lin LI. A concordance correlation coefficient to evaluate reproducibility. Biometrics. 1989;45:255–68.

20.

Mihalia S, et al. Relationship between mitral annulus function and mitral regurgitation severity and left atrial remodeling in patients with primary mitral regurgitation. Eur Heart J Cardiovasc Imaging. 2016;17:918–29.

21.

Pai RG, Varadaraian P, Tanjmoto M. Effect of atrial fibrillation on the dynamics of mitral annular area. Heart Valve Dis J Heart Valve Dis. 2003;12(1):31–7.

22.

Biaggi P, Jedrzkiewicz S, Gruner C, Meineri M, Karski J, Vegas A, Tanner FC, Rakowski H, Ivanov J, David TE, Woo A. Quantification of mitral valve anatomy by three-dimensional transesophageal echocardiography in mitral valve prolapse predicts surgical anatomy and the complexity of mitral valve repair. J Am Soc Echocardiogr. 2012;25(7):758–65.
Acknowledgements
We thank Mr. Piers Vigers for reviewing our manuscript.
Ethics declarations
Conflict of interest
All authors have completed the disclosure form and declare that no support, financial or otherwise, has been received from any organization that may have an interest in the submitted work and there are no other relationships or activities that could appear to have influenced the submitted work.
Additional information
Publisher's Note
Springer Nature remains neutral with regard to jurisdictional claims in published maps and institutional affiliations.
About this article
Cite this article
Nahar, N., Kinoshita, T., Suzuki, T. et al. Dynamic changes of mitral annulus in patients with degenerative mitral regurgitation and chronic atrial fibrillation undergoing mitral valve reconstruction. Gen Thorac Cardiovasc Surg (2020). https://doi.org/10.1007/s11748-020-01406-2
Received:

Accepted:

Published:
Keywords
Mitral valve

Annular geometry

Echocardiography

Atrial fibrillation