Abstract
Pneumonectomy for pulmonary tuberculosis is a rare option but can sometimes be necessary in cases of destroyed lung, resulting from a previous or persistent chronic infection. Bronchopleural fistula on the bronchial stump may develop as a postoperative complication, favoured by the long-lasting infectious disease and the poor nutritional status. Right-sided approach can be used for treatment of left bronchopleural fistula after pneumonectomy. We report a rare case of left bronchopleural fistula after pneumonectomy for pulmonary tuberculosis in a 38-year-old woman, treated by re-closure and re-stapling of the left main bronchial stump through a right thoracotomy approach. The patient is in excellent general condition and without evidence of bronchopleural fistula and tuberculosis at 3 years from re-closure of the left bronchial stump through right thoracotomy. This approach allowed a successful and safe management of our case of left bronchopleural fistula after pneumonectomy for tuberculosis, without short and long-term complications.
Access options
Buy single article
Instant access to the full article PDF.
US$ 39.95
Tax calculation will be finalised during checkout.
Subscribe to journal
Immediate online access to all issues from 2019. Subscription will auto renew annually.
US$ 79
Tax calculation will be finalised during checkout.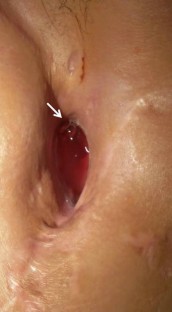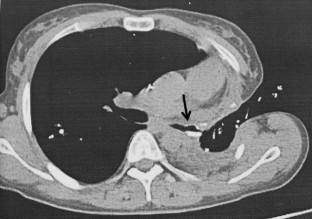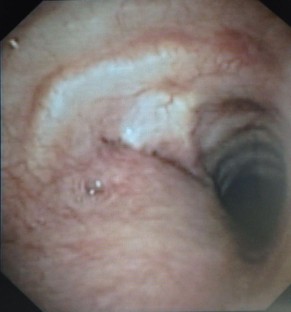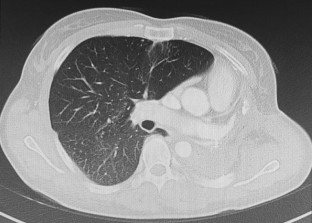 References
1.

Sayir F, Ocakcioglu I, Şehitoğulları A, Çobanoğlu U. Clinical analysis of pneumonectomy for destroyed lung: a retrospective study of 32 patients. Gen Thorac Cardiovasc Surg. 2019;67(6):530–6.

2.

Di Gennaro F, Pizzol D, Cebola B, Stubbs B, Monno L, Saracino A, et al. Social determinants of therapy failure and multi drug resistance among people with tuberculosis: a review. Tuberculosis (Edinburg). 2017;103:44–51.

3.

Wang L, Xia F, Li F, Qian X, Zhu Y, Chen H, Bian A, et al. Pulmonary resection in the treatment of multidrug-resistant tuberculosis: a case series. Medicine (Baltimore). 2017;96(50):e9109.

4.

Moreno P, Lang G, Taghavi S, Aigner C, Marta G, De Palma A, et al. Right-sided approach for management of left-main-bronchial stump problems. Eur J Cardio-Thorac Surg. 2011;40(4):926–30.

5.

Fumo AMT, Garofalo N, Chhaganlal KD, Di Gennaro F, Boscardin C, Laforgia R, et al. HIV and surgery: an issue only for developed country? An overview from Mozambique. Euromediterr Biomed J. 2016;11(12):92–100.

6.

Padhi RK, Lynn RB. The management of bronchopleural fistulas. J Thorac Cardiovasc Surg. 1960;39:385–93.

7.

Abruzzini P. Trattamento chirurgico delle fistole del bronco principale consecutive a pneumonectomia per tubercolosi. Chirur Torac. 1961;14:165–71.

8.

Azorin JF, Francisci MP, Tremblay B, Larmignat P, Carvaillo D. Closure of a postpneumonectomy main bronchus fistula using video-assisted mediastinal surgery. Chest. 1996;109:1097–8.

9.

Perelman MI, Ambatiello GP. Transpleuraler, transsternaler und kontralateraler zugang bei operationen wegen bronchialfistel nach pneumonektomie. Thoraxchirurgie. 1970;18:45–57.
Ethics declarations
Conflict of interest
The authors declare that they have no conflict of interest.
Additional information
Publisher's Note
Springer Nature remains neutral with regard to jurisdictional claims in published maps and institutional affiliations.
About this article
Cite this article
De Palma, A., Maruccia, M. & Di Gennaro, F. Right thoracotomy approach for treatment of left bronchopleural fistula after pneumonectomy for tubercolosis. Gen Thorac Cardiovasc Surg 68, 1539–1542 (2020). https://doi.org/10.1007/s11748-020-01307-4
Received:

Accepted:

Published:

Issue Date:
Keywords
Bronchopleural fistula

Pulmonary tuberculosis

Left pneumonectomy

Right thoracotomy approach