Abstract
Pulmonary arteriovenous malformation (PAVM) is a potential cause of hemothorax. The risk of PAVM rupture is reported to be higher during pregnancy for several reasons, including increased body fluid and a change in hormonal conditions. A 34-year-old pregnant woman suddenly felt right chest pain and dyspnea in the 28th week of gestation. Chest X-ray and computed tomography showed massive right pleural effusion. Her vital signs gradually deteriorated with hemorrhagic shock, necessitating emergency surgery. During exploratory thoracoscopy, active bleeding from the middle lobe was noticed and gauze packing was required to maintain her blood pressure. Following conversion to major thoracotomy, wedge resection of the middle lobe was performed with a linear stapler, and finally, her general condition became stable. Her postoperative course was uneventful. A histological examination of the resected specimen confirmed the diagnosis of ruptured PAVM. Her baby was successfully delivered at the 38th week of gestation.
Access options
Buy single article
Instant access to the full article PDF.
US$ 39.95
Tax calculation will be finalised during checkout.
Subscribe to journal
Immediate online access to all issues from 2019. Subscription will auto renew annually.
US$ 79
Tax calculation will be finalised during checkout.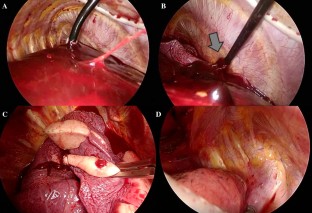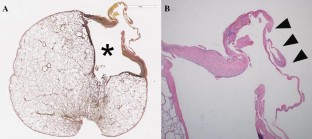 References
1.

Shovlin CL. Pulmonary arteriovenous malformations. Am J Respir Crit Care Med. 2014;190(11):1217–28.

2.

Shovlin CL, Winstock AR, Peters AM, Jackson JE, Hughes JM. Medical complications of pregnancy in hereditary haemorrhagic telangiectasia. QJM. 1995;88(12):879–87.

3.

Di Crescenzo V, Napolitano F, Vatrella A, Zeppa P, Laperuta P. Pulmonary arterovenous malformation causing hemothorax in a pregnant woman without Osler-Weber-Rendu syndrome. Open Med (Wars). 2015;10(1):549–54.

4.

Laroche CM, Wells F, Shneerson J. Massive hemothorax due to enlarging arteriovenous fistula in pregnancy. Chest. 1992;101(5):1452–4.

5.

Shovlin CL, Guttmacher AE, Buscarini E, Faughnan ME, Hyland RH, Westermann CJ, et al. Diagnostic criteria for hereditary hemorrhagic telangiectasia (Rendu-Osler-Weber syndrome). Am J Med Genet. 2000;91(1):66–7.

6.

Patrini D, Panagiotopoulos N, Pararajasingham J, Gvinianidze L, Iqbal Y, Lawrence DR. Etiology and management of spontaneous haemothorax. J Thorac Dis. 2015;7(3):520–6.

7.

Guidelines for diagnostic imaging during pregnancy and lactation. Committee Opinion No. 723. American College of Obstetricians and Gynecologists. Obstet Gynecol 2017;130:e210–6.
Ethics declarations
Conflict of interest
The authors have declared that no conflict of interest exists.
Additional information
Publisher's Note
Springer Nature remains neutral with regard to jurisdictional claims in published maps and institutional affiliations.
About this article
Cite this article
Naito, J., Nakajima, T., Morimoto, J. et al. Emergency surgery for hemothorax due to a ruptured pulmonary arteriovenous malformation. Gen Thorac Cardiovasc Surg 68, 1528–1531 (2020). https://doi.org/10.1007/s11748-020-01291-9
Received:

Accepted:

Published:

Issue Date:
Keywords
Hemothorax

Pulmonary arteriovenous malformation (PAVM)

Pregnancy

Hereditary hemorrhagic telangiectasia (HHT)