Abstract
Left ventriculocoronary artery fistulae can cause deterioration of postoperative outcomes in patients with hypoplastic left heart syndrome. We successfully performed the Norwood operation with right ventricle-pulmonary artery shunt without a cardiac arrest in an infant with hypoplastic left heart syndrome and large coronary artery fistulae. Temporary postoperative right ventricular dysfunction gradually improved, and left ventricular volume decreased by the time of bidirectional Glenn shunt procedure. Left ventriculocoronary artery fistulae regressed after the Norwood operation, illustrating that large coronary artery fistulae can regress over time following right ventricular decompression.
This is a preview of subscription content, log in to check access.
Access options
Buy single article
Instant access to the full article PDF.
US$ 39.95
Tax calculation will be finalised during checkout.
Subscribe to journal
Immediate online access to all issues from 2019. Subscription will auto renew annually.
US$ 99
Tax calculation will be finalised during checkout.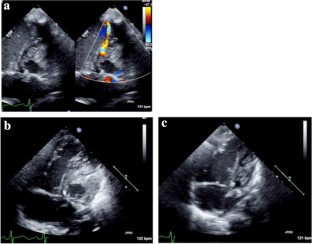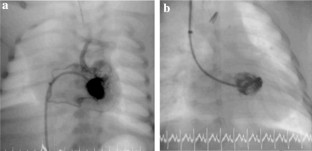 References
1.

Siehr SL, Maeda K, Connolly AA, Tacy TA, Reddy VM, Hanley FL, et al. Mitral stenosis and aortic atresia–a risk factor for mortality after the modified Norwood operation in hypoplastic left heart syndrome. Ann Thorac Surg. 2016;101:162–7.

2.

Vida VL, Bacha EA, Larrazabal A, Gauvreau K, Dorfman AL, Marx G, et al. Surgical outcome for patients with the mitral stenosis-aortic atresia variant of hypoplastic left heart syndrome. J Thorac Cardiovasc Surg. 2008;135:339–46.

3.

Ono M, Goerler H, Bertram H, Breymann T. Regression of marked myocardial sinusoids associated with hypoplastic left heart syndrome during staged Fontan approach. Ann Thorac Surg. 2010;90:1007–9.

4.

Nathan M, Williamson AK, Mayer JE, Bacha EA, Juraszek AL. Mortality in hypoplastic left heart syndrome: review of 216 autopsy cases of aortic atresia with attention to coronary artery disease. J Thorac Cardiovasc Surg. 2012;144:1301–6.

5.

Matsushima S, Oshima Y, Maruo A, Hasegawa T, Matsuhisa H, Noda R, et al. Beating-heart surgery for hypoplastic left heart syndrome with coronary artery fistulas. Ann Thorac Surg. 2014;98:e103–e105105.
Funding
There was no funding provided for this article.
Ethics declarations
Conflict of interest
The authors declare that they have no conflict of interest.
Ethical approval
All procedures performed in the studies involving human participants were in accordance with the ethical standards of the institutional and/or national research committee and with the 1964 Helsinki Declaration and its later amendments or comparable ethical standards.
Informed consent
Informed consent was obtained from all individual participants included in the study.
Additional information
Publisher's Note
Springer Nature remains neutral with regard to jurisdictional claims in published maps and institutional affiliations.
About this article
Cite this article
Matsuo, S., Masaki, N., Mizumoto, M. et al. Hypoplastic left heart syndrome with regressed ventriculocoronary fistulae after the Norwood operation. Gen Thorac Cardiovasc Surg 68, 1325–1328 (2020). https://doi.org/10.1007/s11748-019-01260-x
Received:

Accepted:

Published:

Issue Date:
Keywords
Left ventriculocoronary artery fistulae

Norwood operation

Bidirectional Glenn shunt procedure

Right ventricular decompression