Abstract
Background
We implemented our multidisciplinary heart team (MHT) approach since 2012 for patients with coronary artery disease (CAD) and assessed the effectiveness of it by comparing outcomes in patients treated before and after the introduction of the MHT approach.
Methods
Percutaneous coronary intervention (PCI) and coronary artery bypass grafting (CABG) for CAD were performed in 802 and 57 patients from 2009 to 2011 in Group NH, and were performed in 867 and 160 patients from 2012 to 2014 in Group H, respectively. The primary outcome was major adverse cardiovascular and cerebrovascular events (MACCE), defined as the composite of all-cause death, myocardial infarction, stroke, cardiac-related readmission and target vessel repeat revascularisation (TVR) for PCI or revascularisation on grafted vessels for CABG.
Results
MACCE occurred significantly more often in Group NH than in Group H at 3 years postoperatively (28.1% vs 21.1%) (log rank P = 0.001). Cox regression analysis showed that the MHT approach [hazard ratio (HR), 0.737; 95% confidence interval (CI), 0.60–0.91; P = 0.004] and ejection fraction (HR 0.976; 95% CI, 0.97–0.98; P < 0.0001) were associated with significantly lower rates of MACCE events, while SYNTAX score (HR 1.023; 95% CI 1.00–1.03, P < 0.0001) and EuroSCORE II (HR 1.014, 95% CI 0.60–0.91, P = 0.004) were associated with a higher rate of MACCE events.
Conclusion
Our MHT approach was able to reduce the MACCE events of treatment for CAD. The dedicated MHT approach might be beneficial for patients with CAD.
This is a preview of subscription content, log in to check access.
Access options
Buy single article
Instant access to the full article PDF.
US$ 39.95
Price includes VAT for USA
Subscribe to journal
Immediate online access to all issues from 2019. Subscription will auto renew annually.
US$ 99
This is the net price. Taxes to be calculated in checkout.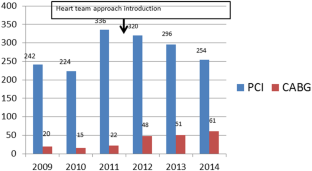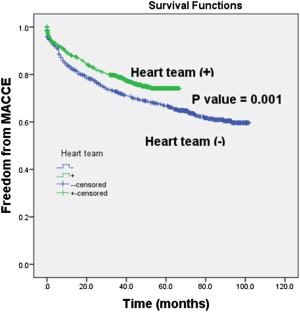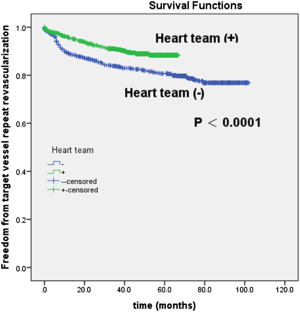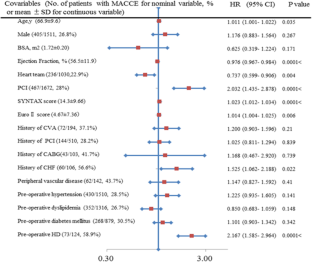 References
1.

Serruys PW, Morice MC, Kappetein AP, Colombo A, Holmes DR, Mack MJ, et al. SYNTAX Investigators. Percutaneous coronary intervention versus coronary-artery bypass grafting for severe coronary artery disease. N Engl J Med. 2009; 360(10):961–72.

2.

Kolh P, Wijns W, Danchin N, et al. Task Force on Myocardial Revascularization of the European Society of Cardiology (ESC) and the European Association for Cardio-Thoracic Surgery (EACTS); European Association for Percutaneous Cardiovascular Interventions (EAPCI). Guidelines on myocardial revascularization. Eur J Cardiothorac Surg. 2010; 38:S1–S52.

3.

Windecker S, Kolh P, Alfonso F, Collet JP, Cremer J, Falk V, et al. 2014 ESC/EACTS Guidelines on myocardial revascularization: The task force on myocardial revascularization of the European Society of Cardiology (ESC) and the European Association for Cardio-Thoracic Surgery (EACTS)Developed with the special contribution of the European Association of percutaneous cardiovascular interventions (EAPCI). Eur Heart J. 2014;35(37):2541–619.

4.

Sanchez CE, Badhwar V, Dota A, Schindler J, Chu D, Smith AJ, et al. Practical implementation of the coronary revascularization heart team. Circ Cardiovasc Qual Outcomes. 2013;6(5):598–603.

5.

Chu D, Anastacio MM, Mulukutla SR, Lee JS, Smith AJ, Marroquin OC, et al. Safety and efficacy of implementing a multidisciplinary heart team approach for revascularization in patients with complex coronary artery disease: an observational cohort pilot study. JAMA Surg. 2014;149(11):1109–12.

6.

Bypass Angioplasty Revascularization Investigation (BARI) Investigators. Comparison of coronary bypass surgery with angioplasty in patients with multivessel disease. N Engl J Med. 1996;335(4):217–25.

7.

Serruys PW, Unger F, Sousa JE, Jatene A, Bonnier HJ, Schönberger JP, et al, Arterial Revascularization Therapies Study Group. Comparison of coronary-artery bypass surgery and stenting for the treatment of multivessel disease. N Engl J Med. 2001;344(15):1117–24.

8.

Hannan EL, Racz MJ, Walford G, Jones RH, Ryan TJ, Bennett E, et al. Long-term outcomes of coronary-artery bypass grafting versus stent implantation. N Engl J Med. 2005;352(21):2174–83.

9.

Hlatky MA, Boothroyd DB, Bravata DM, Boersma E, Booth J, Brooks MM, et al. Coronary artery bypass surgery compared with percutaneous coronary interventions for multivessel disease: a collaborative analysis individual patient data from ten randomised trials. Lancet. 2009;373(9670):1190–7.

10.

Serruys PW, Onuma Y, Garg S, Vranckx P, De Bruyne B, Morice MC, et al. ARTS II Investigators. 5-year clinical outcomes of the ARTS (arterial revascularization therapies study II) of the sirolimus-eluting stent in the treatment of patients with multivessel de novo coronary artery lesions. J Am Coll Cardiol. 2010;55(11):1093–101.

11.

Mohr FW, Morice M, Kappetein AP, Feldman TE, Ståhle E, Colombo A, et al. Coronary artery bypass graft surgery versus percutaneous coronary intervention in patients with three-vessel disease and left main coronary disease: 5-year follow-up of the randomised, clinical SYNTAX trial. Lancet. 2013;381(9867):629–38.

12.

Stone GW, Sabik JF, Serruys PW, Simonton CA, Généreux P, Puskas J, et al. EXCEL Investigators. Everolimus-eluting stents or bypass surgery for left main coronary artery disease. N Engl J Med. 2016;375(23):2223–35.

13.

Mäkikallio T, Holm NR, Lindsay M, Spence MS, Erglis A, Menown IB, et al; NOBLE study investigators. Percutaneous coronary angioplasty versus coronary artery bypass grafting in treatment of unprotected left main stenosis (NOBLE): a prospective, randomised, open-label, non-inferiority trial. Lancet. 2016;388(10061):2743–2752.

14.

Ahn JM, Roh JH, Kim YH, Park DW, Yun SC, Lee PH, et al. Randomized trial of stents versus bypass surgery for left main coronary artery disease: 5-year outcomes of the PRECOMBAT study. J Am Coll Cardiol. 2015;65(20):2198–206.

15.

Park SJ, Ahn JM, Kim YH, Park DW, Yun SC, Lee JY, et al. BEST Trial Investigators. Trial of everolimus-eluting stents or bypass surgery for coronary disease. N Engl J Med. 2015;372(13):1204–12.

16.

Mack M, Baumgarten H, Lytle B. Why surgery won the SYNTAX trial and why it matters. J Thorac Cardiovasc Surg. 2016;152:1237–40.

17.

Borras JM, Albreht T, Audisio R, et al. European Partnership Action Against Cancer consensus group. Policy statement on multidisciplinary cancer care. Eur J Cancer. 2014;50(3):475–80.

18.

Martin JE, Zavala EY. The expanding role of the transplant pharmacist in the multidisciplinary practice of transplantation. Clin Transplant. 2004;18(suppl 12):50–4.

19.

Takeda A, Taylor SJ, Taylor RS, Khan F, Krum H, Underwood M. Clinical service organisation for heart failure. Cochrane Database Syst Rev. 2012;9:CD002752.

20.

Perry J, Lanzberg M, Franklin W, Webb G, Chang AC. Cardiac intensive care of the adult with congenital heart disease: basic principles in the management of common problems. World J Pediatr Congenit Heart Surg. 2011;2(3):430–44.

21.

Cohen DJ, Nallamothu BK. No "i" in Heart Team: incentivizing multidisciplinary care in cardiovascular medicine. Circ Cardiovasc Qual Outcomes. 2012;5:410–3.

22.

Edmondson AC. Teaming: how organizations learn, innovate, and compete in the knowledge economy. New York: Jossey-Bass; 2012. p. 352.

23.

Baber U, Mehran R, Sharma SK, Brar S, Yu J, Suh JW, et al. Impact of the everolimus-eluting stent on stent thrombosis: a meta-analysis of 13 randomized trials. J Am Coll Cardiol. 2011;58(15):1569–77.

24.

Tonino PA, De Bruyne B, Pijls NH, Siebert U, Ikeno F, van' t Veer M, et al. FAME Study Investigators. Fractional flow reserve versus angiography for guiding percutaneous coronary intervention. N Engl J Med. 2009;360(3):213–24.

25.

Toth G, De Bruyne B, Casselman F, De Vroey F, Pyxaras S, Di Serafino L, et al. Fractional flow reserve-guided versus angiography-guided coronary artery bypass graft surgery. Circulation. 2013;128(13):1405–11.
Acknowledgements
We would like to acknowledge the contribution of all four clinical engineers who were trained in SYNTAX scoring and scored the SYNTAX score for eligible patients in this study.
Funding
This study was funded by Daiwa securities health foundation.
Ethics declarations
Conflict of interest
The authors have nothing to disclose with regard to conflicts of interest.
Additional information
Publisher's Note
Springer Nature remains neutral with regard to jurisdictional claims in published maps and institutional affiliations.
Electronic supplementary material
Below is the link to the electronic supplementary material.
About this article
Cite this article
Yamasaki, M., Abe, K., Horikoshi, R. et al. Enhanced outcomes for coronary artery disease obtained by a multidisciplinary heart team approach. Gen Thorac Cardiovasc Surg 67, 841–848 (2019). https://doi.org/10.1007/s11748-019-01108-4
Received:

Accepted:

Published:

Issue Date:
Keywords