Access options
Buy single article
Instant access to the full article PDF.
US$ 39.95
Tax calculation will be finalised during checkout.
Subscribe to journal
Immediate online access to all issues from 2019. Subscription will auto renew annually.
US$ 79
Tax calculation will be finalised during checkout.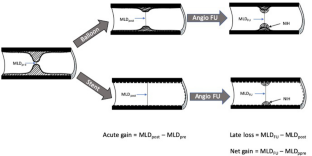 References
1.

Alfonso F, Pérez-Vizcayno MJ, Cuesta J, García Del Blanco B, García-Touchard A, López-Mínguez JR, RIBS IV Study Investigators (Under the Auspices of the Interventional Cardiology Working Group of the Spanish Society of Cardiology) et al (2018) 3-Year clinical follow-up of the RIBS IV clinical trial: a prospective randomized study of drug-eluting balloons versus everolimus-eluting stents in patients with in-stent restenosis in coronary arteries previously treated with drug-eluting stents. JACCCardiovascInterv 11:981–991

2.

Sanz Sánchez J, Chiarito M, Cortese B, Moretti A, Pagnotta P, Reimers B, Stefanini GG, Ferrante G (2020) Drug-Coated balloons vs drug-eluting stents for the treatment of small coronary artery disease: a meta-analysis of randomized trials. Catheter CardiovascInterv. https://doi.org/10.1002/ccd.29111

3.

Tan Q, Wang Q, Yang H, Jing Z, Ming C (2021) Clinical outcomes of drug-eluting balloon for treatment of small coronary artery in patients with acute myocardial infarction. Intern Emerg Med. https://doi.org/10.1007/s11739-020-02530-w (Epub ahead of print. PMID: 33386602)

4.

Moreno R, Fernandez C, Sanchez-Recalde A, Galeote G, Calvo L, Alfonso F et al (2007) Clinical impact of in-stent late loss after drug-eluting coronary stent implantation. Eur Heart J 28:1583–1591

5.

Moreno R, García E, Teles R, Rumoroso JR, Carvalho HC, Goicolea FJ et al (2013) Randomized comparison of Sirolimus-eluting and everolimus-eluting coronary stents in the treatment of total coronary occlusions: results from the chronic coronary occlusion treated by everolimus-eluting stent randomized trial. CircCardiovascIntervent 6:21–28
Additional information
Publisher's Note
Springer Nature remains neutral with regard to jurisdictional claims in published maps and institutional affiliations.
About this article
Cite this article
García-Escobar, A., Jurado-Román, A., Jiménez-Valero, S. et al. Clinical outcomes of drug-eluting balloon for treatment of small coronary artery in patients with acute myocardial infarction: comment. Intern Emerg Med (2021). https://doi.org/10.1007/s11739-021-02638-7
Received:

Accepted:

Published: