Abstract
Aims
Recent studies have established the role of residual congestion evaluated by lung ultrasound in estimating short-term risk of readmission or death in patients admitted for heart failure (HF) decompensation. However, if lung ultrasounds maintain a prognostic role of in long-term survival is still unknown. Aim of our study was to evaluate if residual congestion could predict all-cause mortality during 4 year follow up in a cohort of unselected patients admitted for acute decompensated HF.
Methods
One-hundred fifty patients were enrolled. The anterolateral chest was scanned to evaluate the presence of B-lines. A sonographic score was calculated attributing 1 to each positive sector (≥ 3 B-lines). Clinical, biochemical and echocardiographic data were recorded. A Cox proportional hazard regression analysis was performed to evaluate the association between variables and 4-year survival.
Results
During the follow-up, 86 patients (58%) died. Univariate analysis showed a significant correlation between the sonographic score at discharge and events occurrence at long term follow up (HR 1.21; CI 1.11–1.31; p < 0.001) suggesting that, on average, the increase of 1 point in the sonographic score was associated with an increase of approximately 20% in the risk of death.
Conclusions
Our results suggest the role of LUS in the identification of more congested HF patients, that will be at risk for worse long term outcome.
This is a preview of subscription content, log in to check access.
Access options
Buy single article
Instant access to the full article PDF.
US$ 39.95
Price includes VAT for USA
Subscribe to journal
Immediate online access to all issues from 2019. Subscription will auto renew annually.
US$ 99
This is the net price. Taxes to be calculated in checkout.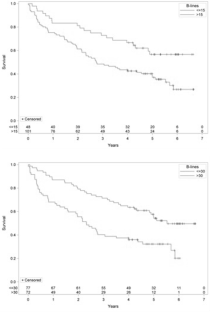 Ethics declarations
Conflict of interest
The author(s) declare that they have no conflict of interest.
Statement of human and animal rights
All procedures performed in studies involving human participants were in accordance with the ethical standards of the institutional research committee and with the 1964 Helsinki declaration and its later amendments.
Informed consent
Informed consent was obtained from all individual participants included in the study.
Additional information
Publisher's Note
Springer Nature remains neutral with regard to jurisdictional claims in published maps and institutional affiliations.
About this article
Cite this article
Ceriani, E., Casazza, G., Peta, J. et al. Residual congestion and long-term prognosis in acutely decompensated heart failure patients. Intern Emerg Med 15, 719–724 (2020). https://doi.org/10.1007/s11739-020-02326-y
Received:

Accepted:

Published:

Issue Date:
Keywords
Lung ultrasound

Heart failure

Prognosis

B-lines