Abstract
Cardiogenic liver disease is a common yet poorly characterized complication of advanced heart failure (HF), and may impact clinical management in the setting of heart transplant evaluation. In this retrospective study, we describe clinical and histopathological features of liver injury in advanced HF, with a focus on the role of liver biopsy. Included were 45 HF patients, assessed for possible heart transplant, who underwent liver biopsy for suspected liver disease. Median duration of HF symptoms was 5 years. Most patients had stiff hepatomegaly and elevated bilirubin. Viral hepatitis (19 patients, 42.2%) was the most common cause of prior known liver disease. Sinusoidal dilatation was detected in the majority of patients (64.4%). Median necroinflammatory index was 3 and median fibrosis was 1, consistent with a small burden of histologically proven liver disease. Viral hepatitis was the only variable associated with a higher grade of necroinflammation and fibrosis. Nine of the 14 (64.3%) advanced fibrosis/cirrhosis patients had a viral hepatitis infection. Fibrosis was significantly associated with splenomegaly. The MELD score was not correlated with cardiac index. A coarse liver echo-pattern had a 29% positive and 63% negative predictive value for advanced fibrosis/cirrhosis. Severe liver disease is uncommon in patients with advanced HF in the absence of splenomegaly or primary causes of liver disease. Ultrasound data need to be carefully evaluated, as it may overstate the severity of liver disease. Liver biopsy may be needed to accurately stage liver disease before excluding patients from advanced treatment strategies.
This is a preview of subscription content, log in to check access.
Access options
Buy single article
Instant access to the full article PDF.
US$ 39.95
Price includes VAT for USA
Subscribe to journal
Immediate online access to all issues from 2019. Subscription will auto renew annually.
US$ 99
This is the net price. Taxes to be calculated in checkout.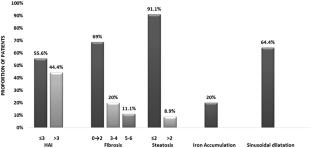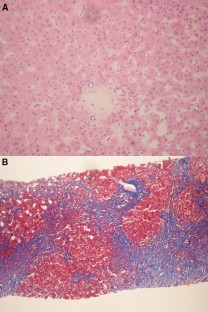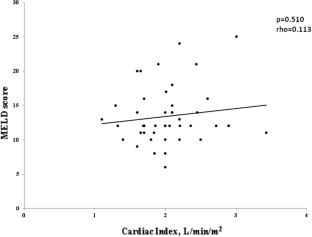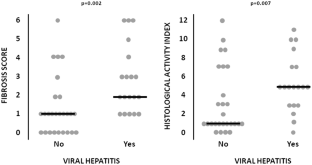 Abbreviations
ACHF:

Advanced congestive heart failure

ALT:

Alanine aminotransferase

AST:

Aspartate aminotransferase

VAD:

Ventricular assist device

LDH:

Lactate dehydrogenase

ALP:

Alkaline phosphatase

MELD:

Model for end-stage liver disease

MELD XI:

Model for end-stage liver disease eXcluding INR

NYHA:

New York Heart Association

NT-pro-BNP:

N-terminal-pro B-type natriuretic peptide

PAPs:

Pulmonary arterial pressure in systole

TAPSE:

Tricuspid annular posterior systolic excursion

HAI:

Histological activity index score
References
1.

Naschitz JE, Slobodin G, Lewis RJ, Zuckerman E, Yeshurun D (2000) Heart diseases affecting the liver and liver diseases affecting the heart. Am Heart J 140(1):111–120

2.

Sherlock S (1951) The liver in heart failure. Relation of anatomical, functional, and circulatory changes. Br Heart J 13:273–293

3.

Batin P, Wickens M, McEntegart D, Fullwood L, Cowley AJ (1995) The importance of abnormalities of liver function tests in predicting mortality in chronic heart failure. Eur Heart J 16:1613–1618

4.

Arcidi JM, Moore GW, Hutchins GM (1981) Hepatic morphology in cardiac dysfunction. Hepatic morphology in cardiac dysfunction. Am J Pathol 104:159–166

5.

Wanless IR, Liu JJ, Butany J (1995) Role of thrombosis in the pathogenesis of congestive hepatic fibrosis (cardiac cirrhosis). Hepatology 21:1232–1237

6.

Myers RP, Cerini R, Sayegh R, Moreau R, Degott C, Lebrec D, Lee SS (2003) Cardiac hepatopathy: clinical, hemodynamic, and histologic characteristics and correlations. Hepatology 37:393–400

7.

Gelow JM, Desai AS, Hochberg CP (2010) Clinical predictors of hepatic fibrosis in chronic advanced heart failure. Circ Heart Fail. 3(1):59–64

8.

Mehra MR, Canter CE, Hannan MM, Semigran MJ, Uber PA, Baran DA, Danziger-Isakov L, Kirklin JK, Kirk R, Kushwaha SS, Lund LH, Potena L, Ross HJ, Taylor DO, Verschuuren EA, Zuckermann A, International Society for Heart Lung Transplantation (ISHLT) Infectious Diseases Council; International Society for Heart Lung Transplantation (ISHLT) Pediatric Transplantation Council; International Society for Heart Lung Transplantation (ISHLT) Heart Failure and Transplantation Council (2016) The 2016 International Society for Heart Lung Transplantation listing criteria for heart transplantation: a 10-year update. J Heart Lung Transpl. 35(1):1–23

9.

Lin ZH, Xin YN, Dong QJ, Wang Q, Jiang XJ, Zhan SH, Sun Y, Xuan SY (2011) Performance of the aspartate aminotransferase-to-platelet ratio index for the staging of hepatitis C-related fibrosis: an updated meta-analysis. Hepatology 53:726–736

10.

Chou R, Wasson N (2013) Blood tests to diagnose fibrosis or cirrhosis in patients with chronic hepatitis C virus infection: a systematic review. Ann Intern Med 158:807–820

11.

Dolgin M, Association NYH, Fox AC, Gorlin R, Levin RI (1994) The Criteria Committee of the New York Heart Association. Nomenclature and criteria for diagnosis of diseases of the heart and great vessels, 9th edn. Lippincott Williams and Wilkins, Boston, pp 253–256

12.

Ishak K, Baptista A, Bianchi L, Callea F, Groote JD, Gudat F (1995) Histological grading and staging of chronic hepatitis. J Hepatol. 22(6):696–699 (Correspondence information about the author Fred Gudat, Helmut Denk, Valeer Desmet, Gerhard Korb, Roderick N.M. MacSween, M.James Phillips, Bernard G. Portmann, Hemming Poulsen, Peter J. Scheuer, Martin Schmid, Heribert Thaler)

13.

Kleiner DE, Brunt EM, Van Natta M, Behling C, Contos MJ, Cummings OW, Ferrell LD, Liu YC, Torbenson MS, Unalp-Arida A, Yeh M, McCullough AJ, Sanyal AJ, Nonalcoholic Steatohepatitis Clinical Research Network (2005) Design and validation of a histological scoring system for nonalcoholic fatty liver disease. Hepatology 41:1313–1321

14.

Rockey DC, Caldwell SH, Goodman ZD, Nelson RC, Smith AD, American Association for the Study of Liver Diseases (2009) Liver biopsy. AASLD position paper. Hepatology 49(3):1017–1044

15.

Regev A, Berho M, Jeffers LJ, Milikowski C, Molina EG, Pyrsopoulos NT, Feng ZZ, Reddy KR, Schiff ER (2002) Sampling error and intraobserver variation in liver biopsy in patients with chronic HCV infection. Am J Gastroenterol 97(10):2614–2618

16.

Persico M, Palmentieri B, Vecchione R, Torella R, de SI (2002) Diagnosis of chronic liver disease: reproducibility and validation of liver biopsy. Am J Gastroenterol 97:491–492

17.

Dichtl W, Vogel W, Dunst KM, Grander W, Alber HF, Frick M, Antretter H, Laufer G, Pachinger O, Pölzl G (2005) Cardiac hepatopathy before and after heart transplantation. Transpl Int 18(6):697–702

18.

Ocel JJ, Edwards WD, Tazelaar HD, Petrovic LM, Edwards BS, Kamath PS (2004) Heart and liver disease in 32 patients undergoing biopsy of both organs, with implications for heart or liver transplantation. Mayo Clin Proc 79(4):492–501

19.

Aube C, Oberti F, Korali N, Namour MA, Loisel D, Tanguy JY, Valsesia E, Pilette C, Rousselet MC, Bedossa P, Rifflet H, Maïga MY, Penneau-Fontbonne D, Caron C, Calès P (1999) Ultrasonographic diagnosis of hepatic fibrosis or cirrhosis. J Hepatol 30:472–478

20.

Gaiani S, Gramantieri L, Venturoli N, Piscaglia F, Siringo S, D'Errico A, Zironi G, Grigioni W, Bolondi L (1997) What is the criterion for differentiating chronic hepatitis from compensated cirrhosis? A prospective study comparing ultrasonography and percutaneous liver biopsy. J Hepatol 27:979–985

21.

Zheng RQ, Wang QH, Lu MD, Xie SB, Ren J, Su ZZ, Cai YK, Yao JL (2003) Liver fibrosis in chronic viral hepatitis: an ultrasonographic study. World J Gastroenterol 9(11):2484–2489

22.

Chan Y, Pranke S, Rashidi F, Nosib S, Worobetz L (2017) Safety profile of liver fibroscan in patients with cardiac pacemakers or implantable cardioverter-defibrillators. Can J Gastroenterol Hepatol. 2017:7298032
Ethics declarations
Conflict of interest
This work was supported by the AORN dei Colli-Monaldi Hospital, Naples, Italy. The authors have no conflict of interest to disclose.
Statements on human and animal rights
This article does not contain any studies involving human participants or animals performed by any of the authors.
Informed consent
Informed consent was obtained from all individual partecipants included in the study.
Additional information
Publisher's Note
Springer Nature remains neutral with regard to jurisdictional claims in published maps and institutional affiliations.
Electronic supplementary material
Below is the link to the electronic supplementary material.
About this article
Cite this article
Durante-Mangoni, E., Parrella, A., Pafundi, P.C. et al. Liver histopathological findings in advanced heart failure: a reappraisal of cardiac cirrhosis concept. Intern Emerg Med 14, 931–940 (2019). https://doi.org/10.1007/s11739-019-02033-3
Received:

Accepted:

Published:

Issue Date:
Keywords
Heart failure

Cardiac cirrhosis

Liver biopsy

Liver ultrasound