Access options
Buy single article
Instant access to the full article PDF.
US$ 39.95
Tax calculation will be finalised during checkout.
Subscribe to journal
Immediate online access to all issues from 2019. Subscription will auto renew annually.
US$ 79
Tax calculation will be finalised during checkout.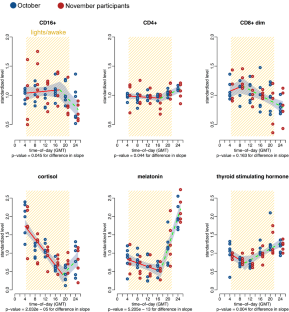 References
1.

Aschoff J (ed) (1981) Biological rhythms. Handbook of behavioural neurobiology, vol 4. Plenum Publishing Corporation, New York, p 4

2.

Vinciguerra M, Tevy MF, Mazzoccoli G (2014) A ticking clock links metabolic pathways and organ systems function in health and disease. Clin Exp Med 14(2):133–140

3.

Janszky I, Ljung R (2008) Shifts to and from daylight savings time and incidence of myocardial infarction. N Engl J Med 359:1966–1968

4.

Jiddou MR, Pica M, Boura J, Qu L, Franklin BA (2013) Incidence of myocardial infarction with shifts to and from daylight savings time. Am J Cardiol 111:631–635

5.

Sipilä JO, Rautava P, Kytö V (2016) Association of daylight saving time transitions with incidence and in-hospital mortality of myocardial infarction in Finland. Ann Med 48(1–2):10–16

6.

Manfredini R, Fabbian F, Cappadona R, Modesti PA (2018) Daylight saving time, circadian rhythms, and cardiovascular health. Intern Emerg Med 13(5):641–646

7.

Mazzoccoli G (2011) The timing clockwork of life. J Biol Regul Homeost Agents 25(1):137–143

8.

Mazzoccoli G, De Cata A, Greco A, Carughi S, Giuliani F, Tarquini R (2010) Circadian rhythmicity of lymphocyte subpopulations and relationship with neuro-endocrine system. J Biol Regul Homeost Agents 24(3):341–350

9.

Tarquini R, Clock Mazzoccoli G, Genes Metabolism, Risk Cardiovascular (2017) Clock genes, metabolism, and cardiovascular risk. Heart Fail Clin 13(4):645–655

10.

Mazzoccoli G, De Cosmo S, Mazza T (2018) The biological clock: a pivotal hub in non-alcoholic fatty liver disease pathogenesis. Front Physiol 15(9):193
Acknowledgements
The work in GM's laboratory was supported by the "5 × 1000" voluntary contribution, and by a Grant from the Italian Ministry of Health through Department of Medical Sciences, Division of Internal Medicine and Laboratory of Chronobiology (RC1803ME40), Fondazione IRCCS "Casa Sollievo della Sofferenza", Opera di Padre Pio da Pietrelcina, San Giovanni Rotondo (FG), Italy.
Ethics declarations
Conflict of interest
The authors declare that they have no conflict of interest.
Research involving in human and animal rights
This article does not contain any studies with animals performed by any of the authors. Subjects in the study participated willingly.
Informed consent
Human participants gave written informed consent.
About this article
Cite this article
Tarquini, R., Carbone, A., Martinez, M. et al. Daylight saving time and circadian rhythms in the neuro-endocrine-immune system: impact on cardiovascular health. Intern Emerg Med 14, 17–19 (2019). https://doi.org/10.1007/s11739-018-1984-x
Received:

Accepted:

Published:

Issue Date:
Keywords
Daylight Savings

Core Circadian Genes

Breakpoint Regression

Chronodisruption

Suprachiasmatic Nucleus