Abstract
Mesosulfuron-methyl has been widely used in wheat fields to control an annual weed Aegilops tauschii; however, the effects of mesosulfuron-methyl on competition between wheat and A. tauschii is not clear. In the present research, using wheat as an accompanying plant, a comparative pot experiment was conducted to see the effect of mesosulfuron-methyl on the growth and competitiveness of A. tauschii. The result showed that (1) under the CK condition (0 mg m−2, mesosulfuron-methyl), the plant height, tiller number and total biomass of A. tauschii in the mixed group were all significantly higher than those of wheat. This showed that A. tauschii is relatively more resource competitive. The relative yield (RY) of A. tauschii > 1, and the RY of wheat < 1, indicating that the competition between wheat and A. tauschii is less than the intraspecific competition of A. tauschii. (2) Results obtained from the relative electric conductivity (REC), superoxide dismutase (SOD) activity, thiobarbituric acid (TBARS) and chlorophyll content in the group of A. tauschii only and wheat only were judged. In addition, the plant mortality, plant height, tiller number and total biomass change of wheat and A. tauschii in both the single and mixed species situations were also evaluated. From these observations, it is concluded that mesosulfuron-methyl treatment had a certain inhibitory effect on the growth and development of both wheat and A. tauschii. However, compared with wheat, A. tauschii have shown a certain level of resistance to low concentrations of mesosulfuron-methyl.
Access options
Buy single article
Instant access to the full article PDF.
US$ 39.95
Tax calculation will be finalised during checkout.
Subscribe to journal
Immediate online access to all issues from 2019. Subscription will auto renew annually.
US$ 79
Tax calculation will be finalised during checkout.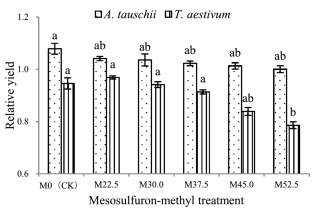 References
Brooker RW, Callaghan TV (1998) The balance between positive and negative plant interactions and its relationship to environmental gradients: a model. Oikos 81(1):196–207

DeWit CT (1960) On competition. Versl Landouwkundige Onderz 66:1–82

Fang F, Zhang CX, Huang HJ, Li M, Gao XX, Li Y, Wei SH (2014) The occurrence of Tausch's goatgrass (Aegilops tauschii Coss.) in wheat fields and its effect on wheat yield. Acta Ecol Sin 34(14):3917–3923

Fowler N (1981) Competition and coexistence in a North Carolina grassland. II. The effects of the experimental removal of species. J Ecol 69(3):843–854

Guo WL, Zhao N, Li W, Bai S, Wang JX (2016) Resistance of short awn foxtail (Alopecurusaequalis Sobol.) to mesosulfuron-methyl in wheat fields in Shandong province. J Triticeae Crops 36(12):1688–1694

He Q, Bertness MD, Altieri AH (2013) Global shifts towards positive species interactions with increasing environmental stress. Ecol Lett 16(5):695–706

Huang ZF, Sui BF, Zhang CX, Huang HJ, Wei SH (2019) The basis of resistance mechanism to mesosulfuron-methyl in Tausch's goatgrass (Aegilops tauschii Coss.). Pestic Biochem Physiol 115:126–131

Jiang ZL, Liu WX, Wang FH, Li ZY (2008) Competitive effects between Ageratina adenophora (Asteraceae) and Setaria sphacelata (Gramineae). Sci Agric Sin 41(5):1347–1354

Kong L, Si J, Bo F, Li SD, Wang FH, Sayre K (2009) Differential responses of two types of winter wheat (Triticum aestivum L.) to autumn- and spring-applied mesosulfuron-methyl. Crop Prot 28(5):387–392

Li HS (2000) Principle and technology of plant physiological biochemical experiment. Higher Education Press, Beijing

Li M, Wang GX (2002) Effect of drought stress on activities of cell defense enzymes and lipid peroxidation in Glycyrrhiza uralensis Seedlings. Acta Ecol Sin 22(4):503–507

Li BH, Wang GQ, Su LJ, Fan CQ, Dong JG (2007) Research of herbicides screening on Aegilops tauschii Coss. J Hebei Agric Sci 11(1):46–48

Ma J, Yi J, Huangfu CH, Yang DL (2010) Competitive effects between invasive plant Flaveria bidentis and three pasture species. Acta Botan Boreali-Occident Sin 30(5):1020–1028

Maestre FT, Callaway RM, Valladares F, Lortie CJ (2009) Refining the stress-gradient hypothesis for competition and facilitation in plant communities. J Ecol 97(2):199–205

Niu DW, Ma N, Fang ZY, Li YH (2018) Physiological study of drought-tolerant Nassella tenuissima under water. Pratacult Sci 35(3):581–589

Peng H, Gui FR, Li ZY, Li J, Wan FH (2010) Competition effect of Imperata cylindrica to Ageratina adenophora. Chin J Ecol 29(10):1931–1936

Qian LJ, Yuan SZ, Gao Y (2014) Effect of clodinafop propargyl emulsifiable concentration on antioxidative activities in seedling leaf of wheat cultivars. J Triticeae Crops 34(5):674–679

Shi CX, Yan YG, Li EC, Lei H, Wang YH, Duan SK (2003) Controlling effects of two new herbicides on malignant weeds in wheat field. J Triticeae Crops 23(4):123–125

Su WC, Sun LL, Zhang Q, Wu RH, Wang HL, Lu CT, Zhang YC (2013) Effects of imazapic residues on the growth and photosynthetic parameters of wheat seedlings as succeeding crop. J Triticeae Crops 33(6):1226–1231

Sui BF (2010) Basis of variable sensitivity to mesosulfuron-methylin different Tausch's goatgrass (Aegilops tauschii Coss.) population. Dissertation, Chin Acad Agric Sci

Thorpe AS, Aschehoug ET, Atwater DZ, Callaway RM (2011) Interactions among plants and evolution. J Ecol 99(3):729–740

Wang XY (2017) The biological characteristics and genetic diversity of Aegilops tauschii Coss. Chinese Academy of Agricultural Sciences, Beijing

Wang ZG, Feng CN, Guo WS, Xia YR, Zhu XK, Chun Y, Peng YX (2010) Effects of herbicides on physiology and biochemistry of weak-gluten wheat. J Agro-Environ Sci 29(6):1027–1032

Wang KG, Cao YP, Wei L, Ren RL, Wan LF, Qin YX, Wang WD, Zhang JP (2011) Effect of herbicides to control Aegilops tauschii and to wheat growth. J Shanxi Agric Sci 39(4):352–355

Wang KG, Ren RL, Liu LL, Wang R, Guo LH (2015) Study on drug resistance of the main cultivars of wheat (Triticumaestivum L.) in Shanxi to the mesosulfuron and sigma broad. J Shanxi Agric Sci 43(8):992–994

Wang N, Yuan ML, Wang L, Chen H, Li ZZ (2018) The response of phenotypic plasticity and competitive ability of Aegilops tauschii Coss. to simulated nitrogen deposition. Acta Agrestia Sin 26(6):1428–1434

Wang N, Tian YW, Chen H (2019a) Mutual allelopathic effect between invasive plant Aegilops tauschii and wheat. Int J Agric Biol 21(2):463–471

Wang N, Yuan ML, Chen H, Li ZZ, Zhang MX (2019b) Effect of drought stress and rewatering on growth and physiological characteristics of invasive Aegilops tauschii seedlings. Acta Prataculturae Sin 28(1):70–78

Weidenhamer JD, Callaway RM (2010) Direct and indirect effects of invasive plants on soil chemistry and ecosystem function. J Chem Ecol 36(1):59–69

Williams AC, McCarthy BC (2001) A new index of interspecific competition for replacement and additive designs. Ecol Res 16(1):29–40

Wilson JB (1988) Shoot competition and root competition. J Appl Ecol 25(1):279–296

Zhang WP, Jia X, Damgaard C, Morris C, Bai YY, Pan S, Wang GX (2013) The interplay between above-and below-ground plant-plant interactions along an environmental gradient: insights from two-layer zone-of-influence models. Oikos 122(8):1147–1156

Zhang BZ, Xie LF, Li GL, Li GL, Li P, Wang JH, Zhu MT (2017) Mesosulfuron susceptibility of Aegilops tauschii different populations of Henan province. J Henan Inst Sci Technol (Nat Sci Ed) 45(5):37–40

Zou Q (2003) The guidance of plant physiological and biochemical. China Agriculture Press, Beijing
Acknowledgements
The research was supported by the Natural Science Foundation of Henan Province (182300410092).
Ethics declarations
Conflict of interest
The authors declare no conflicts of interest.
Additional information
Publisher's Note
Springer Nature remains neutral with regard to jurisdictional claims in published maps and institutional affiliations.
Communicated by R. Baczek-Kwinta.
About this article
Cite this article
Wang, N., Tian, Y. & Chen, H. Effects of mesosulfuron-methyl on growth and competitiveness of Aegilops tauschii and Triticum aestivum. Acta Physiol Plant 43, 39 (2021). https://doi.org/10.1007/s11738-021-03206-4
Received:

Revised:

Accepted:

Published:
Keywords
Mesosulfuron-methyl

Aegilops tauschii

Competition

SOD activity