Abstract
Essential oils and geraniol-bearing taxa of genus Thymus have potential significance in pharmaceutical and fragrance industries as sources of lemon flavour and fragrance essential and natural origin biologically active compound geraniol. The aim of this study was to estimate effects of meteorological conditions on yield of essential oil and their main compounds in Thymus pulegioides geraniol chemotype and geraniol-bearing interspecific hybrid Thymus × citriodorus cultured in same locality. Hybrid and two individual plants of T. pulegioides were vegetative propagated and grown in the open ground under the same environmental conditions. The volatile oils were isolated by hydrodistillation annually, analysis of main compounds of essential oils—geraniol, nerol, geranial, and neral—was carried out by GC-FID and GC–MS. Observed positive relationship of essential oil yield with rainfall and negative with temperature, sunshine duration and photosynthetically active solar radiation showed that a cool weather, little sunny and moisture are suitable for accumulation of essential oil and geraniol in hybrid T. × citriodorus. Two clones of T. pulegioides geraniol chemotype accumulated the lowest and the highest amounts of volatile oils not in same years. Regression analysis showed unlike trends of effects of many meteorological conditions on yield of essential oil in T. pulegioides samples. Only rainfall and temperature most similarly influenced essential oil accumulation in both T. pulegioides clones. The percentage of geraniol was affected by meteorological conditions more similarly in both T. pulegioides; only effect of rainfall on percentage of geraniol was unlike in different samples. Results showed that same meteorological conditions can differently influence essential oil accumulation not only in different Thymus taxa containing similar chemical composition of essential oils, but also in representatives of same chemotype of same Thymus taxa.
We're sorry, something doesn't seem to be working properly.
Please try refreshing the page. If that doesn't work, please contact support so we can address the problem.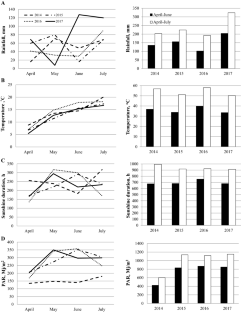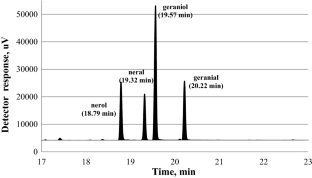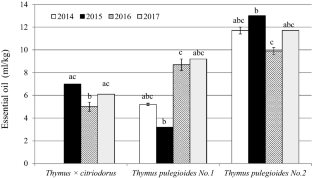 References
Adams RP (ed) (2007) Identification of essential oil components by gas chromatography/mass spectrometry. Allured Publishing Corp., Carol Stream

Baser KHC, Buchbauer G (eds) (2015) Handbook of essential oils: science, technology, and applications. CRC Press, New York

Burt S (2004) Essential oils: their antibacterial properties and potential applications in foods—a review. Int J Food Microbiol 94:223–253

Chen W, Viljoen AM (2010) Geraniol—a review of a commercially important fragrance material. S Afr J Bot 76:643–651

Hadef Y, Kaloustian J, Chefrour A, Mikail C, Abou L, Giodani R, Nicolay A, Portugal H (2007) Chemical composition and variability of the essential oil Thymus numidicus Poir. from Algeria. Acta Bot Gallica 154:265–274

Jordan MJ, Martinez RM, Cases MA, Sotomayor JA (2003) Watering level effect on Thymus hyemalis Lange essential oil yield and composition. J Agric Food Chem 51:5420–5427

Kohl P, Crampin EJ, Quinn TA, Noble D (2010) Systems biology: an approach. Clin Pharmacol Ther 88:25–33

Lapczynski A, Bhatia SP, Foxenberg RJ, Letizia CS, Api AM (2008) Fragrance material review on geraniol. Food Chem Toxicol 46:S160–S170

Lawrence BM, Tucker AO (2002) The genus Thymus as a source of commercial products. In: Stahl-Biskup E, Sáez F (eds) Thyme. The genus Thymus. Taylor and Francis, London, p 330

Letchamo W, Marquard R, Hölzl J, Gosselin A (1994) Effects of water supply and light intensity on growth and essential oil of two Thymus vulgaris selections. Angew Bot 68:83–88

Ložienė K (2009) Selection of fecund and chemically valuable clones of thyme (Thymus) species growing wild in Lithuania. Ind Crops Prod 29:502–508

Ložienė K, Venskutonis PR (2005) Influence of environmental and genetic factors on the stability of essential oil composition of Thymus pulegioides. Biochem Syst Ecol 33:517–525

Ložienė K, Vaičiūnienė J, Venskutonis PR (2003) Chemical composition of the essential oil of different varieties of thyme (Thymus pulegioides L.) growing wild in Lithuania. Biochem Syst Ecol 31:249–259

Mártonfi P (1992) Polymorphism of essential oil in Thymus pulegioides subsp. chamaedrys in Slovakia. J Ess Oil Res 4:173–179

Mattana MS, Viera MAR, Abramo J, Marchese LCM, Marques MOM (2010) Shade level effects on yield and chemical composition of leaf essential oil of Photomorphe umbella. Sci Agr 67:414–418

Mockutė D, Bernotienė G (1999) The main citral-geraniol and carvacrol chemotypes of essential oil of Thymus pulegioides L. growing Wild in Vilnius district (Lithuania). J Agric Food Chem 47:3787–3790

Müller GC, Junnila A, Butler J, Kravchenko VD, Revay EE, Weiss RW, Schlein Y (2009) Efficacy of the botanical repellents geraniol, linalool, and citronella against mosquitoes. J Vector Ecol 34:2–8

Petropoulos SA, Daferera D, Polissiou MG, Passam HC (2008) The effect of water stress on the growth, yield and composition of essential oil of parsley. Sci Hortic 115:393–397

Preedy VR (ed) (2015) Essential oils in food preservation, flavor and safety. Academic Press, New York

Radušienė J, Janulis V (2004) Improvement of diversity, trade and conservation of medicinal and aromatic plants. Medicina (Kaunas) 40:705–709

Raut JS, Karuppayil SM (2014) A status review on the medicinal properties of essential oils. Ind Crops Prod 62:250–264

Silva FG, Pinto JE, Cardoso GM, Nascimento EA, Nelson LD, Sales FJ, Mol SJD (2006) Influence of radiation level on plant growth, yield and quality of essential oil in carqueja. Cienc Agrotec 30:52–57

Sotomayor JA, Martinez RM, Garcia JA, Jordan MJ (2004) Thymus zygis subsp. gracilis: water level effect on phytomass production and essential oil quality. J Agric Chem 52:5418–5424

Stahl-Biskup E (2002) Essential oil chemistry of the genus Thymus—a global view. In: Stahl-Biskup E, Sáez F (eds) Thyme. The genus Thymus. Taylor and Francis, London, p 330

Stahl-Biskup E, Holthuijzen J (1995) Essential oil and glycosidically bound volatiles of lemon-scented thyme, Thymus × citriodorus (Pers.) Schreb. Flav Fragr J 10:225–229

Swamy MK, Akhtar MS, Sinniah UR (2016) Antimicrobial properties of plant essential oils against human pathogens and their mode of action: an updated review. Evid Based Complement Alternat Med. https://doi.org/10.1155/2016/3012462

Thompson JD, Manicacci D, Tarayre M (1998) Thirty-five years of thyme: a tale of two polymorphisms. Why so many females? Why so many chemotypes? Bioscience 48:805–815

Thompson JD, Chalchat JC, Michet A, Linhart YB, Ehlers B (2003) Qualitative and quantitative variation in monoterpene co-occurrence and composition in the essential oil of Thymus vulgaris chemotypes. J Chem Ecol 29:859–880

Vaičiulytė V, Ložienė K (2015) Metabolomic analysis and effects of meteorological factors on phenolic and non-phenolic chemotypes of Thymus pulegioides L. cultured in same locality. Ind Crops Prod 77:491–498

Verma RS, Verma RK, Chauhan A, Yaday AK (2011) Seasonal variation in essential oil content and composition of Thyme, Thymus serpyllum L. cultivated in Uttarakhand Hills. Indian J Pharm Sci 73:233–235

Zehtab-Salmasi S, Javanshir A, Omidbaigi R, Aly-Ari H, Ghassemi-Golezani K (2001) Effects of water supply and sowing date on performance and essential oil production of anise (Pimpinella anisum L.). Acta Agric Hung 49:75–81
Acknowledgements
This research was supported by the Open Access to research infrastructure of the Nature Research Centre under Lithuanian open access network initiative. We thank Dr. R. Butkienė for help doing GC/MS analysis of essential oils. The authors also would like to acknowledge the contribution of the COST Action FA1306.
Additional information
Publisher's Note
Springer Nature remains neutral with regard to jurisdictional claims in published maps and institutional affiliations.
Communicated by R. Baczek-Kwinta.
About this article
Cite this article
Ložienė, K., Vaičiulytė, V. & Maždžierienė, R. Influence of meteorological conditions on essential oil composition in geraniol-bearing Thymus pulegioides and Thymus hybrid. Acta Physiol Plant 43, 27 (2021). https://doi.org/10.1007/s11738-021-03201-9
Received:

Revised:

Accepted:

Published:
Keywords
Thymus pulegioides
Thymus × citriodorus

Hydrodistillation

Essential oil

Geraniol

Meteorological conditions