Abstract
Transport inhibitor response 1 (TIR1), as an F-box family protein, is a nucleus receptor of auxin in plants. It is essential in the auxin signal transduction pathway and the expression of auxin-responsive genes. As the most important hormone in plants, auxin has a great influence on the ovule and fiber development of cotton (Gossypium hirsutum L.). Studies on the effect of auxin signal transduction pathway on cotton fiber development can fundamentally solve the problem of fiber yield and quality. The cDNA sequence of G. hirsutum TIR1 was obtained through homologous cloning and rapid-amplification of cDNA ends (RACE). The homology between GhTIR1 and that in Arabidopsis thaliana was 64.8%. To study the functions, subcellular localization, and the specific localization of GhTIR1 sequence, we constructed the fusion expression vector of GhTIR1 and its N-terminal or C-terminal deletion mutant genes with GFP. By transiently transforming Arabidopsis protoplasts and stably transforming Nicotiana tabacum BY-2 cell lines, GhTIR1 was localized in the nucleus through the N-terminal 1–197 amino acid sequence. The expression patterns of GhTIR1 in different organs and ovule and cotton fiber cells at different developmental stages showed that GhTIR1 was highly expressed in the initial and elongation stages of cotton fiber development. These results indicate that GhTIR1 plays an important role in the initiation and elongation of cotton fibers, especially the formation of primary fibers of cotton fiber cells.
We're sorry, something doesn't seem to be working properly.
Please try refreshing the page. If that doesn't work, please contact support so we can address the problem.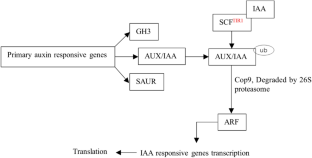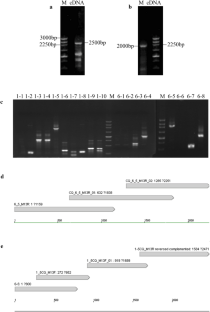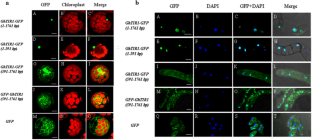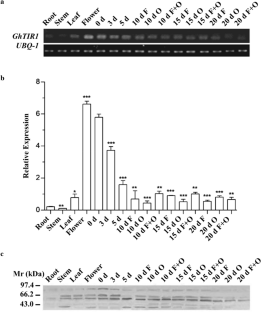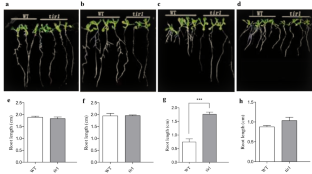 References
Abel S, Theologis A (1996) Early genes and auxin action. Plant Physiol 111:9–17

Chen C, Cheung AY, Wu HM (2003) Actin-depolymerizing factor mediates Rac/Rop GTPase-regulated pollen tube growth. Plant Cell 15:237–249

Da Silva MB, Davis RF, Kumar P, Nichols RL, Chee PW (2019) Resistance quantitative trait loci qMi-C11 and qMi-C14 in cotton have different effects on the development of Meloidogyne incognita, the southern root-knot nematode. Plant Dis 103:853–858

Delmer DP, Pear JR, Andrawis A, Stalker DM (1995) Genes encoding small GTP-binding proteins analogous to mammalian race are preferentially expressed in developing cotton fibers. Mol Gen Genet 248:43–51

Dharmasiri N, Dharmasiri S, Estelle M (2005) The F-box protein TIR1 is an auxin receptor. Nature 435:441–445

Dingwall C, Sharnick SV, Laskey RA (1982) A polypeptide domain that specifies migration of nucleoplasmin into the nucleus. Cell 30:449–458

Gray WM, Kepinski S, Rouse D, Leyser O, Estelle M (2001) Auxin regulates SCF(TIR1)-dependent degradation of AUX/IAA proteins. Nature 414:271–276

Gu Y, Fu Y, Dowd P, Li S, Vernoud V, Gilroy S, Yang ZB (2005) A Rho family GTPase controls actin dynamics and tip growth via two counteracting downstream pathways in pollen tubes. J Cell Biol 169:127–138

Hagen G, Guilfoyle T (2002) Auxin-responsive gene expression: genes, promoters and regulatory factors. Plant Mol Biol 49:373–385

Heasman J, Crawford A, Goldstone K, Garner-Hamrick P, Gumbiner B, McCrea P, Kintner C, Noro CY, Wylie C (1994) Overexpression of cadherins and underexpression of β-catenin inhibit dorsal mesoderm induction in early Xenopus embryos. Cell 79:791–803

Ji SJ, Lu YC, Feng JX, Wei G, Li J, Shi YH, Fu Q, Liu D, Luo JC, Zhu YX (2003) Isolation and analyses of genes preferentially expressed during early cotton fiber development by subtractive PCR and cDNA array. Nucleic Acids Res 31:2534–2543

Kepinski S, Leyser O (2005) The arabidopsis F-box protein TIR1 is an auxin receptor. Nature 435:441–445

Kim HJ, Triplett BA (2004) Characterization of GhRac1 GTPase expressed in developing cotton (Gossypium hirsutum L.) fibers. Biochim Biophys Acta-Gene Struct Expr 1679:214–221

Lee S, Sundaram S, Armitage L, Evans JP, Hawkes T, Kepinski S, Ferro N, Napier RM (2014) Defining binding efficiency and specificity of auxins for SCF(TIR1/AFB)-Aux/IAA co-receptor complex formation. ACS Chem Biol 9:673–682

Leyser O (2002) Molecular genetics of auxin signaling. Annu Rev Plant Biol 53:377–398

Liu C, Li Y, Semenov M, Han C, Baeg GH, Tan Y, Zhang ZH, Lin XH, He X (2002) Control of β-catenin phosphorylation/degradation by a dual-kinase mechanism. Cell 108:837–847

Livak KJ, Schmittgen TD (2001) Analysis of relative gene expression data using real-time quantitative PCR and the 2(-Delta Delta C(T)) Method. Methods (San Diego Calif) 25:402–408

Marchant A, Kargul J, May ST, Muller P, Delbarre A, Perrot-Rechenmann C, Bennett MJ (1999) AUX1 regulates root gravitropism in Arabidopsis by facilitating auxin uptake within root apical tissues. EMBO J 18:2066–2073

Mitsuhashi N, Shimada T, Mano S, Nishimura M, Nishimura IH (2000) Characterization of organelles in the vacuolar-sorting pathway by visualization with GFP in tobacco BY-2 cells. Plant Cell Physiol 41:993–1001

Napier RM, David KM, Perrot-Rechenmann C (2002) A short history of auxin-binding proteins. Plant Mol Biol 49:339–348

Nicolas P, Lecourieux D, Kappel C, Cluzet S, Cramer G, Delrot S, Lecourieux F (2014) The basic leucine zipper transcription factor ABSCISIC ACID RESPONSE ELEMENT-BINDING FACTOR2 is an important transcriptional regulator of abscisic acid-dependent grape berry ripening processes. Plant Physiol 164:365–383

Rubinfeld B, Robbins P, El-Gamil M, Albert I, Porfiri E, Polakis P (1997) Stabilization of β-catenin by genetic defects in Melanoma cell lines. Science 275:1790–1792

Sabatini S, Beis D, Wolkenfelt H, Murfett J, Guilfoyle T, Malamy J, Benfey P, Leyser O, Bechtold N, Weisbeek P, Scheres B (1999) An auxin-dependent distal organizer of pattern and polarity in the Arabidopsis root. Cell 99:463–472

Salehin M, Bagchi R, Estelle M (2015) SCFTIR1/AFB-based auxin perception: mechanism and role in plant growth and development. Plant Cell 27:9–19

Samaj J (2002) Involvement of the mitogen-activated protein kinase SIMK in regulation of root hair tip growth. EMBO J 21:3296–3306

Sun YQ, Zhang XL, Huang C, Nie Y, Guo XP (2005) Plant regeneration via somatic embryogenesis from protoplasts of six explants in Coker 201 (Gossypium hirsutum). Plant Cell Tiss Organ Cult 82:309–315

Timpte C (2001) Auxin binding protein: Curiouser and curiouser. Trends Plant Sci 6:586–590

Tiwari SB, Hagen G, Guilfoyle T (2003) The roles of auxin response factor domains in auxin-responsive transcription. Plant Cell 15:533–543

Uchida N, Takahashi K, Iwasaki R, Yamada R, Yoshimura M, Endo TA, Kimura S, Zhang H, Nomoto M, Tada Y, Kinoshita T, Itami K, Hagihara S, Torii KU (2018) Chemical hijacking of auxin signaling with an engineered auxin–tir1 pair. Nat Chem Biol 14:299–305

Vaseva II, Qudeimat E, Potuschak T, Du YL, Genschik P, Vandenbussche F, Straeten DVD (2018) The plant hormone ethylene restricts Arabidopsis growth via the epidermis. Proc Natl Acad Sci USA 115:4130–4139

Villalobos C, Luz Irina A, Lee S, De Oliveira C, Ivetac A, Brandt W, Armitage L, Sheard LB, Tan X, Parry G, Mao HB, Zheng N, Napier R, Kepinski S, Estelle M (2012) A combinatorial TIR1/AFB-Aux/IAA co-receptor system for differential sensing of auxin. Nat Chem Biol 8:477–485

Wang R, Estelle M (2014) Diversity and specificity: auxin perception and signaling through the TIR1/AFB pathway. Curr Opin Plant Biol 21:51–58

Wendel JF, Cronn RC (2003) Polyploidy and the evolutionary history of cotton. Adv Agron 78:139–186

Weston CR, Lambright DG, Davis RJ (2002) MAP kinase signaling specificity. Science 296:2345–2347

Woodward AW, Bartel B (2005) Auxin: regulation, action, and interaction. Ann Bot 95:707–735

Yoo SD, Cho YH, Sheen J (2007) Arabidopsis mesophyll protoplasts: a versatile cell system for transient gene expression analysis. Nat Protoc 2:1565–1572

Zhang M, Zheng XL, Song SQ, Zeng QW, Hou L, Li DM, Zhao J, Wei Y, Li XB, Luo M, Xiao YH, Luo XY, Zhang JF, Xiang CB, Pei Y (2011) Spatiotemporal manipulation of auxin biosynthesis in cotton ovule epidermal cells enhances fiber yield and quality. Bull Natl Nat Sci Found Chin 29:453–458

Zhang Y, Tian WX, Liu LX, Cheng WH, Wang W, Liew KM, Wang B, Hu Y (2019) Eco-friendly flame retardant and electromagnetic interference shielding cotton fabrics with multi-layered coatings. Chem Eng J 372:1077–1090
Funding
This study was funded by the National Natural Science Foundation of China (31872672 and 31270365) and the Open fund from Beijing Key Laboratory of Gene Resource and Molecular Development.
Ethics declarations
Conflicts of interest
The authors declare no conflicts of interest.
Additional information
Publisher's Note
Springer Nature remains neutral with regard to jurisdictional claims in published maps and institutional affiliations.
Communicated by J. Zhao.
Supplementary Information
Below is the link to the electronic supplementary material.
About this article
Cite this article
Wu, Y., Ming, H., Xu, J. et al. Cloning and functional characterization of auxin receptor TIR1 in Gossypium hirsutum. Acta Physiol Plant 43, 49 (2021). https://doi.org/10.1007/s11738-020-03198-7
Received:

Revised:

Accepted:

Published:
Keywords
Gossypium hirsutum

Auxin receptor

TIR1

Nuclear localization

Expression pattern