Abstract
The impact of oil pollution on coastal vulnerable ecosystems has been a major concern especially, in the Persian Gulf area. The current study was carried out to assess to what extent Avicennia marina can tolerate oil contamination and degrade crude oil polycyclic aromatic hydrocarbons (PAHs) from rhizosphere soil. Seeds of A. marina were grown in control and crude oil-contaminated (2.5, 5.0, 7.5, and 10% w/w) soil under ambient greenhouse conditions. Four-month-old plants were collected, measured for their biometry, and assayed for physiological characteristics in relation to degradation of PAHs. A. marina exposed to petroleum responded by allocating proportionally more biomass to root than shoot, activating enzymatic and non-enzymatic antioxidative mechanisms and removing of PAHs, particularly in lower concentrations of crude oil in the soil. The content of total PAHs in A. marina rhizosphere soil, grown on 2.5, 5.0, 7.5 and 10% oil-treated soils were, respectively, 37 ± 0.4, 21.84 ± 0.27, 12.78 ± 0.11 and 14.74 ± 0.03% lower than non-rhizosphere soil. Comparison of PAHs content of rhizospheric and non-rhizospheric soil also indicated that the highest rate of PAH removal was for acenaphthene (74.63 ± 0.78) in control, fluoranthene (71.18 ± 0.56) in 2.5%, and anthracene (69.45 ± 6.33, 55.66 ± 4.38 and 35.97 ± 0.22) in 5.0, 7.5 and 10% oil-contaminated soil and acenaphthene (74.63 ± 0.78) in control. Activities of peroxidase, ascorbate peroxidase, and polyphenol oxidase were more prominent in the roots of plants exposed to increasing concentrations of oil in soil than control plants. Conversely, the activity of superoxide dismutase decreased. These findings render A. marina as a phytoremediation candidate for small scale oil spills and residual oil pollution in coastal marine environments.
Access options
Buy single article
Instant access to the full article PDF.
US$ 39.95
Tax calculation will be finalised during checkout.
Subscribe to journal
Immediate online access to all issues from 2019. Subscription will auto renew annually.
US$ 79
Tax calculation will be finalised during checkout.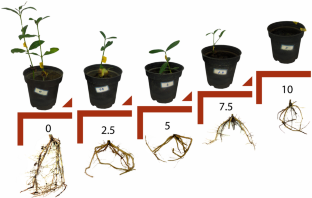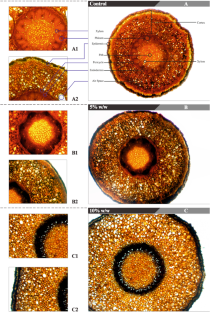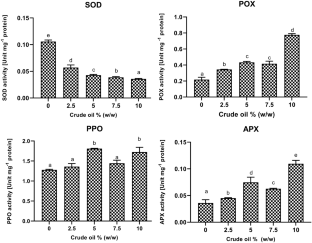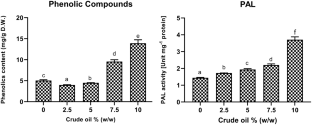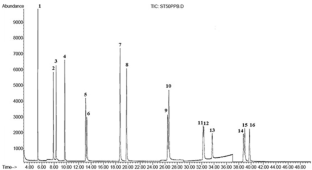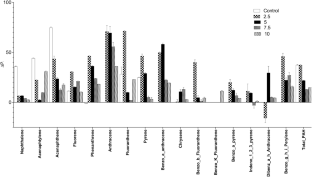 References
Abeles FB, Biles CL (1991) Characterization of peroxidases in lignifying peach fruit endocarp. Plant Physiol 95:269–273. https://doi.org/10.1104/pp.95.1.269

Akkol EK, Göger F, Koşar M, Başer KHC (2008) Phenolic composition and biological activities of Salvia halophila and Salvia virgata from Turkey. Food Chem 108:942–949. https://doi.org/10.1016/j.foodchem.2007.11.071

Anderson TA, Guthrie EA, Walton BT (1993) Bioremediation in the rhizosphere. Environ Sci Technol 27:2630–2636. https://doi.org/10.1021/es00049a001

Azaizeh H, Castro PM, Kidd P (2011) Biodegradation of organic xenobiotic pollutants in the rhizosphere. In: Schröder P, Collins C (eds) Organic xenobiotics and plants. Springer, Dordrecht, pp 191–215. https://doi.org/https://doi.org/10.1007/978-90-481-9852-8_9

Balasubramaniyam A (2015) The influence of plants in the remediation of petroleum hydrocarbon-contaminated sites. Pharm Anal Chem Open Access 1:1–11. https://doi.org/10.4172/2471-2698.1000105

Bashir ME, El-Maradny A, El-Sherbiny M, Rasiq KT, Orif M (2017) Bio-concentration of polycyclic aromatic hydrocarbons in the grey mangrove (Avicennia marina) along eastern coast of the red sea. Open Chem 15:344–351. https://doi.org/10.1515/chem-2017-0038

Bradford MM (1976) A rapid and sensitive method for the quantitation of microgram quantities of protein utilizing the principle of protein-dye binding. Anal Biochem 72:248–254. https://doi.org/10.1006/abio.1976.9999

Corgié S, Joner EJ, Leyval C (2003) Rhizospheric degradation of phenanthrene is a function of proximity to roots. Plant Soil 257:143–150. https://doi.org/10.1023/A:1026278424871

Dandajeh HA, Talibi LN, Hellier P (2019) Influence of combustion characteristics and fuel composition on exhaust PAHs in a compression ignition engine. Energies 12(13):2575. https://doi.org/10.3390/en12132575

Fang C, Radosevich M, Fuhrmann JJ (2001) Atrazine and phenanthrene degradation in grass rhizosphere soil. Soil Biol Biochem 33:671–678. https://doi.org/10.1016/S0038-0717(00)00216-9

Farrias CO, Hamacher C, Wagener ADLR, Scofield ADL (2008) Origin and degradation of hydrocarbon in mangrove sediments (Rio de Janeiro, Brazil) contaminated by an oil spill. Org Geochem 39:289–307. https://doi.org/10.1016/j.orggeochem.2007.12.008

Fry EL, Evans AL, Sturrock CJ, Bullock JM, Bardgett RD (2018) Root architecture governs plasticity in response to drought. Plant Soil 433(1–2):189–200. https://doi.org/10.1007/s11104-018-3824-1

Giannopolitis CN, Ries SK (1977) Superoxide dismutases: I occurrence in higher plants. Plant Physiol 59:309–314. https://doi.org/10.1104/pp.59.2.309

Guo J, Chen X, Bao H, Li Y (2016) Photosynthetic and physiological responses of mangroves under an environmental deterioration. Acta Physiol Plant 38(6):140. https://doi.org/10.1007/s11738-016-2157-z

Heath RL, Packer L (1968) Photoperoxidation in isolated chloroplasts: I. Kinetics and stoichiometry of fatty acid peroxidation. Arch Biochem Biophys 125:189–198. https://doi.org/10.1016/0003-9861(68)90654-1

Hidayati N, Hamim H, Sulistyaningsish YC (2018) Phytoremediation of petroleum hydrocarbon using three mangrove species applied through tidal bioreactor. Biodiversitas 19(3):786–792. https://doi.org/10.13057/biodiv/d190305

Jebara S, Jebara M, Limam F, Aouani ME (2005) Changes in ascorbate peroxidase, catalase, guaiacol peroxidase and superoxide dismutase activities in common bean (Phaseolus vulgaris) nodules under salt stress. J Plant Physiol 162:929–993. https://doi.org/10.1016/j.jplph.2004.10.005

Jia H, Wang H, Lu H, Jiang S, Dai M, Liu J, Yan C (2016) Rhizodegradation potential and tolerance of Avicennia marina (Forsk.) Vierh in phenanthrene and pyrene contaminated sediments. Mar Pollut Bull 110:112–118. https://doi.org/10.1016/j.marpolbul.2016.06.075

Ke L, Zhang C, Wong YS, Tam NFY (2011) Dose and accumulative effects of spent lubricating oil on four common mangrove plants in South China. Ecotox Environ Safe 74:55–66. https://doi.org/10.1016/j.ecoenv.2010.09.011

Liu R, Dai Y, Sun L (2015) Effect of rhizosphere enzymes on phytoremediation in PAH-contaminated soil using five plant species. PLoS ONE 10(3):1–14. https://doi.org/10.1371/journal.pone.0120369

MOOPAM (Manual of Oceanographic Observation and Pollution Analysis), (2000) Regional Organization for the Protection of Marine Environment. Kuwait: Regional Organization for the Protection of Marine Environment

Moreira ITA, Oliveira OM, Triguis JA, Queiroz AF, Ferreira SL, Martins CM, Silva AC, Falcão BA (2013) Phytoremediation in mangrove sediments impacted by persistent total petroleum hydrocarbons (TPH's) using Avicennia schaueriana. Mar Pollut Bull 67(1–2):130–136. https://doi.org/10.1016/j.marpolbul.2012.11.024

Nadim F, Bagtzoglou AC, Iranmahboob J (2008) Coastal management in the Persian Gulf region within the framework of the ROPME programme of action. Ocean Coast Manag 51:556–565. https://doi.org/10.1016/j.ocecoaman.2008.04.007

Nie M, Yang Q, Jiang L-F, Fang C-M, Chen J-K, Li B (2010) Do plants modulate biomass allocation in response to petroleum pollution? Biol Lett 6:811–814. https://doi.org/10.1098/rsbl.2010.0261

Ochoa-Alejo N, Gómez-Peralta JE (1993) Activity of enzymes involved in capsaicin biosynthesis in callus tissue and fruits of chili pepper (Capsicum annuum L.). J Plant Physiol 141:147–152. https://doi.org/10.1016/S0176-1617(11)80751-0

Olubodun O, Eriyamremu E (2018) Effect of different crude oil fractions on growth and oxidative stress parameters of maize radicle. Int J Plant Soil Sci 2:144–154. https://doi.org/10.9734/IJPSS/2013/4102

Ralph P, Burchett M (1998) Impact of petrochemicals on the photosynthesis of Halophila ovalis using chlorophyll fluorescence. Mar Pollut Bull 36:429–436. https://doi.org/10.1016/S0025-326X(97)00207-5

Rashvand S, Sadeghi SM (2014) Distribution, characteristics and economic importance of mangrove forests in Iran. In: Faridah-Hanum I., Latiff A., Hakeem KR, Ozturk M, Mangrove Ecosystems of Asia, 1rd edn. Springer, New York, pp 95–126

Raymond J, Rakariyatham N, Azanza J (1993) Purification and some properties of polyphenoloxidase from sunflower seeds. Phytochem 34:927–931. https://doi.org/10.1016/S0031-9422(00)90689-7

Sadiq M, McCain JC (2012) The gulf war aftermath: An environmental tragedy. Springer, Netherlands, p 298

Sampaio CJS, de Souza JRB, Damião AO, Bahiense TC, Roque MRA (2019) Biodegradation of polycyclic aromatic hydrocarbons (PAHs) in a diesel oil-contaminated mangrove by plant growth-promoting rhizobacteria. Biotech 9(4):155. https://doi.org/10.1007/s13205-019-1686-8

Sheppard C, Al-Husiani M, Al-Jamali F, Al- Yamani F et al (2010) The Gulf: a young sea in decline. Mar Pollut Bull 60:13–38. https://doi.org/10.1016/j.marpolbul.2009.10.017

Shiri M, Rabhi M, El Amrani A, Abdelly C (2015) Cross-tolerance to abiotic stresses in halophytes: application for phytoremediation of organic pollutants. Acta Physiol Plant 37(10):209. https://doi.org/10.1007/s11738-015-1954-0

Sodré V, Caetano VS, Rocha RM et al (2013) Physiological aspects of mangrove (Laguncularia racemosa) grown in microcosms with oil-degrading bacteria and oil contaminated sediment. Environ Pollut 172:243–249. https://doi.org/10.1016/j.envpol.2012.09.003

Sorahinobar M, Niknam V, Ebrahimzadeh H, Soltanloo H, Moradi B, Bahram M (2016) Lack of association between Fusarium graminearum resistance in spike and crude extract tolerance in seedling of wheat. Eur J Plant Pathol 144(3):525–538

Tansel B, Lee M, Tansel DZ (2013) Comparison of fate profiles of PAHs in soil, sediments and mangrove leaves after oil spills by QSAR and QSPR. Mar Pollut Bull 73:258–262. https://doi.org/10.1016/j.marpolbul.2013.05.011

Velikova V, Yordanov I, Edreva A (2000) Oxidative stress and some antioxidant systems in acid rain-treated bean plants: protective role of exogenous polyamines. Plant Sci 151:59–66. https://doi.org/10.1016/S0168-9452(99)00197-1

Vives-Peris V, López-Climent MF, Pérez-Clemente RM, Gómez-Cadenas A (2020) Root involvement in plant responses to adverse environmental conditions. Agronomy 10:942. https://doi.org/10.3390/agronomy10070942

Wang W, Zhang X, Huang J, Yan C, Zhang Q, Lu H, Liu J (2014) Interactive effects of cadmium and pyrene on contaminant removal from co-contaminated sediment planted with mangrove Kandelia obovata (S., L.) Yong seedlings. Mar Pollut Bull 84:306–313. https://doi.org/10.1016/j.marpolbul.2014.04.046

Ward RD, Friess DA, Day RH, MacKenzie RA (2016) Impacts of climate change on mangrove ecosystems: a region by region overview. Ecosyst Health Sust 2:e01211. https://doi.org/10.1002/ehs2.1211

Wieland G, Neumann R, Backhaus H (2001) Variation of microbial communities in soil, rhizosphere, and rhizoplane in response to crop species, soil type, and crop development. Appl Environ Microbiol 67:5849–5854. https://doi.org/10.1128/AEM.67.12.5849-5854.2001

Wild SR, Jones KC (1995) Polynuclear aromatic hydrocarbons in the United Kingdom environment: a preliminary source inventory and budget. Environ Pollut 88:91–108. https://doi.org/10.1016/0269-7491(95)91052-M

Yong Y, Tam N (2007) Effects of used lubricating oil on two mangroves Aegiceras corniculatum and Avicennia marina. J Environ Sci 19:1355–1360. https://doi.org/10.1016/S1001-0742(07)60221-6

Youssef T (2002) Evidence for reduced post-spill recovery by the halophyte Sporobolus iocladus (Nees ex Trin.) Nees in oil-contaminated sediments. Mar Pollut Bull 44:334–339. https://doi.org/10.1016/S0025-326X(01)00265-X

Zhang C, Leung K, Wong Y, Tam N (2007) Germination, growth and physiological responses of mangrove plant (Bruguiera gymnorrhiza) to lubricating oil pollution. Environ Exp Bot 60:127–136. https://doi.org/10.1016/j.envexpbot.2006.09.002

Zhou X, Cébron A, Béguiristain T, Leyval C (2009) Water and phosphorus content affect PAH dissipation in spiked soil planted with mycorrhizal alfalfa and tall fescue. Chemosphere 77:709–713. https://doi.org/10.1016/j.chemosphere.2009.08.050
Acknowledgments
This research was supported by the Tarbiat Modares University and Norwegian University of Science and Technology (NTNU). We thank over colleagues from the Cell, Molecular Biology and Genomics group of NTNU who provided insight and expertise that greatly assisted the research.
Ethics declarations
Conflict of interest
The authors declare that they have no conflict of interest.
Additional information
Publisher's Note
Springer Nature remains neutral with regard to jurisdictional claims in published maps and institutional affiliations.
Communicated by M. Capuana.
About this article
Cite this article
Moradi, B., Zare Maivan, H., Seyed Hashtroudi, M. et al. Physiological responses and phytoremediation capability of Avicennia marina to oil contamination. Acta Physiol Plant 43, 18 (2021). https://doi.org/10.1007/s11738-020-03177-y
Received:

Revised:

Accepted:

Published:
Keywords
A.marina

Oil contamination

Morphometry

Antioxidative enzymes

Polycyclic aromatic hydrocarbons (PAHs)

Phytoremediation