Abstract
Inappropriate packages and packaging materials are the main causes of bruise damage in the postharvest handling of kiwifruit. This study was conducted to identify the suitable materials to be used as collection box during sorting and grading of kiwifruits. Three different materials of box, wooden box, high-density polyethylene (HDPE) box, and expanded polystyrene (EPS) box were used to simulate kiwifruit dropping in grading line. Among three treatments, the lowest weight loss (4.6%) was observed in the EPS box surface-impacted fruits, the bruise index and bruise area of fruits from EPS box were 36.2% and 47.1% less than that of wooden box, respectively. Furthermore, the peak level of ethylene production and respiration rate of fruits from EPS box was 32.6%, 28.9% lower than that of wooden box, respectively. Compared to wooden box and HDPE box surface, EPS box surface slowed softening, reduced electrolyte leakage and malondialdehyde accumulation. Additionally, lower bruise damage by the EPS box surface was also displayed in physiological attributors including hydrogen peroxide (H2O2), superoxide anion (O2–) and the activities of antioxidant enzymes. The collective data indicated that the EPS box surface reduced the adverse physiological changes caused by dropping of kiwifruit. These results indicated the potential of EPS as packaging material of collection box in grading line to reduce bruise damage and to preserve the quality of kiwifruit.
This is a preview of subscription content, log in to check access.
Access options
Buy single article
Instant access to the full article PDF.
US$ 39.95
Price includes VAT for USA
Subscribe to journal
Immediate online access to all issues from 2019. Subscription will auto renew annually.
US$ 99
This is the net price. Taxes to be calculated in checkout.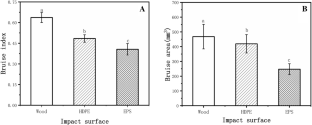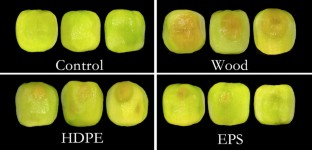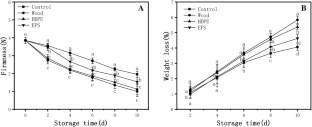 References
Ahmadi E (2012) Bruise susceptibilities of kiwifruit as affected by impact and fruit properties. Res Agric Eng 58(3):107–113

Ahmadi E, Ghassemzadeh HR, Sadeghi M, Moghaddam M, Neshat SZ (2010) The effect of impact and fruit properties on the bruising of peach. J Food Eng 97(1):110–117

Blokhina O (2003) Antioxidants, oxidative damage and oxygen deprivation stress: a review. Ann Bot 91(2):179–194

Cakmak B, Alayunt FN, Akdeniz RC, Aksoy U, Can HZ (2010) Assessment of the quality losses of fresh fig fruits during transportation. Tarim Bilimleri Dergisi 16(3):180–193

Celik HK (2017) Determination of bruise susceptibility of pears (Ankara variety) to impact load by means of FEM-based explicit dynamics simulation. Postharvest Biol Technol 128:83–97

DeMartino G (2002) Temperature affects impact injury on apricot fruit. Postharvest Biol Technol 25:145–149

Dhindsa RS, Plumb-Dhindsa P, Thorpe TA (1981) Leaf senescence: correlated with increased levels of membrane permeability and lipid peroxidation, and decreased levels of superoxide dismutase and catalase. J Exp Bot 32(1):93–101

Feng G, Yang H, Li Y (2005) Kinetics of relative electrical conductivity and correlation with gas composition in modified atmosphere packaged bayberries (Myrica rubra siebold and zuccarini). LWT Food Sci Technol 38(3):249–254

Ferguson IB, Watkins CB (1981) Ion relations of apple fruit tissue during fruit development and ripening. Iii. calcium uptake. Funct Plant Biol 8(3):259–266

Holt JE, Schoorl D (1984) Package protection and energy dissipation in apple packs. Sci Hortic 24(2):165–176

Hu H, Li P, Wang Y, Gu R (2014) Hydrogen-rich water delays postharvest ripening and senescence of kiwifruit. Food Chem 156:100–109

Hussein Z, Fawole OA, Opara UL (2019) Bruise damage susceptibility of pomegranates (Punica granatum, L.) and impact on fruit physiological response during short term storage. Sci Hortic 246:664–674

Komarnicki P, Stopa R, Daniel S, Lukasz K, Tomasz K (2017) Influence of contact surface type on the mechanical damages of apples under impact loads. Food Bioprocess Technol 10(8):1479–1494

Lewis R, Yoxall A, Canty LA, Romo ER (2007) Development of engineering design tools to help reduce apple bruising. J Food Eng 83(3):356–365

Lindén L, Palonen P, Lindén M (2000) Relating freeze-induced electrolyte leakage measurements to lethal temperature in red raspberry. J Am Soc Hortic Sci 125(4):429–435

Lu F, Xu FX, Li Z, Liu YF, Wang JW, Zhang L (2019) Effect of vibration on storage quality and ethylene biosynthesis-related enzyme genes expression in harvested apple fruit. Sci Hortic 249:1–6

Lü Q, Tang M (2012) Detection of hidden bruise on kiwi fruit using hyperspectral imaging and parallelepiped classification. Proc Environ Sci 12:1172–1179

Martínez-Romero D, Castillo S, Valero D (2003) Forced-air cooling applied before fruit handling to prevent mechanical damage of plums (Prunus salicina Lindl.). Postharv Biol Technol 28:135–142

Martinez-Romero D, Serrano M, Carbonell A, Burgos L, Riquelme F, Valero D (2002) Effects of postharvest putrescine treatment on extending shelf life and reducing mechanical damage in apricot. J Food Sci 67(5):1706–1712

Martino GD, Vizovitis K, Botondi R, Bellincontro A, Mencarelli F (2006) 1-MCP controls ripening induced by impact injury on apricots by affecting sod and pox activities. Postharvest Biol Technol 39(1):38–47

Mohammad Shafie M, Rajabipour A, Castro-García S, Jiménez-Jiménez F, Mobli H (2015) Effect of fruit properties on pomegranate bruising. Int J Food Prop 18(8):1837–1846

Moretti CL (1998) Chemical composition and physical properties of pericarp, locule, and placental tissues of tomatoes with internal bruising. J Am Soc Hortic Sci 123(4):656–660

Montero CRS, Schwarz LL, Santos LCD, Andreazza CS, Kechinski CP, Bender RJ (2009) Postharvest mechanical damage affects fruit quality of 'Montenegrina' and 'Rainha' tangerines. Pesqui Agropecu Bras 44(12):1636–1640

Montero CRS, dos Santos LC, Andreazza CS, Bender RJ (2010) Influence of impact and compression mechanical damage on respiration of Fuji Suprema and Royal Gala apples. Semina Ciênc Agrár 31(4):967–974

Navabpour S, Morris K, Allen R, Harrison E, Mackerness S, Buchanan-Wollaston V (2003) Expression of senescence-enhanced genes in response to oxidative stress. J Exp Bot 54(391):2285–2292

Opara UL, Pathare PB (2014) Bruise damage measurement and analysis of fresh horticultural produce—a review. Postharvest Biol Technol 91:9–24

Pérez-Vicente A, Martinez-Romero D, Carbonell A, Serrano M, Riquelme F, Guillén F, Valero D (2002) Role of polyamines in extending shelf life and the reduction of mechanical damage during plum (Prunussalicina Lindl.) storage. Postharvest Biol Technol 25:25–32

Polat R, Aktas T, Ikinci A (2012) Selected mechanical properties and bruise susceptibility of nectarine fruit. Int J Food Prop 15(6):1369–1380

Sairam RK, Rao KV, Srivastava G (2002) Differential response of wheat genotypes to long term salinity stress in relation to oxidative stress, antioxidant activity and osmolyte concentration. Plant Sci 163:1037–1046

Scherrer-Montero CR, Dos Santos LC, Andreazza CS, Getz BM, Bender RJ (2011) Mechanical damages increase respiratory rates of citrus fruit. Int J Fruit Sci 11(3):256–263

Schoorl D, Holt JE (1983) Mechanical damage in agricultural products: a basis for management. Agric Syst 11(3):143–157

Sila DN, Duvetter T, De Baerdemaeker J, Hendrickx M (2008) Effect of mechanical impact-bruising on polygalacturonase and pectinmethylesterase activity and pectic cell wall components in tomato fruit. Postharvest Biol Technol 47(1):98–106

Song L, Gao H, Chen H, Mao J, Zhou Y, Chen W et al (2009) Effects of short-term anoxic treatment on antioxidant ability and membrane integrity of postharvest kiwifruit during storage. Food Chem 114:1216–1221

Tang J, Liu Y, Li H, Wang L, Huang K, Chen Z (2015) Combining an antagonistic yeast with harpin treatment to control postharvest decay of kiwifruit. Biol Control 89:61–67

Timm EJ, Brown GK, Armstrong PR (1996) Apple damage in bulk bins during semi-trailer transport. Appl Eng Agric 12(3):369–377

Wei X, Xie D, Mao L, Xu C, Luo Z, Xia M, Lu W (2019) Excess water loss induced by simulated transport vibration in postharvest kiwifruit. Sci Hortic 250:113–120

Xue YF, Liu ZP (2008) Antioxidant enzymes and physiological characteristics in two Jerusalem artichoke cultivars under salt stress. Russ J Plant Physiol 55(6):776–781

Yang D, Li D, Xu W, Liao R, Shi J, Fu Y, He X (2018) Design and application of a passive modified atmosphere packaging for maintaining the freshness of Chinese cabbage. LWT 94:136–141

Zhou R, Su S, Yan L, Li Y (2007) Effect of transport vibration levels on mechanical damage and physiological responses of Huanghua pears (Pyrus pyrifolia Nakai, cv. Huanghua). Postharvest Biol Technol 46(1):20–28
Acknowledgements
This work was financially supported by the National Key Research and Development Program of China (2018YFD0401303) and the National Natural Science Foundation of China (31772365).
Additional information
Publisher's Note
Springer Nature remains neutral with regard to jurisdictional claims in published maps and institutional affiliations.
Communicated by P. Wojtaszek.
About this article
Cite this article
Xia, M., Zhao, X., Wei, X. et al. Impact of packaging materials on bruise damage in kiwifruit during free drop test. Acta Physiol Plant 42, 119 (2020). https://doi.org/10.1007/s11738-020-03081-5
Received:

Revised:

Accepted:

Published:
Keywords
Kiwifruit

Bruise damage

Postharvest handling

Fruit quality