Abstract
Linum album has been shown to accumulate some lignans with antiviral and anticancer properties such as podophyllotoxin (PTOX) and 6-methoxy podophyllotoxin (MPTOX). In this research, we examined the effects of fungal elicitors on the production of lignans in L. album hairy root cultures. The biosynthesis of lignans was differentially affected by fungal elicitors. Fusarium graminearum extract induced the highest increase of PTOX, 190 μg g−1 dry weight (DW), and lariciresinol, 260 μg g−1 DW, which was two-fold and three-fold greater than the untreated control, respectively, while Trichoderma viride extract enhanced the accumulation of MPTOX, instead of PTOX, up to 160 µg g−1 DW, which was 2.4-fold greater than the control. The enhancing effects of fungal elicitors on lignans production was correlated with the increased expression of some key genes involved in the biosynthesis of these compounds, phenylalanine ammonia-lyase, cinnamoyl-CoA reductase, cinnamyl-alcohol dehydrogenase and pinoresinol-lariciresinol reductase.
Access options
Buy single article
Instant access to the full article PDF.
USD 39.95
Price excludes VAT (USA)
Tax calculation will be finalised during checkout.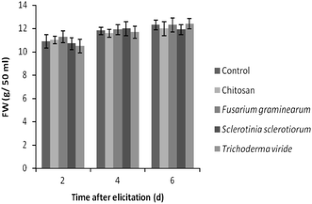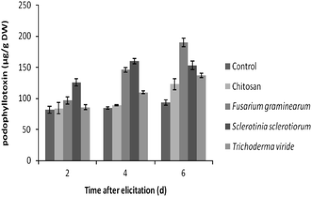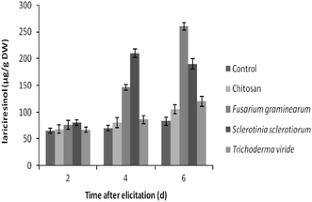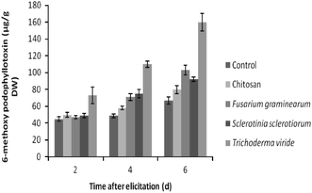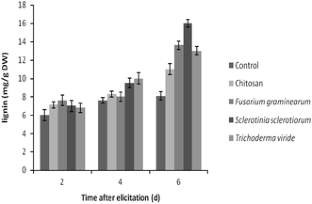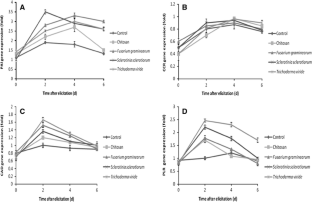 Abbreviations
CAD :

Cinnamyl-alcohol dehydrogenase

CCR :

Cinnamoyl-CoA reductase

LC–ESI–MS/MS:

Liquid chromatography–electrospray–mass spectrometry/mass spectrometry

MPTOX:

6-Methoxy podophyllotoxin

PAL :

Phenylalanine ammonia-lyase

PTOX:

Podophyllotoxin

PLR :

Pinoresinol-lariciresinol reductase
References
Ahmadian Chashmi N, Sharifi M, Yousefzadi M, Behmanesh M, Palazon J (2011) The production of cytotoxic lignans by hairy root cultures of Linum album. World Acad Sci Eng Technol 80:1024–1026

Baldi A, Srivastava K, Bisaria VS (2009) Fungal elicitors for enhanced production of secondary metabolites in plant cell suspension cultures. Soil Biol 18:373–380

Baldi A, Farkya S, Jain A, Gupta N et al (2010) Enhanced production of podophyllotoxin by co-culture of transformed Linum album cell with plant growth-promoting fungi. Pure Appl Chem 82:227–241

Bhambhani S, Karwasara VS, Dixit VK, Banerjee S (2012) Enhanced production of vasicine in Adhatoda vasica (L.) Nees. cell culture by elicitation. Acta Physiol Plant 34(4):1571–1578

Boerjan W, Ralph J, Baucher M (2003) Lignin biosynthesis. Annu Rev Plant Biol 54:519–546

Chashmi NA, Sharifi M, Yousefzadi M, Behmanesh M, Rezadoost H, Cardillo A, Palazon J (2012) Analysis of 6-methoxy podophyllotoxin and podophyllotoxin in hairy root cultures of Linum album Kotschy ex Boiss. Med Chem Res 22:745–752

De Alwis R, Fujita K, Ashitani T (2009) Induced monoterpene and lignin production in mechanically stressed and fungal elicited cultured Cupressus lusitanica cells. Plant Biotechnol Rep 3:57–65

El Ghaouth A, Arul J, Wilson C, Benhamou N (1994) Ultrastructural and cytochemical aspects of the effect of chitosan on decay of bell pepper fruit. Physiol Mol Plant Pathol 44:417–432

Esmaeilzadeh S, Sharifi M, Safaie N, Murata J, Yamagaki T, Satake H (2011) Increased lignan biosynthesis in the suspension cultures of Linum album by fungal extracts. Plant Biotechnol Rep 5:367–373

Esmaeilzadeh S, Sharifi M, Behmanesh M, Safaei N, Murata J, Araki R, Yamagaki T, Satake H (2012) Time-course changes in fungal elicitor-induced lignan synthesis and expression of the relevant genes in cell cultures of Linum album. J Plant Physiol 169(5):487–491

Farkya S, Bisaria VS (2008) Exogenous hormones affecting morphology and biosynthetic potential of hairy root line (LYR2i) of Linum album. J Biosci Bioeng 105:140–146

Giri A, Narasu ML (2000) Transgenic hairy roots: recent trends and applications. Biotechnol Adv 18:1–22

Hano C, Addi M, Bensaddek D, Cronier S, Laine E (2006) Differential accumulation of monolignol-drived compounds in elicited flax (Linum usitatissimum) cell suspension cultures. Planta 223:975–989

Hawkins S, Boudet A (2003) Defence lignin and hydroxycinnamyl alcohol dehydrogenase activities in wounded Eucalyptus gunnii. Eur J Forest Pathol 33:91–104

Iiyama K, Wallis A (1988) An improved acetyl bromide procedure for determining lignin in woods and wood pulps. Wood Sci Technol 22:271–280

Khan W, Prithiviraj B, Smith (2003) Chitosan and chitin oligomers increase phenylalanine ammonia-lyase and tyrosine ammonia-lyase activities in soybean leaves. J Plant Physiol 160:859–863

Lei C, Ma D, Pu G, Qiu X, Du Z, Wang H, Li G, Ye H, Liu B (2011) Foliar application of chitosan activates artemisinin biosynthesis in Artemisia annua L. Ind Crops Prod 33(1):176–182

Murashige T, Skoog F (1962) A revised medium for rapid growth and bioassay of tobacco tissue culture. Physiol Plant 15:473–497

Sahu R, Gangopadhyay M, Dewanjee S (2013) Elicitor-induced rosmarinic acid accumulation and secondary metabolism enzyme activities in Solenostemon scutellarioides. Acta Physiol Plant 35(5):1473–1481

Tahsili J, Sharifi M, Safaie N, Esmaeilzadeh Bahabadi S, Behmanesh M (2014) Induction of lignans and phenolic compounds in cell culture of Linum album by culture filtrate of Fusarium graminearum. J Plant Interact 9(1):412–417

Udomsuk L, Jarukamjorn K, Tanaka H, Putalun W (2011) Improved isoflavonoid production in Pueraria candollei hairy root cultures using elicitation. Biotech Lett 33(2):369–374

Vasconsuelo A, Boland R (2007) Molecular aspects of the early stages of secondary metabolites in plants. Plant Sci 172:861–875

Wang H, Jiang YP, Yu HJ, Xia XJ, Shi K, Zhou YH, Yu JQ (2010) Light quality affects incidence of powdery mildew, expression of defence-related genes and associated metabolism in cucumber plants. Eur J Plant Pathol 127:125–135
Acknowledgments
We are thankful to Tohru Yamagaki and Ryoichi Araki from Scientific and Technical Services of the Suntory Foundation for Life Sciences, Bioorganic Research Institute, for ESI–MS and qPCR analyses.
Additional information
Communicated by E. Kuzniak-Gebarowska.
About this article
Cite this article
Esmaeilzadeh Bahabadi, S., Sharifi, M., Ahmadian Chashmi, N. et al. Significant enhancement of lignan accumulation in hairy root cultures of Linum album using biotic elicitors. Acta Physiol Plant 36, 3325–3331 (2014). https://doi.org/10.1007/s11738-014-1700-z
Received:

Revised:

Accepted:

Published:

Issue Date:

DOI: https://doi.org/10.1007/s11738-014-1700-z
Keywords
Elicitation

Hairy root

Lignan

Linum album