Fabrication of three-dimensional porous La-doped SrTiO3 microspheres with enhanced visible light catalytic activity for Cr(VI) reduction
Abstract
In recent years, much effort has been focused on the development of the photocatalysts with high performance under visible light irradiation. In this paper, three-dimensional porous La-doped SrTiO3 (LST) microspheres were prepared by a modified sol–gel method, in which the agarose gel/SrCO
3
microsphere and La
2
O
3
were employed as the template and the La resource, respectively. The as-prepared LST microspheres exhibit a porous structure with a diameter of about 10 μm and a surface pore size of about 100 nm. The La element was doped into the crystal lattice of SrTiO
3
by the substitution of La
3+
for Sr
2+
. Therefore, the absorption edge of LST samples shifts toward the visible light region, and their photocatalytic activity for the Cr(VI) reduction is enhanced under visible light. Among all LST samples, LST-0.5 (the La
3+
doping content is 0.5 wt-%) exhibited the highest visible-light photocatalytic activity, which can reduce 84% Cr(VI) within 100 min. This LST materials may become a promising photocatalyst for the facile treatment of wastewater containing poisonous heavy metal ions.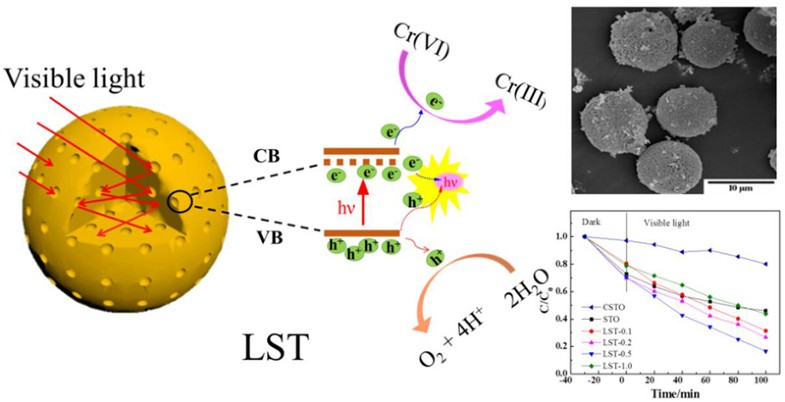 Keywords
SrTiO3 
La3+ doping 
porous microsphere 
visible-light photocatalysis 
Cr(VI) reduction 
Notes
Acknowledgements
The authors thank the financial support from the Program of Introducing Talents of Discipline to Universities (No. B06006), the National Natural Science Foundation of China (Grant Nos. 21621004 and 21406163), the Tianjin Research Program of Application Foundation and Advanced Technology (No. 15JCQNJC10000), the National Basic Research Program of China (No. 2009CB724705), and the National Science Fund for Distinguished Young Scholars (No. 21125627).
Copyright information
© Higher Education Press and Springer-Verlag GmbH Germany, part of Springer Nature 2018