Novel method for the preparation of Cs-containing FAU(Y) catalysts for aniline methylation
Abstract
Cs-containing FAU(Y)-type zeolite catalysts were prepared by conventional and novel ion exchange procedures followed by incipient wetness impregnation with CsOH. The novel ion exchange procedure involved hydrothermal treatment of NaY zeolite in aqueous solution of CsCl at 140–200 °C for 6–24 h. The samples were characterized by low-temperature nitrogen adsorption, X-ray fluorescence analysis, X-ray powder diffraction, scanning electron microscopy, 23Na, 27Al and 133Cs magic angle spinning nuclear magnetic resonance, CO2 and NH3-Temperature programmed desorption. The results show that hydrothermal treatment at 200 °C allows to obtain higher degrees of ion-exchange (up to 83%) with respect to conventional method giving maximum 66%–69%. Catalytic properties of Cs-containing FAU(Y) were studied in aniline methylation. The yield of N-methylaniline is shown to correlate with catalyst's basicity. The best catalyst performance was achieved over the catalyst with the highest ion-exchange degree impregnated with CsOH. The selectivity to N-methylaniline over this catalyst reached 96.4%.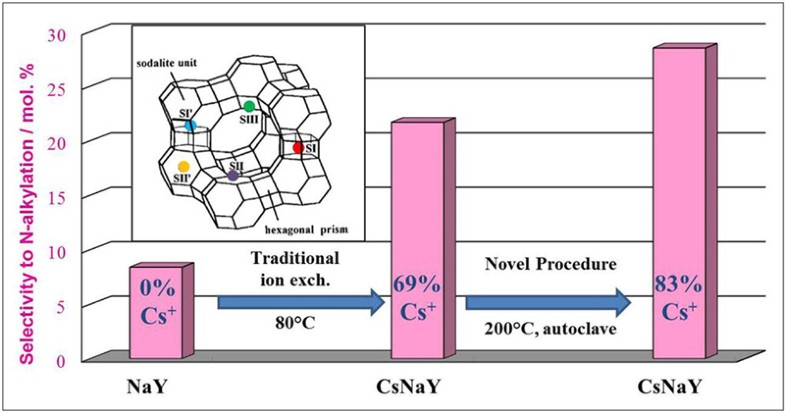 Keywords
FAU(Y) zeolite 
ion exchange with cesium 
aniline alkylation 
N-methylaniline 
Notes
Acknowledgements
This work was supported by Russian Science Foundation (Project No. 14-23-00094).
Copyright information
© Higher Education Press and Springer-Verlag GmbH Germany, part of Springer Nature 2018