Tuning of the active phase structure and hydrofining performance of alumina-supported tri-metallic WMoNi catalysts via phosphorus incorporation
Abstract
The effects of phosphorus on the structure and hydrofining performance of tri-metallic WMoNi/Al2O3 catalysts prepared with W/Mo-based hybrid precursor nanocrystals were investigated. The incorporation of phosphorus weakened the metal-support interactions (MSIs) and facilitated the formation of more synergetic NiWMoS phases with higher stacks. Catalytic tests using a fluid catalytic cracking diesel fuel showed that the changes in the MSIs and the morphology of the active phases had a more positive effect on the hydrodenitrogenation activity than on the hydrodesulfurization activity. In contrast, when phosphorus was incorporated into a tri-metallic WMoNiP/ Al2O3 catalyst prepared by a conventional incipient impregnation method, the MSIs decreased causing aggregation of the metal species which resulted in poorer hydrofining performance of the catalyst. These results show that incorporating phosphorus into a WMoNi/Al2O3 catalyst can finely tune the structure of the active phase to enhance the hydrogenation and hydrodenitrogenation activity of the resulting tri-metallic catalyst.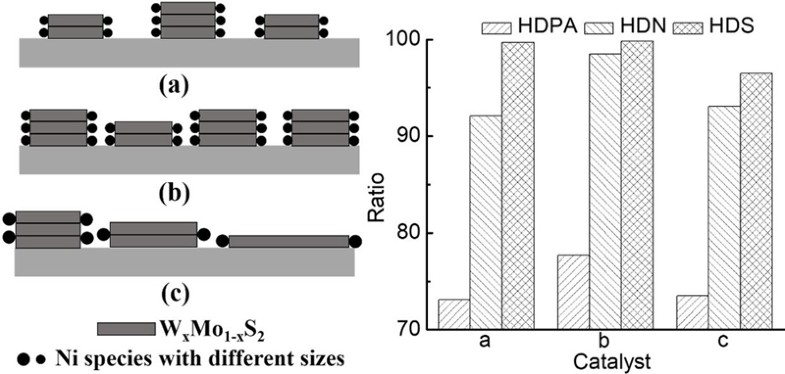 Keywords
fluid catalytic cracking diesel 
hydrofining performance 
WMoNiP/Al2O3 
synergetic effect and structure of NiWMoS phases 
Notes
Acknowledgements
We gratefully acknowledge the support from the National Natural Science Foundation of China (Grant Nos. U1462203 and 21106182).
Copyright information
© Higher Education Press and Springer-Verlag GmbH Germany, part of Springer Nature 2018