Metal cation removal by P(VC-r-AA) copolymer ultrafiltration membranes
Abstract
A series of amphiphilic copolymers containing poly(vinyl chloride-r-acrylic acid) (P(VC-r-AA) ) was synthesized and used to prepare membranes via a nonsolvent induced phase separation method. The prepared membranes were characterized by scanning electron microscopy, X-ray photoelectron spectroscopy, and water contact angle and zeta potential measurements. The copolymer P(VC-r-AA) chains did not dissolved in a coagulation bath, indicating that the AA segments were completely retained within the membrane. Enriching degree of AA segments in surface layer was 2 for copolymer membrane. In addition, the introduction of AA segments made the membrane electronegative and hydrophilic so that the membrane was sensitive to the solution pH. The fouling resistance, adsorption of Cu(II), Cr(III) and Ce(IV) ions and the desorption properties of the membranes were also determined. The copolymer membranes exhibited good antifouling performance with a fouling reversibility of 92%. The membranes also had good adsorption capacities for Cu(II), Cr(III) and Ce(IV) ions. The optimal pH for Cu(II) adsorption was 6 and the copolymer membrane has potential applications for low concentration Cu(II) removal.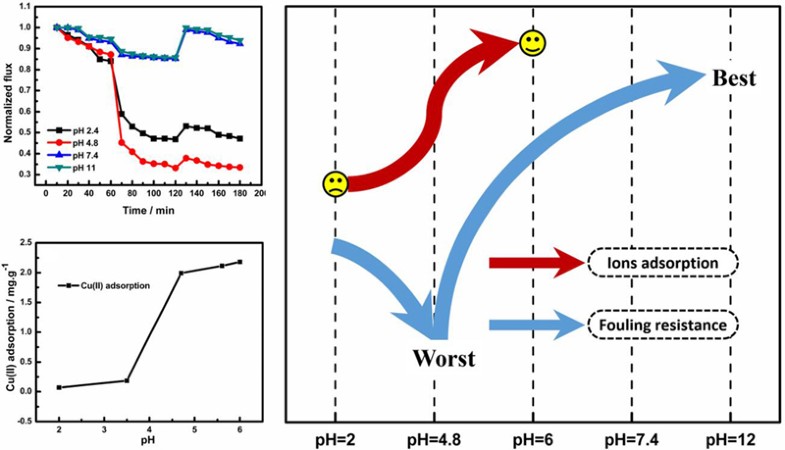 Keywords
poly(vinyl chloride-r-acrylic acid) 
negatively charged PVC membrane 
anti-fouling 
heavy metal adsorption 
Cu(II) removal 
Notes
Acknowledgements
This research was supported by the National High Technology Research and Development Program of China (Granted No. 2012AA03A602), the National Basic Research Program of China (Granted No. 2009CB623402) and the National Natural Science Foundation of China (Grant No. 20974094).
Copyright information
© Higher Education Press and Springer-Verlag GmbH Germany 2017