Mesoporous zeolites for biofuel upgrading and glycerol conversion
Abstract
With the recent emphasis and development of sustainable chemistry, the conversion of biomass feedstocks into alternative fuels and fine chemicals over various heterogeneous catalysts has received much attention. In particular, owing to their uniform micropores, strong acidity, and stable and rigid frameworks, zeolites as catalysts or co-catalysts have exhibited excellent catalytic performances in many reactions, including hydrodesulfurization, Fischer-Tropsch synthesis, and hydrodeoxygenation. However, the relatively small sizes of the zeolite micropores strongly limit the conversion of bulky biomolecules. To overcome this issue, mesoporous zeolites with pores larger than those of biomolecules have been synthesized. As expected, these mesoporous zeolites have outperformed conventional zeolites with improved activities, better selectivities, and longer catalyst lives for the upgrading of pyrolysis oils, the transformation of lipids into biofuels, and the conversion of glycerol into acrolein and aromatic compounds. This review briefly summarizes recent works on the rational synthesis of mesoporous zeolites and their superior catalytic properties in biomass conversion.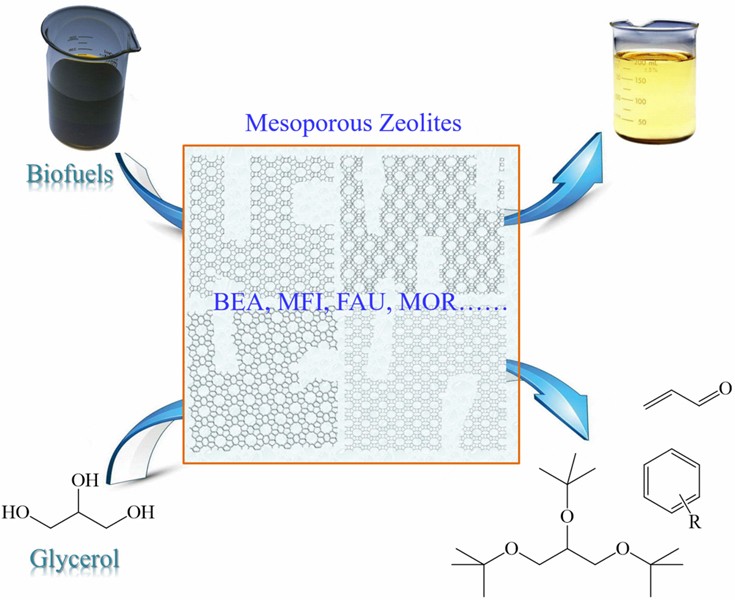 Keywords
biomass conversion 
mesoporous zeolite 
sustainable chemistry 
Notes
Acknowledgements
This work is supported by the National Natural Science Foundation of China (Grant Nos. 91634201, 21403193, and 91645105).
Copyright information
© Higher Education Press and Springer-Verlag GmbH Germany, part of Springer Nature 2018