Template-free synthesis of hierarchically macro-mesoporous Mn-TiO2 catalysts for selective reduction of NO with NH3
Abstract
This study described a template-free method for the synthesis of hierarchically macro-mesoporous Mn-TiO2 catalysts. The promoting effect of Mn doping and the hierarchically macro-mesoporous architecture on TiO2 based catalysts was also investigated for the selective reduction of NO with NH3. The results show that the catalytic performance of TiO2 based catalysts was improved greatly after Mn doping. Meanwhile, the Mn-TiO2 catalyst with the hierarchically macro-mesoporous architecture has a better catalytic activity than that without such an architecture.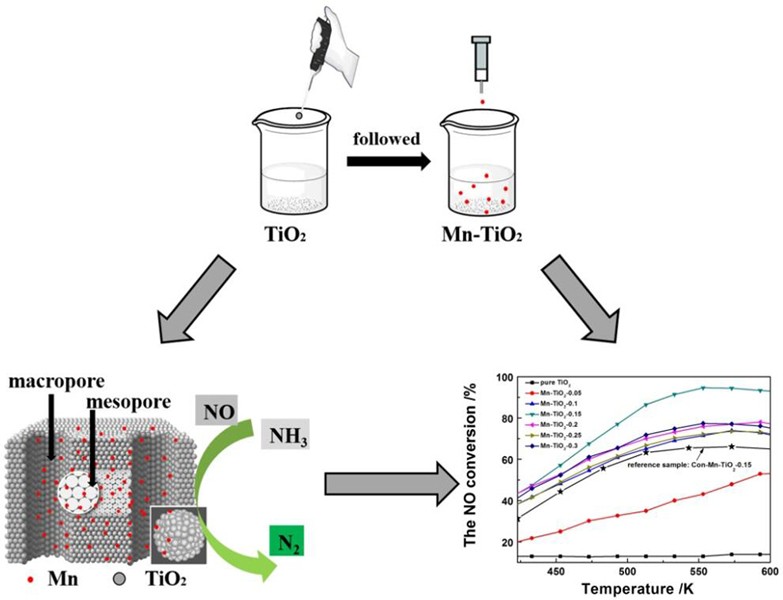 Keywords
titania 
hierarchically macro-mesoporous structure 
Mn-doping 
selective catalytic reduction 
Notes
Acknowledgements
This work was carried out in the framework of a program for Changjiang Scholars and Innovative Research Team (IRT_15R52) of the Chinese Ministry of Education. B. L. Su acknowledges the Chinese Central Government for an "Expert of the State" position in the Program of the "Thousand Talents", the Chinese Ministry of Education for a "Changjiang Chaire Professor" position and a Clare Hall Life Membership at the Clare Hall College and the financial support of the Department of Chemistry, University of Cambridge. L.H. CHEN acknowledges Hubei Provincial Department of Education for the "Chutian Scholar" program. This work was also financially supported by the National Natural Science Foundation of China (Grant Nos. 21671155 and U1663225), Scientific Research Foundation for the Returned Oversea Chinese Scholars, State Education Ministry ([2015]311), Hubei Provincial Natural Science Foundation (2015CFB428).
Copyright information
© Higher Education Press and Springer-Verlag GmbH Germany, part of Springer Nature 2017