Micronization of curcumin with biodegradable polymer by supercritical anti-solvent using micro swirl mixer
Abstract
Curcumin is a hydrophobic polyphenol compound exhibiting a wide range of biological activities such as anti-inflammatory, anti-bacterial, anti-fungal, anti-carcinogenic, anti-human immunodeficiency virus, and antimicrobial activity. In this work, a swirl mixer was employed to produce the micronized curcumin with polyvinylpyrrolidone (PVP) by the supercritical anti-solvent process to improve the bioavailability of curcumin. The effects of operating parameters such as curcumin/PVP ratio, feed concentration, temperature, pressure, and CO2 flow rate were investigated. The characterization and solubility of particles were determined by using scanning electron microscopy, Fourier Transform Infrared spectroscopy, and ultra-violet-visible spectroscopy. The result shows that the optimal condition for the production of curcumin/PVP particles is at curcumin/PVP ratio of 1:30, feed concentration of 5 mg·mL−1, temperature of 40 °C, pressure of 15 MPa, and CO2 flow rate of 15 mL·min−1. Moreover, the dissolution of curcumin/PVP particles is faster than that of raw curcumin.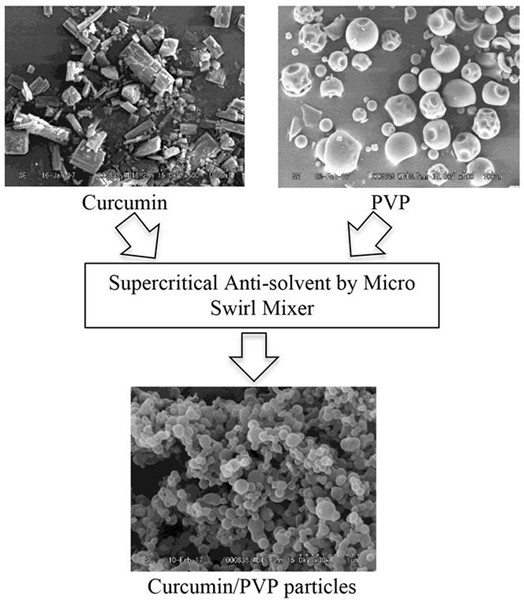 Keywords
micronization 
curcumin 
polyvinylpyrrolidone 
supercritical anti-solvent 
swirl mixer 
Notes
Acknowledgements
This research is supported by ASEAN University Network for Southeast Asia Engineering Education Development Network (AUN/SEED-Net) project through the Japan International Cooperation Agency (JICA) and the Precursory Research for Embryonic Science and Technology Program of the Japan Science and Technology Agency (JST).
Copyright information
© Higher Education Press and Springer-Verlag GmbH Germany 2017