Microemulsion-mediated hydrothermal synthesis of flower-like MoS2 nanomaterials with enhanced catalytic activities for anthracene hydrogenation
Abstract
Flower-like intercalated MoS2 nanomaterials have been successfully synthesized via a microemulsionmediated hydrothermal (MMH) method, and characterized by X-ray diffraction, Raman spectroscopy, element analysis, scanning electron microscopy, transmission electron microscopy, thermogravimetric analysis, and Fourier transform infrared spectroscopy in detail. Their catalytic performance for anthracene hydrogenation was evaluated using a slurry-bed batch reactor with an initial hydrogen pressure of 80 bar at 350 °C for 4 h. The intercalated MoS2 nanoflowers synthesized from Na2MoO4 (MoS2-S) and H2MoO4 (MoS2-A) as molybdenum precursors have diameters of about 150 and 50 nm, respectively. MoS2 nanosheets on MoS2-S and MoS2-A possess stacking layer numbers of 5–10 and 2–5, and slab lengths of about 15 and 10 nm, respectively. The interlayer distances of MoS2-S and MoS2-A are both enlarged from 0.62 nm to about 0.95 nm due to the intercalation of NH4 + and surfactant molecules. The MoS2 nanoflowers have high catalytic activities for anthracene hydrogenation. The selectivity for octahydroanthracene, a deeply hydrogenated product, over MoS2-A is 89.8%, which is 31.0 times higher than that over commercial bulk MoS2. Fully hydrogenated product (perhydroanthracene) was also detected over MoS2 nanoflowers with a selectivity of 3.7%. The enhanced hydrogenation activities of MoS2 nanoflowers can be ascribed to the high exposure of catalytic active sites, resulting from the smaller particle size, fewer stacking layer, shorter slab length and enlarged interlayer distance of MoS2 nanoflowers compared with commercial bulk MoS2. In addition, a possible growth mechanism of MoS2 nanoflowers synthesized via the MMH method was proposed.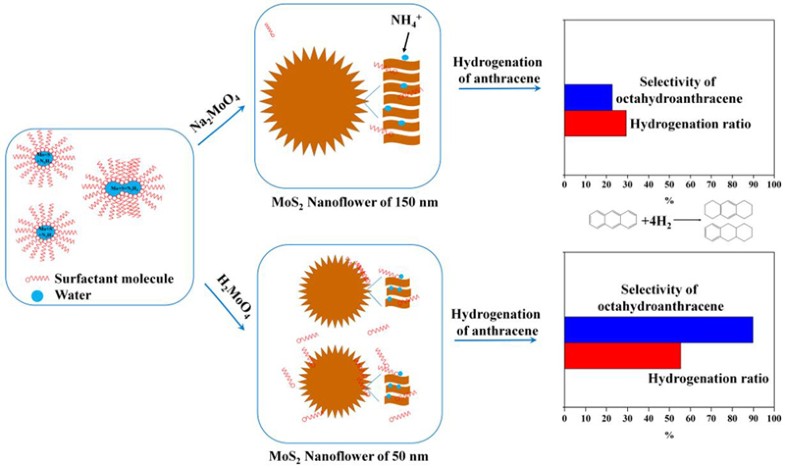 Keywords
microemulsion 
intercalated MoS2 
catalytic hydrogenation 
active sites 
Notes
Acknowledgements
The work was financially supported by the Strategic Priority Research Program of the Chinese Academy of Sciences (XDA07020300) and the National Natural Science Foundation of China (Grant No. 21303186).
Copyright information
© Higher Education Press and Springer-Verlag GmbH Germany, part of Springer Nature 2017