A mini review on strategies for heterogenization of rhodium-based hydroformylation catalysts
Abstract
Hydroformylation has been widely used in industry to manufacture high value-added aldehydes and alcohols, and is considered as the largest homogenously catalyzed process in industry. However, this process often suffers from complicated operation and the difficulty in catalyst recycling. It is highly desirable to develop a heterogeneous catalyst that enables the catalyst recovery without sacrificing the activity and selectivity. There are two strategies to afford such a catalyst for the hydrofromylation: immobilized catalysts on solid support and porous organic ligand (POL)-supported catalysts. In the latter, high concentration of phosphine ligands in the catalyst framework is favorable for the high dispersion of rhodium species and the formation of Rh-P multiple bonds, which endow the catalysts with high activity and stability respectively. Besides, the high linear regioselectivity could be achieved through the copolymerization of vinyl functionalized bidentate ligand (vinyl biphephos) and monodentate ligand (3vPPh3) into the catalyst framework. The newly-emerging POL-supported catalysts have great perspectives in the industrial hydroformylation.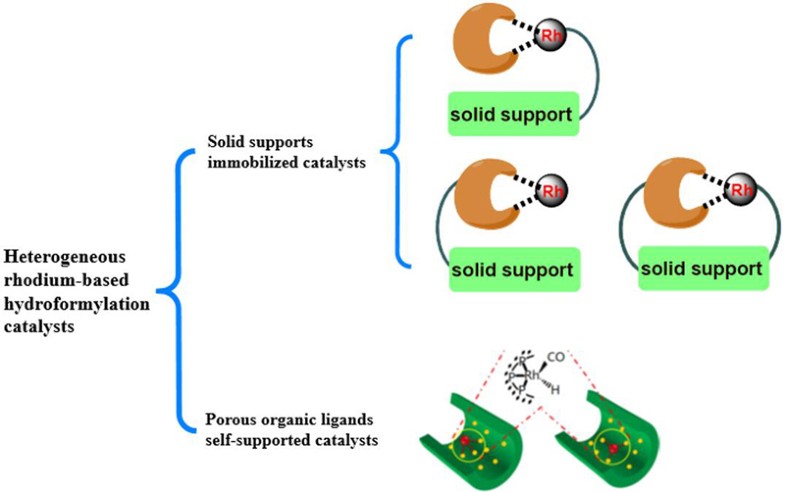 Keywords
hydroformylation 
porous organic ligand (POL)-supported catalysts 
heterogeneous catalysis 
high stability 
immobilization catalysts 
Notes
Acknowledgements
This work was supported by the National Natural Science Foundation of China (Grant Nos. 21273227 and 21403258) and the Strategic Priority Research Program of the Chinese Academy of Science (Grant Nos XDB17020400).
Copyright information
© Higher Education Press and Springer-Verlag GmbH Germany 2017