Shape selective catalysis in methylation of toluene: Development, challenges and perspectives
Abstract
Toluene methylation with methanol offers an alternative method to produce p-xylene by gathering methyl group directly from C1 chemical sources. It supplies a "molecular engineering" process to realize directional conversion of toluene/methanol molecules by selective catalysis in complicated methylation system. In this review, we introduce the synthesis method of p-xylene, the development history of methylation catalysts and reaction mechanism, and the effect of reaction condition in para-selective technical process. If constructing p-xylene as the single target product, the major challenge to develop para-selective toluene methylation is to improve the p-xylene selectivity without, or as little as possible, losing the fraction of methanol for methylation. To reach higher yield of p-xylene and more methanol usage in methylation, zeolite catalyst design should consider improving mass transfer and afterwards covering external acid sites by surface modification to get short "micro-tunnels" with shape selectivity. A solid understanding of mass transfer will benefit realizing the aim of converting more methanol feedstock into para-methyl group.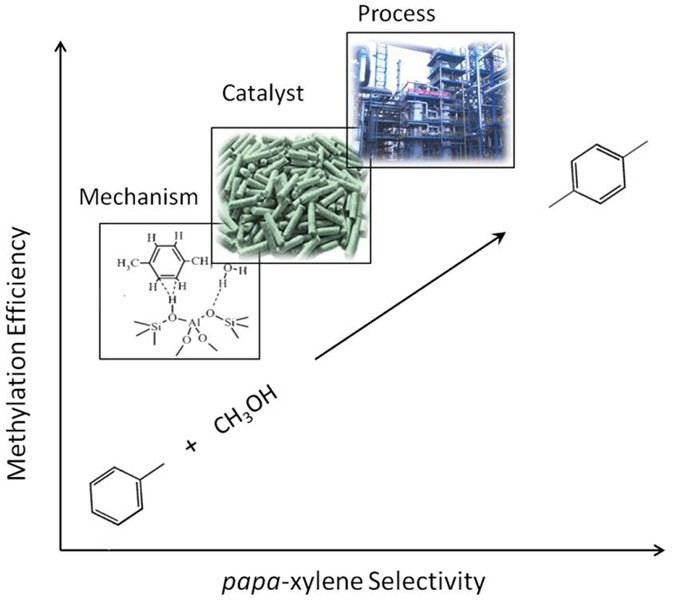 Keywords
shape selective catalysis 
methylation of toluene 
Notes
Acknowledgements
We would like to greatly acknowledge the financial support from the National Natural Science Foundation of China (NSFC, Grant No. 21403303) and Major Research Plan of NSFC (No. 91434102).
Copyright information
© Higher Education Press and Springer-Verlag GmbH Germany 2017