Pd-Ni nanoparticles supported on titanium oxide as effective catalysts for Suzuki-Miyaura coupling reactions
Abstract
We have successfully prepared a series of Pd-Ni/TiO2 catalysts by a one-step impregnation-reduction method. Among these catalysts with different compositions of Ni and Pd, the one with the Ni:Pd ratio of 2.95 showed the best activity. Small monodispersed Pd-Ni bimetallic nanoparticles were loaded on the surface of titanium oxide nanopowder as confirmed with TEM and EDS mapping. The XPS analysis demonstrated that Pd exists as 31% Pd(II) species and 69% Pd(0) species and all nickel is Ni(II). The prepared Pd-Ni/TiO2 exhibited enhanced catalytic activity compared to an equal amount of Pd/TiO2 for Suzuki-Miyaura reactions together with excellent applicability and reusability.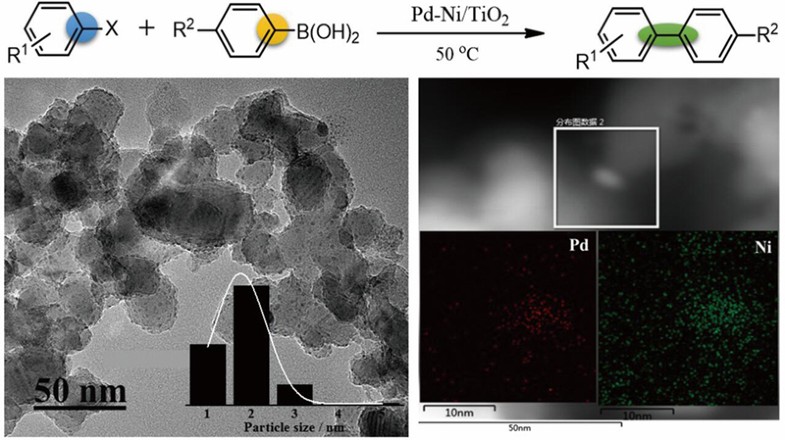 Keywords
Pd-Ni bimetallic nanoparticles 
nanocatalysis 
Suzuki-Miyaura reaction 
titanium oxide 
Notes
Acknowledgements
We are grateful for financial support from the National Key R&D Program of China (Grant No. 2016YFA0202900), the National Natural Science Foundation of China (Grant Nos. 21376212 and 21436010).
Copyright information
© Higher Education Press and Springer-Verlag GmbH Germany 2017