Rhamnolipid synthesis and production with diverse resources
Abstract
Rhamnolipids are one of the most effective biosurfactants that are of great interest in industrial applications such as enhancing oil recovery, health care, cosmetics, pharmaceutical processes, food processing, detergents for protein folding, and bioremediation due to their unique characteristics such as low toxicity, surface active property to reduce surface/interfacial tensions, and excellent biodegradability. The genes and metabolic pathways for rhamnolipid synthesis have been well elucidated, but its cost-effective production is still challenging.
Pseudomonas aeruginosa
, the most powerful rhamnolipid producer, is an opportunistic pathogen, which limits its large scale production and applications. Rhamnolipid production using engineered strains other than
Pseudomonas aeruginosa
such as
E. coli
and
Pseudomonas putida
has received much attention. The highest yield of rhamnolipids is achieved when oil-type carbon sources are used, but using cheaper and renewable carbon sources such as lignocellulose would be an attractive strategy to reduce the production cost of rhamnolipids for various industrial applications.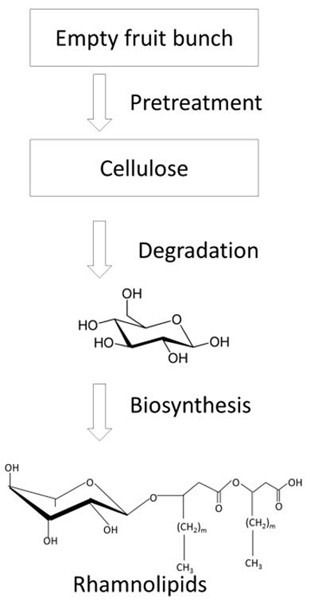 Keywords
biosurfactant 
rhamnolipid 
Pseudomonas
waste 
surface tension 
Notes
Acknowledgements
This research is supported by the Science and Engineering Research Council (SERC) of the Agency for Science, Technology and Research (A*STAR) of Singapore (SERC grant number: 1526004161).
Copyright information
© Higher Education Press and Springer-Verlag Berlin Heidelberg 2017