On the fouling mechanism of polysulfone ultrafiltration membrane in the treatment of coal gasification wastewater
Abstract
Membrane fouling has been investigated by using a polysulfone ultrafiltration membrane with the molecular weight cutoff of 20 kDa to treat crushed coal pressurized gasification wastewater. Under the conditions of different feed pressures, the permeate flux declines and rejection coefficients of pollutants referring to three parameters (total organic carbon (TOC), chroma and turbidity) were studied. The membrane fouling mechanism was simulated with three classical membrane fouling models. The membrane image and pollutants were analyzed by scanning electron microscopy and gas chromatography-mass spectrography (GC-MS). The results indicate that the permeate flux decreases with volume reduction factor before reaching a constant value. The rejection coefficients were also measured:
f
TOC
= 70.5%,
f
C
= 84.9% and
f
T
= 91%. Further analysis shows that the higher the feed pressure is, the sooner the permeate flux reaches constant value and the more sharply the permeate flux declines. Constant flux indicates a nonlinear growth with feed pressure (
P
F
): when
P
F
equals 1.2 bar, the mark for the critical flux, slight membrane fouling occurs; when
P
F
exceeds 1.2 bar, cake layer pollution aggravates. Also the rejection coefficients of global pollutant increases slightly with
P
F
, suggesting the possibility of cake compression when
P
F
exceeds 1.2 bar. Through regression analysis, the fouling of polysulfone ultrafiltration membrane could be fitted very well by cake filtration model. The membrane pollutants were identified as phthalate esters and long-chain alkenes by GC-MS, and a certain amount of inorganic pollutants by X-ray photoelectron spectroscopy.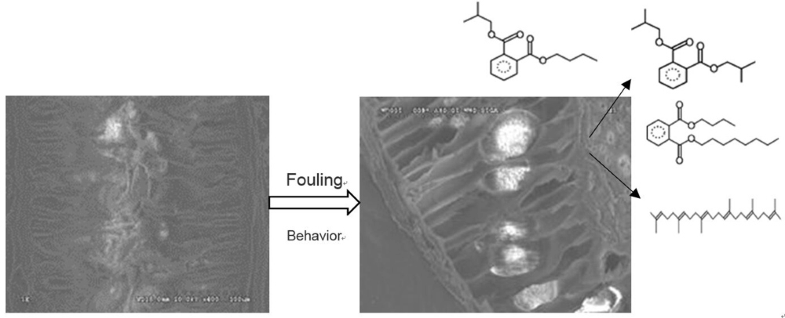 Keywords
membrane fouling 
ultrafiltration membrane 
coal gasification wastewater 
rejection coefficient 
Copyright information
© Higher Education Press and Springer-Verlag Berlin Heidelberg 2016