Cofactor engineering in cyanobacteria to overcome imbalance between NADPH and NADH: A mini review
Abstract
Cyanobacteria can produce useful renewable fuels and high-value chemicals using sunlight and atmospheric carbon dioxide by photosynthesis. Genetic manipulation has increased the variety of chemicals that cyanobacteria can produce. However, their uniquely abundant NADPH-pool, in other words insufficient supply of NADH, tends to limit their production yields in case of utilizing NADH-dependent enzyme, which is quite common in heterotrophic microbes. To overcome this cofactor imbalance and enhance cyanobacterial fuel and chemical production, various approaches for cofactor engineering have been employed. In this review, we focus on three approaches: (1) utilization of NADPH-dependent enzymes, (2) increasing NADH production, and (3) changing cofactor specificity of NADH-dependent enzymes from NADH to NADPH.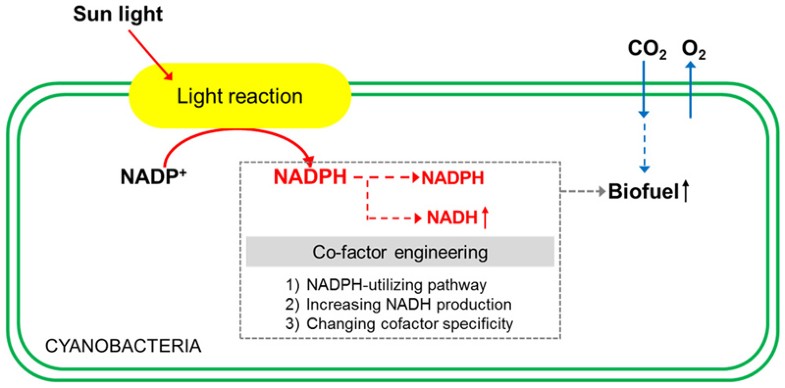 Keywords
NADH-dependent enzyme 
NADPH-dependent enzyme 
transhydrogenase 
site-directed mutagenesis 
enzyme engineering 
Notes
Acknowledgements
This research was supported by the Marine Biotechnology Program (Marine BioMaterials Research Center) funded by the Ministry of Oceans and Fisheries, Korea, and BK21+ program through the National Research Foundation of Korea funded by the Ministry of Education, Science and Technology. This work was also conducted under the framework of Research and Development Program of the Korea Institute of Energy Research (KIER) (B4-2474-02).
Copyright information
© Higher Education Press and Springer-Verlag Berlin Heidelberg 2017