Abstract
Although robot-assisted hepatobiliary and pancreatic (HPB) surgery has gained momentum over the last 2 decades, only a handful of units in the world perform major robotic resections. Adaptation of robotic surgery in the UK lags behind its European counterparts and this is mainly because of cost implications in a publicly funded National Health Service (NHS). We describe our experience of setting up a robotic HPB programme with clinical outcomes and propose a training pathway that would help prospective centres in setting up their own robotic HPB service with robust clinical governance oversight. After gaining colleagues' and departmental support, approval from the hospital clinical governance, finance department and new intervention procedure committee was sought. A team of two consultant surgeons, three assistants and three theatre staff went through a structured training programme sponsored mainly by the industry. Surgeon training consisted of online modules, simulation, wet lab, cadaveric training, case observations, proctored procedures followed by independent practice. All major cases were recorded and videos reviewed to improve performance. A total of 111 procedures were successfully completed with robotic assistance between April 2018 and March 2020. The programme started with robot-assisted cholecystectomy as index procedure and progressed on to more complex liver and pancreatic resections including major hepatectomy and Whipple's procedure. The training pathway followed by our team has been effective in setting up a safe robotic HPB programme and could be considered as a roadmap to start new Robotic HPB services.
Access options
Buy single article
Instant access to the full article PDF.
US$ 39.95
Tax calculation will be finalised during checkout.
Subscribe to journal
Immediate online access to all issues from 2019. Subscription will auto renew annually.
US$ 79
Tax calculation will be finalised during checkout.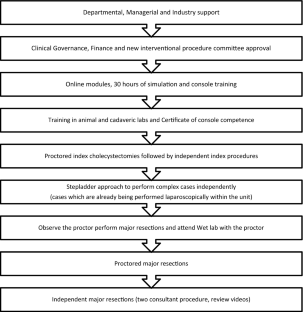 Availability of data
Data are available on contacting the corresponding author.
References
1.

Cipriani F, Rawashdeh M, Ahmed M, Armstrong T, Pearce NW, Abu Hilal M (2015) Oncological outcomes of laparoscopic surgery of liver metastases: a single-centre experience. Updates Surg 67:185–191

2.

Yin Z, Jian Z, Hou B, Jin H (2019) Surgical and oncological outcomes of laparoscopic versus open pancreaticoduodenectomy in patients with pancreatic duct adenocarcinoma. Pancreas 48:861–867

3.

Brodie A, Vasdev N (2018) The future of robotic surgery. Ann R Coll Surg Engl 100:4–13

4.

Fahrner R, Rauchfuß F, Bauschke A, Kissler H, Settmacher U, Zanow J (2019) Robotic hepatic surgery in malignancy: review of the current literature. J Robot Surg 13:533–538

5.

Joyce D, Morris-Stiff G, Falk GA, El-Hayek K, Chalikonda S, Walsh RM (2014) Robotic surgery of the pancreas. World J Gastroenterol 20:14726–14732

6.

Guerra F, Di Marino M, Coratti A (2019) Robotic surgery of the liver and biliary tract. J Laparoendosc Adv Surg Tech Part A 29:141–146

7.

Carpenter BT, Sundaram CP (2017) Training the next generation of surgeons in robotic surgery. Robot Surg 4:39–44

8.

Tsung A, Geller DA, Sukato DC, Sabbaghian S, Tohme S, Steel J, Marsh W, Reddy SK, Bartlett DL (2014) Robotic versus laparoscopic hepatectomy: a matched comparison. Ann Surg 259:549–555

9.

Wakabayashi G, Cherqui D, Geller DA, Buell JF, Kaneko H, Han HS, Asbun H, O'Rourke N, Tanabe M, Koffron AJ, Tsung A, Soubrane O, Machado MA, Gayet B, Troisi RI, Pessaux P, Van Dam RM, Scatton O, Hilal MA, Belli G, Kwon CHD, Edwin B, Choi GH, Aldrighetti LA, Cai X, Cleary S, Chen K-H, Schön MR, Sugioka A, Tang C-N, Herman P, Pekolj J, Chen X-P, Dagher I, Jarnagin W, Yamamoto M, Strong R, Jagannath P, Lo C-M, Clavien P-A, Kokudo N, Barkun J, Strasberg SM (2015) Recommendations for laparoscopic liver resection: a report from the second international consensus conference held in Morioka. Ann Surg 261:619–629

10.

Mesleh MG, Stauffer JA, Asbun HJ (2013) Minimally invasive surgical techniques for pancreatic cancer: ready for prime time? J Hepatobiliary Pancreat Sci 20:578–582

11.

Kang S-H, Kim K-H, Shin M-H, Yoon Y-I, Kim W-J, Jung D-H, Park G-C, Ha T-Y, Lee S-G (2016) Surgical outcomes following laparoscopic major hepatectomy for various liver diseases. Medicine 95:e5182–e5182

12.

12Aiolfi A, Lombardo F, Bonitta G, Danelli P, Bona D (2020) Systematic review and updated network meta-analysis comparing open, laparoscopic, and robotic pancreaticoduodenectomy. Updates Surg

13.

Gavriilidis P, Roberts KJ, Aldrighetti L, Sutcliffe RP (2020) A comparison between robotic, laparoscopic and open hepatectomy: a systematic review and network meta-analysis. Eur J Surg Oncol 46:1214–1224

14.

Liberman D, Trinh QD, Jeldres C, Zorn KC (2012) Is robotic surgery cost-effective: yes. Curr Opin Urol 22:61–65

15.

Beane JD, Zenati M, Hamad A, Hogg ME, Zeh HJ 3rd, Zureikat AH (2019) Robotic pancreatoduodenectomy with vascular resection: outcomes and learning curve. Surgery 166:8–14

16.

Karim SAM, Abdulla KS, Abdulkarim QH, Rahim FH (2018) The outcomes and complications of pancreaticoduodenectomy (Whipple procedure): CROSS sectional study. Int J Surg (Lond, Engl) 52:383–387

17.

Zhang T, Zhao ZM, Gao YX, Lau WY, Liu R (2019) The learning curve for a surgeon in robot-assisted laparoscopic pancreaticoduodenectomy: a retrospective study in a high-volume pancreatic center. Surg Endosc 33:2927–2933

18.

Orlando MS, Thomaier L, Abernethy MG, Chen CCG (2017) Retention of laparoscopic and robotic skills among medical students: a randomized controlled trial. Surg Endosc 31:3306–3312

19.

Kowalewski KF, Schmidt MW, Proctor T, Pohl M, Wennberg E, Karadza E, Romero P, Kenngott HG, Müller-Stich BP, Nickel F (2018) Skills in minimally invasive and open surgery show limited transferability to robotic surgery: results from a prospective study. Surg Endosc 32:1656–1667

20.

Magge DR, Zenati MS, Hamad A, Rieser C, Zureikat AH, Zeh HJ, Hogg ME (2018) Comprehensive comparative analysis of cost-effectiveness and perioperative outcomes between open, laparoscopic, and robotic distal pancreatectomy. HPB 20:1172–1180

21.

Zeh HJ, Zureikat AH, Secrest A, Dauoudi M, Bartlett D, Moser AJ (2012) Outcomes after robot-assisted pancreaticoduodenectomy for periampullary lesions. Ann Surg Oncol 19:864–870

22.

Strobel O, Neoptolemos J, Jäger D, Büchler MW (2019) Optimizing the outcomes of pancreatic cancer surgery. Nat Rev Clin Oncol 16:11–26

23.

Shaher Z (2007) Port closure techniques. Surg Endosc 21:1264–1274

24.

Britton-Jones DCA (2017) Prehabilitation. Br J Hosp Med 78:729–729

25.

Ljungqvist O (2014) ERAS–enhanced recovery after surgery: moving evidence-based perioperative care to practice. JPEN J Parenter Enter Nutr 38:559–566

26.

Kajiwara N, Kato Y, Hagiwara M, Kakihana M, Ohira T, Kawate N, Ikeda N (2018) Cost-benefit performance simulation of robot-assisted thoracic surgery as required for financial viability under the 2016 revised reimbursement paradigm of the Japanese National Health Insurance System. Ann Thorac Cardiovasc Surg 24:73–80
Funding
This research did not receive any specific grant from funding agencies in the public, commercial, or not-for-profit sectors.
Ethics declarations
Conflict of interest
The authors declare that they have no known competing financial interests or personal relationships that could have appeared to influence the work reported in this paper.
Ethical approval
This article does not contain any studies with human participants performed by any of the authors.
Informed consent
Informed consent was not required for this study.
Additional information
Publisher's Note
Springer Nature remains neutral with regard to jurisdictional claims in published maps and institutional affiliations.
About this article
Cite this article
Farrugia, A., Muhammad, Q.R., Ravichandran, N.T. et al. Proposed training pathway with initial experience to set up robotic hepatobiliary and pancreatic service. J Robotic Surg (2021). https://doi.org/10.1007/s11701-021-01207-6
Received:

Accepted:

Published:
Keywords
Robotic surgery

HPB surgery

Minimally invasive surgery

Pancreatic surgery

Hepatectomy