Abstract
This study aimed to propose quantifiable metrics on the adoption lifecycle of robotic-assisted surgery (RAS) within and across prostate, hysterectomy, and colorectal procedures. This was a retrospective population-based cohort study of commonly performed RAS procedures in the US conducted from July 2001 to July 2015. The patients were identified from the Premier Hospital Database using International Classification of Diseases, 9th revision, Clinical Modification codes denoting prostate, uterus, and colorectal procedures. The Diffusion of Innovations theory was applied to percent RAS utilization to determine discrete eras of technology adoption. Overall and by-era patient baseline characteristics were compared between robotic and non-robotic groups. This study included a total of 2,098,440 RAS procedures comprising prostate (n = 155,342), uterus (n = 1,300,046), and colorectal (n = 643,052) procedures. Prostate (76.7%) and uterus (28.9%) procedures had the highest robotic utilization by the end of the study period and appear to be in the last adoption era (Laggard). However, robotic utilization in colorectal procedures (7.5%) was low and remained in the first era (Innovator) for a longer time (15 vs 60 vs 135 months). Whites, privately insured, patients with fewer comorbidities, and those admitted in large teaching hospitals were more likely to undergo RAS in the early study period. AS-associated patient and hospital profiles changed over time, suggesting that selected patient cohorts should be contextualized by overall adoption of a novel medical technology. The time-discretized analysis may also inform patient selection criteria and appropriate timing for clinical study stages proposed by the Idea, Development, Exploration, Assessment, Long-term study-Devices framework.
This is a preview of subscription content, log in to check access.
Access options
Buy single article
Instant access to the full article PDF.
US$ 39.95
Price includes VAT for USA
Subscribe to journal
Immediate online access to all issues from 2019. Subscription will auto renew annually.
US$ 99
This is the net price. Taxes to be calculated in checkout.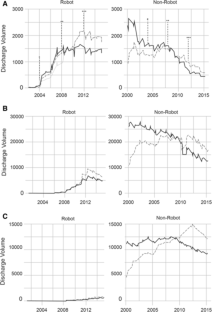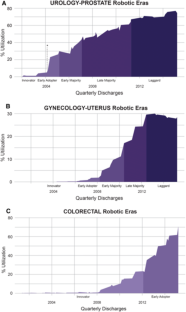 References
1.

Rogers EM (1983) Diffusion of innovations, 3rd edn. Free Press; Collier Macmillan, New York, London

2.

Leggott KT, Martin M, Sklar D, Helitzer D, Rosett R, Crandall C, Vagh F, Mercer D (2016) Transformation of anesthesia for ambulatory orthopedic surgery: a mixed-methods study of a diffusion of innovation in healthcare. Healthcare 4:181–187. https://doi.org/10.1016/j.hjdsi.2015.09.003

3.

Rizan C, Phee J, Boardman C, Khera G (2017) General surgeon's antibiotic stewardship: climbing the Rogers Diffusion of Innovation Curve-Prospective Cohort Study. Int J Surg 40:78–82. https://doi.org/10.1016/j.ijsu.2017.02.040

4.

Sagar SP, Law PW, Shaul RZ, Héon E, Langer JC, Wright JG (2015) Hey, i just did a new operation!: introducing innovative procedures and devices within an academic health center. Ann Surg 261:30–31. https://doi.org/10.1097/SLA.0000000000000748

5.

Marcus HJ, Payne CJ, Hughes-Hallett A, Marcus AP, Yang G-Z, Darzi A, Nandi D (2016) Regulatory approval of new medical devices: cross sectional study. BMJ. https://doi.org/10.1136/bmj.i2587

6.

Marcus HJ, Payne CJ, Hughes-Hallett A, Gras G, Leibrandt K, Nandi D, Yang G-Z (2016) Making the leap: the translation of innovative surgical devices from the laboratory to the operating room. Ann Surg 263:1077–1078. https://doi.org/10.1097/SLA.0000000000001532

7.

Volk H-D, Stevens MM, Mooney DJ, Grainger DW, Duda GN (2015) Key elements for nourishing the translational research environment. Sci Transl Med. https://doi.org/10.1126/scitranslmed.aaa2049

8.

Yaxley JW, Coughlin GD, Chambers SK, Occhipinti S, Samaratunga H, Zajdlewicz L, Dunglison N, Carter R, Williams S, Payton DJ, Perry-Keene J, Lavin MF, Gardiner RA (2016) Robot-assisted laparoscopic prostatectomy versus open radical retropubic prostatectomy: early outcomes from a randomised controlled phase 3 study. Lancet 388:1057–1066. https://doi.org/10.1016/S0140-6736(16)30592-X

9.

Akand M, Celik O, Avci E, Duman I, Erdogru T (2015) Open, laparoscopic and robot-assisted laparoscopic radical prostatectomy: comparative analysis of operative and pathologic outcomes for three techniques with a single surgeon's experience. Eur Rev Med Pharmacol Sci 19:525–531

10.

Finkelstein J, Eckersberger E, Sadri H, Taneja SS, Lepor H, Djavan B (2010) Open versus laparoscopic versus robot-assisted laparoscopic prostatectomy: the European and US experience. Rev Urol 12:35–43

11.

Elhage O, Challacombe B, Shortland A, Dasgupta P (2015) An assessment of the physical impact of complex surgical tasks on surgeon errors and discomfort: a comparison between robot-assisted, laparoscopic and open approaches. BJU Int 115:274–281

12.

Alkhateeb S, Lawrentschuk N (2011) Consumerism and its impact on robotic-assisted radical prostatectomy: consumerism and its impact on rarp. BJU Int 108:1874–1878. https://doi.org/10.1111/j.1464-410X.2011.10117.x

13.

Juo Y-Y, Mantha A, Abiri A, Lin A, Dutson E (2018) Diffusion of robotic-assisted laparoscopic technology across specialties: a national study from 2008 to 2013. Surg Endosc 32:1405–1413. https://doi.org/10.1007/s00464-017-5822-4

14.

Campbell B (2012) How to judge the value of innovation. BMJ 344:e1457–e1457. https://doi.org/10.1136/bmj.e1457

15.

Trajtenberg M (1990) A penny for your quotes: patent citations and the value of innovations. RAND J Econ 21:172. https://doi.org/10.2307/2555502

16.

Hofer MD, Meeks JJ, Cashy J, Kundu S, Zhao LC (2013) Impact of increasing prevalence of minimally invasive prostatectomy on open prostatectomy observed in the national inpatient sample and national surgical quality improvement program. J Endourol 27:102–107. https://doi.org/10.1089/end.2012.0315

17.

Damle A, Damle RN, Flahive JM, Schlussel AT, Davids JS, Sturrock PR, Maykel JA, Alavi K (2017) Diffusion of technology: trends in robotic-assisted colorectal surgery. Am J Surg 214:820–824. https://doi.org/10.1016/j.amjsurg.2017.03.020

18.

Gabriel E, Thirunavukarasu P, Al-Sukhni E, Attwood K, Nurkin SJ (2016) National disparities in minimally invasive surgery for rectal cancer. Surg Endosc 30:1060–1067. https://doi.org/10.1007/s00464-015-4296-5

19.

Kim SP, Boorjian SA, Shah ND, Weight CJ, Tilburt JC, Han LC, Thompson RH, Trinh Q-D, Sun M, Moriarty JP, Karnes RJ (2013) Disparities in access to hospitals with robotic surgery for patients with prostate cancer undergoing radical prostatectomy. J Urol 189:514–520. https://doi.org/10.1016/j.juro.2012.09.033

20.

Monn MF, Bahler CD, Schneider EB, Sundaram CP (2013) Emerging trends in robotic pyeloplasty for the management of ureteropelvic junction obstruction in adults. J Urol 189:1352–1357. https://doi.org/10.1016/j.juro.2012.10.001

21.

Bouquet de Joliniere J, Librino A, Dubuisson J-B, Khomsi F, Ben Ali N, Fadhlaoui A, Ayoubi JM, Feki A (2016) Robotic surgery in gynecology. Front Surg. https://doi.org/10.3389/fsurg.2016.00026

22.

Barkun JS, Aronson JK, Feldman LS, Maddern GJ, Strasberg SM (2009) Evaluation and stages of surgical innovations. Lancet 374:1089–1096. https://doi.org/10.1016/S0140-6736(09)61083-7

23.

Sodergren MH, Darzi A (2013) Surgical innovation and the introduction of new technologies. Br J Surg 100:12–13. https://doi.org/10.1002/bjs.9164_5

24.

Centers for Medicare & Medicaid Services (CMS) (2008) Medicare contractor annual update of the international classification of diseases, ninth revision, clinical modification (ICD-9-CM). https://www.cms.gov/Outreach-and-Education/Medicare-Learning-Network-MLN/MLNMattersArticles/downloads/MM6107.pdf

25.

Sedrakyan A, Campbell B, Merino JG, Kuntz R, Hirst A, McCulloch P (2016) IDEAL-D: a rational framework for evaluating and regulating the use of medical devices. BMJ. https://doi.org/10.1136/bmj.i2372

26.

Hirst A, Philippou Y, Blazeby J, Campbell B, Campbell M, Feinberg J, Rovers M, Blencowe N, Pennell C, Quinn T, Rogers W, Cook J, Kolias AG, Agha R, Dahm P, Sedrakyan A, McCulloch P (2018) No surgical innovation without evaluation: evolution and further development of the IDEAL framework and recommendations. Ann Surg. https://doi.org/10.1097/SLA.0000000000002794

27.

Dahm P, Sedrakyan A, McCulloch P (2014) Application of the IDEAL framework to robotic urologic surgery. Eur Urol 65:849–851. https://doi.org/10.1016/j.eururo.2013.11.003

28.

Menon M, Sood A, Bhandari M, Kher V, Ghosh P, Abaza R, Jeong W, Ghani KR, Kumar RK, Modi P, Ahlawat R (2014) Robotic kidney transplantation with regional hypothermia: a step-by-step description of the Vattikuti Urology Institute-Medanta technique (IDEAL Phase 2a). Eur Urol 65:991–1000. https://doi.org/10.1016/j.eururo.2013.12.006

29.

Halpern JA, Shoag JE, Artis AS, Ballman KV, Sedrakyan A, Hershman DL, Wright JD, Shih YCT, Hu JC (2017) National trends in prostate biopsy and radical prostatectomy volumes following the US preventive services task force guidelines against prostate-specific antigen screening. JAMA Surg 152:192. https://doi.org/10.1001/jamasurg.2016.3987

30.

Leow JJ, Chang SL, Trinh Q-D (2016) Accurately determining patients who underwent robot-assisted surgery: limitations of administrative databases. BJU Int 118:346–348. https://doi.org/10.1111/bju.13423

31.

Wright JD, Herzog TJ, Tsui J, Ananth CV, Lewin SN, Lu Y-S, Neugut AI, Hershman DL (2013) Nationwide trends in the performance of inpatient hysterectomy in the United States. Obstet Gynecol 122:233–241. https://doi.org/10.1097/AOG.0b013e318299a6cf

32.

Halabi WJ, Kang CY, Jafari MD, Nguyen VQ, Carmichael JC, Mills S, Stamos MJ, Pigazzi A (2013) Robotic-assisted colorectal surgery in the united states: a nationwide analysis of trends and outcomes. World J Surg 37:2782–2790. https://doi.org/10.1007/s00268-013-2024-7

33.

Davies BL, Hibberd RD, Ng WS, Timoney AG, Wickham JEA (1991) The development of a surgeon robot for prostatectomies. Proc Inst Mech Eng [H] 205:35–38. https://doi.org/10.1243/PIME_PROC_1991_205_259_02

34.

Weber PA, Merola S, Wasielewski A, Ballantyne GH (2002) Telerobotic-assisted laparoscopic right and sigmoid colectomies for benign disease. Dis Colon Rectum 45:1689–1694. https://doi.org/10.1097/01.DCR.0000037657.78153.A8(discussion 1695–1696)

35.

Falcone T, Goldberg JM, Margossian H, Stevens L (2000) Robotic-assisted laparoscopic microsurgical tubal anastomosis: a human pilot study. Fertil Steril 73:1040–1042

36.

Binder J, Jones J, Bentas W, Wolfram M, Bräutigam R, Probst M, Kramer W, Jonas D (2002) Robot-assisted laparoscopy in urology. Radical prostatectomy and reconstructive retroperitoneal interventions. Urol Ausg A 41:144–149

37.

Kim J, ElRayes W, Wilson F, Su D, Oleynikov D, Morien M, Chen L-W (2015) Disparities in the receipt of robot-assisted radical prostatectomy: between-hospital and within-hospital analysis using 2009-2011 California inpatient data. BMJ Open 5:e007409–e007409. https://doi.org/10.1136/bmjopen-2014-007409

38.

Alameddine M, Koru-Sengul T, Moore KJ, Miao F, Sávio LF, Nahar B, Prakash NS, Venkatramani V, Jue JS, Punnen S, Parekh DJ, Ritch CR, Gonzalgo ML (2018) Trends in utilization of robotic and open partial nephrectomy for management of cT1 renal masses. Eur Urol Focus. https://doi.org/10.1016/j.euf.2017.12.006

39.

Tseng TY, Cancel QV, Fesperman SF, Kuebler HR, Sun L, Robertson CN, Polascik TJ, Moul JW, Vieweg J, Albala DM, Dahm P (2007) The role of early adopter bias for new technologies in robot assisted laparoscopic prostatectomy. J Urol 177:1318–1323. https://doi.org/10.1016/j.juro.2006.11.035

40.

Scandlen G (2004) Commentary-how consumer-driven health care evolves in a dynamic market: commentary-how consumer-driven health care evolves in a dynamic market. Health Serv Res 39:1113–1118. https://doi.org/10.1111/j.1475-6773.2004.00276.x

41.

Lienig J, Bruemmer H (2017) Fundamentals of electronic systems design. Springer, Berlin

42.

Department of Health and Human Services (2003) Medicare program; revisions to payment policies under the physician fee schedule for calendar year 2004; final rule

43.

Cooper MA, Hutfless S, Segev DL, Ibrahim A, Lyu H, Makary MA (2014) Hospital level under-utilization of minimally invasive surgery in the United States: retrospective review. BMJ 349:g4198–g4198. https://doi.org/10.1136/bmj.g4198

44.

Pennell CP, Hirst A, Sedrakyan A, McCulloch PG (2016) Adapting the IDEAL framework and recommendations for medical device evaluation: a modified Delphi survey. Int J Surg 28:141–148. https://doi.org/10.1016/j.ijsu.2016.01.082

45.

Lorence DP, Ibrahim IA (2003) Benchmarking variation in coding accuracy across the United States. J Health Care Finance 29:29–42
Acknowledgements
The authors acknowledge Amit Koushik, MS and Ramu Periyasamy, PhD of Indegene Pvt Ltd. for assistance with the literature review and medical writing.
Funding
Study design, collection, analysis, and interpretation of data, and medical writing support were funded by Johnson & Johnson.
Ethics declarations
Disclosure
Gary Chung is an employee of Johnson and Johnson, Inc which sponsored this study. Piet Hinoul is an employee of Ethicon, Inc which sponsored this study. Paul Coplan is an employee of Johnson and Johnson, Inc which sponsored this study. Andrew Yoo is an employee of Johnson and Johnson, Inc which sponsored this study.
Conflict of interest
The authors declare that they have no conflict of interest.
Ethics approval
All procedures followed were in accordance with the ethical standards of the responsible committee on human experimentation (institutional and national) and with the Helsinki Declaration of 1975, as revised in 2000. Informed consent was obtained from all patients for being included in the study.
Informed consent
Premier Healthcare Database is aggregated, deidentified, and compliant with the Health Insurance Portability and Accountability Act and does not require institutional review board approval. Formal consent is not required.
Additional information
Publisher's Note
Springer Nature remains neutral with regard to jurisdictional claims in published maps and institutional affiliations.
About this article
Cite this article
Chung, G., Hinoul, P., Coplan, P. et al. Trends in the diffusion of robotic surgery in prostate, uterus, and colorectal procedures: a retrospective population-based study. J Robotic Surg (2020). https://doi.org/10.1007/s11701-020-01102-6
Received:

Accepted:

Published:
Keywords
Robotic-assisted surgery

Prostate

Uterus

Colorectal

Diffusion of innovation

Premier Hospital database