Abstract
Pressure on health care providers is growing due to capping of remuneration for medical services in most Western European countries. We wanted to investigate, if robotic-assisted ventral hernia repair is reasonable from an economic point of view in our setting. Patients undergoing open or robotic-assisted repair for complex abdominal wall hernia using a Transversus Abdominis Release (TAR) between September 2017 and January 2019 were included. Procedure-related costs were calculated exact to the minute and cost unit accounting for the postoperative in-patient stay was done. Abdominal wall reconstruction using the TAR-technique was done in a total of 26 (10 female) patients via an open (n = 10) or robotic-assisted (n = 16) approach. No significant difference was seen in regard to age, BMI and ASA scores between subgroups. Time for operation was longer (253.5 vs 211.5 min; p = 0.0322), while postoperative hospital stay was shorter for patients operated with a robotic-assisted approach (4.5 vs 12.5 days; p < 0.005). Procedure-related costs were 2.7-fold higher when a robotic-assisted reconstruction was done (EUR 5397 vs. 1989), while total costs for in-patient stay were about 60% lower (EUR 2715 vs 6663). Currently, revenues by national insurance account for a total of EUR 9577 leading to a profit of EUR 1465 and 925 for the robotic-assisted and open myofascial release, respectively. In addition, 30-day re-admission rate was in favor of the robotic-assisted approach as well (6.3% vs 20%). From an economic point of view, robotic-assisted TAR for complex ventral hernia repair is a viable option in our setting. Higher procedure-related costs are offset by a significant shorter hospital stay. The economic advantage goes along with improvement in outcome of patients.
Access options
Buy single article
Instant access to the full article PDF.
US$ 39.95
Tax calculation will be finalised during checkout.
Subscribe to journal
Immediate online access to all issues from 2019. Subscription will auto renew annually.
US$ 79
Tax calculation will be finalised during checkout.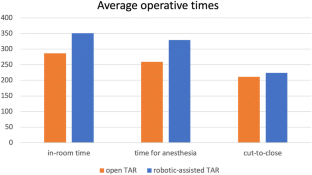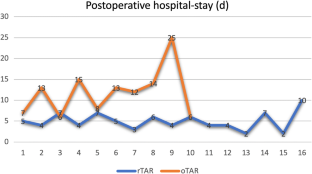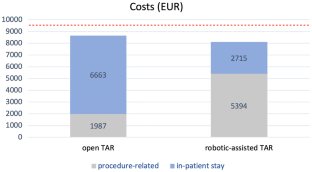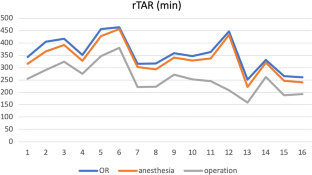 References
1.

Paat-Ahi G, Aaviksoo A, Swiderek M, EuroDRG group (2014) Cholecystectomy and diagnosis-related groups (DRGs): patient classification and hospital reiumbursement in 11 European countries. Int J Health Policy Manag 3:383–391

2.

Pokala B, Armijo PR, Flores L, Hennings D, Oleynikov D (2019) Minimally invasive inguinal hernia repair is superior to open: a national database review. Hernia 23:593–599

3.

Hajibandeh S, Hajibandeh S, Sreh A, Khan A, Subar D, Jones L (2017) Laparoscopic versus open umbilical or paraumbilical hernia repair: a systematic review and meta-analysis. Hernia 21:905–916

4.

McKay GD, Morgan MJ, Wong SK, Gatenby AH, Fulham SB, Ahmed KW, Toh JW, Hanna M, Hitos K (2012) Improved short-term outcomes of laparoscopic versus open resection for colon and rectal cancer in an area health service: a multicenter study. Dis Colon Rectum 55:42–50

5.

Vennix S, Pelzers L, Bouvy N, Beets GL, Pierie JP, Wiggers T, Breukink S (2014) Laparoscopic versus open total mesorectal excision for rectal cancer. Cochran Database Syst Rev. 15:CD005200

6.

Hayashi H, Ozaki N, Ogawa K, Ikuta Y, Tanaka H, Ogata K et al (2018) Assessing the economic advantage of laparoscopic vs. open approaches for colorectal cancer by a propensity score matching analysis. Surg Today 48:439–448

7.

Mikami DJ, Mevlin WS, Murayama MJ, Murayama KM (2017) Impact of minimally invasive surgery on healthcare utilization, cost, and workplace absenteeism in patients with incisional/ventral hernia (IVH). Surg Endosc 31:4412–4418

8.

Fitch K, Engel T, Bochner A (2015) Cost difference between open and minimally invasive surgery. Manag Care 24:40–48

9.

Roh HF, Nam SH, Kim JM (2018) Robot-assisted laparoscopic surgery versus conventional laparoscopic surgery in randomized controlled trials: A systematic review and meta-analysis. PLoS ONE 13:e0191628

10.

Jayne D, Pigazzi A, Marshall H, Croft J, Corrigan N, Copeland J et al (2017) Effect of robotic-assisted vs conventional laparoscopic surgery on risk of conversion to open laparotomy among patients undergoing resection for rectal cancer. The ROLARR randomized trial. JAMA 318:1569–1580

11.

Broeders IAMJ (2017) Robotic surgery. In: Bonjer HJ (ed) Surgical principles of minimally invasive procedures. Manual of the European Association of Endoscopic Surgery. Springer, Berlin, pp 285–290

12.

Amaral MVFD, Guimaraes JR, Volpe P, Oliveira FMM, Domene CE, Roll S et al (2017) Robotic transversus abdominis release (TAR): is it possible to offer minimally invasive surgery for abdominal wall complex defects? Rev Col Bras Cir 44:216–219

13.

Bittner JG 4th, Alrefai S, Vy M, Mabe M, Del Prado PAR, Clingempeel NL (2018) Comparative analysis of open and robotic tranversus abdominis release for ventral hernia repair. Surg Endosc 32:727–734

14.

Martin-Del-Campo LA, Weitz AS, Belyansky I, Novitsky YW (2018) Comparative analysis of perioperative outcomes of robotic versus open transversus abdominis release. Surg Endosc 32:840–845

15.

Dindo D, Demartines N, Clavien PA (2004) Classification of surgical complications: a new proposal with evaluation in a cohort of 6336 patients and results of a survey. Ann Surg 240:205–313

16.

Waite KE, Herman MA, Doyle PJ (2016) Comparison of robotic versus laparoscopic transabdominal preperitoneal (TAPP) inguinal hernia repair. J Robot Surg 19:239–244

17.

Belyansky I, Zahiri HR, Park A (2016) Laparoscopic transversus abdominis release, a novel minimally invasive approach to complex abdominal wall reconstruction. Surg Innov 23:134–141

18.

Halka JT, Vasyluk A, Demare A, Iacco A, Janczyk R (2019) Hybrid robotic-assisted transversus abdominis release versus open tranversus abdominis release: a comparison of short-term outcomes. Hernia 23:37–42

19.

Scarborough JE, Mantyh CR, Sun Z, Migaly J (2015) Combined mechanical and oral antibiotic bowel preparation reduces incisional surgical site infection and anastomotic leak rates after elective colorectal resection: an analysis of Colectomy-Targeted ACS NSQIP. Ann Surg 262:331–337

20.

2017 European Society of Coloproctology (ESCP) collaborating group (2018) Association of mechanical bowel preparation with oral antibiotics and anastomotic leak following left sided colorectal resection: an international, mulit-centre, prospective audit. Colorectal Dis 20(Suppl 6):15–32

21.

Abdelmoaty WF, Dunst CM, Neighorn C, Swanstrom LL, Hammill CW (2019) Robotic-assisted versus laparoscopic unilateral inguinal hernia repair: a comprehensive cost analysis. Surg Endosc 33:3436–3443

22.

Gagnon LO, Goldenberg SL, Lynch K, Hurtado A, Gleave ME (2014) Comparison of open and robotic-assisted prostatectomy: The University of British Columbia experience. Can Urol Assoc J 8:92–97

23.

Leow JJ, Chang SL, Meyer CP, Wang Y, Hanske J, Sammon JD et al (2016) Robot-assisted versus open radical prostatectomy: a contemporary analysis of an all-payer discharge database. Eur Urol 70:837–845

24.

Muysoms F, Van Cleven S, Kyle-Leinhase I, Ballecer C, Ramaswamy A (2018) Robotic-assisted laparoscopic groin hernia repair: observational case-control study on the operative time during the learning curve. Surg Endosc 32:4850–4859

25.

Avondstondt AM, Wallenstein M, D'Adamo CR, Ehsanipoor RM (2017) Change in cost after 5 years of experience with robotic-assisted hysterectomy for the treatment of endometrial cancer. J Robot Surg 12:93–96

26.

Bianchini M, Guadagni S, Morelli L (2019) Costs-benefits of robot-assisted colorectal surgery: a different perspective. J Robot Surg 13:607–608

27.

Barbash GI, Glied SA (2010) New technology and health care costs—the case of robotic-assisted surgery. N Engl J Med 363:701–704

28.

Kajiwara N, Kat Y, Hagiwara M, Kakihana M, Ohira T, Kawate N, Ikeda N (2018) Cost-benefit performance simulation of robot-assisted thoracic surgery as required for financial viability under the 2016 revised reimbursement paradigm of the Japanese National Health Insurance System. Ann Thorac Cardiovasc Surg 24:73–80
Ethics declarations
Conflict of interest
Bernhard Dauser, Nikolaus Hartig, Mariam Vedadinejad, Elisabeth Kirchner, Florian Trummer, and Friedrich Herbst declare that there are no conflicts of interest.
Ethical approval
There were no sources of financial support, corporate involvement, patent holdings, etc. involved in the research and preparation of this manuscript.
Additional information
Publisher's Note
Springer Nature remains neutral with regard to jurisdictional claims in published maps and institutional affiliations.
About this article
Cite this article
Dauser, B., Hartig, N., Vedadinejad, M. et al. Robotic-assisted repair of complex ventral hernia: can it pay off?. J Robotic Surg 15, 45–52 (2021). https://doi.org/10.1007/s11701-020-01078-3
Received:

Accepted:

Published:

Issue Date:
Keywords
Robotic-assisted

Ventral hernia repair

Costs