Abstract
This IRB-approved prospective pilot study evaluates the safety and feasibility of performing stereotactic robot-assisted transperineal MRI-US fusion targeted prostate biopsy under local anaesthesia (LA) with sedation. 30 patients who underwent robotic transperineal prostate biopsy between September 2017 and June 2018 were recruited. All biopsies were performed with the iSR'obot Mona Lisa® and BK3000 ultrasound system. Intravenous paracetamol 1 g, with midazolam and fentanyl were given at positioning. After administration of 5 mL of 1%-lidocaine into the perineal skin 2 cm above and lateral to the anus, periapical prostatic block with 10 mL mixture of 1%-Lidocaine and 0.5%-Marcaine was given. The median age of patients was 66 years (range 53–80 years). Median PSA and mean prostate volume were 8.1 ng/ml (range 4.2–20.6 ng/ml) and 40.1 cc (range 18.6–70 cc). 24 (80.0%) patients had targeted prostate biopsy, with median number of targeted cores of 8 (range 5–16). All patients had saturation biopsy and median number of saturation cores was 21 (range 9–48). Mean dose of intravenous midazolam given was 1.5 mg (range 0–5 mg) and intravenous fentanyl was 75 mcg (10–150 mcg). No patient required conversion to GA. Two patients required motion compensation of 3 mm and 7.5 mm, respectively, due minor movement. Immediate post-operative pain score was 0 for all patients. 29 of 30 patients (96.7%) were discharged within 24 h of procedure. There were no immediate severe complications. Adenocarcinoma was detected in 19/30 (63.3%) cases. This pilot feasibility study showed that stereotactic robotic transperineal MRI-US fusion targeted prostate biopsy can be safely and accurately performed under LA with sedation.
Access options
Buy single article
Instant access to the full article PDF.
US$ 39.95
Tax calculation will be finalised during checkout.
Subscribe to journal
Immediate online access to all issues from 2019. Subscription will auto renew annually.
US$ 79
Tax calculation will be finalised during checkout.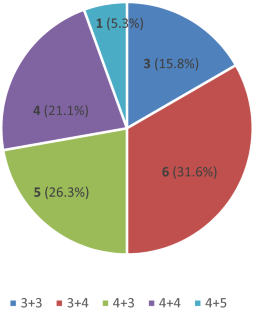 References
1.

Raaijmakers R, Kirk's WJ, Roobol MJ, Wildhagen MF, Schröder FH (2002) Complication rates and risk factors of 5802 transrectal ultrasound-guided sextant biopsies of the prostate within a population-based screening program. Urology 60:826–830

2.

Vyas L, Acher P, Kinsella J et al (2014) Indications, results and safety profile of transperineal sector biopsies (TPSB) of the prostate: a single centre experience of 634 cases. BJU Int 114:32–37

3.

Grummet JP, Weerakoon M, Huang S et al (2014) Sepsis and "superbugs": should we favour the transperineal over the transrectal approach for prostate biopsy? BJU Int 114:384–388

4.

Taira AV, Merrick GS, Galbreath RW et al (2010) Performance of transperineal template-guided mapping biopsy in detecting prostate cancer in the initial and repeat biopsy setting. Prostate Cancer Prostatic Dis 13:71–77

5.

Chang DT, Challacombe B, Lawrentschuk N (2013) Transperineal biopsy of the prostate—is this the future? Nat Rev Urol 10:690–702

6.

Hambrock T, Hoeks C, Hulsbergen-van de Kaa C et al (2012) Prospective assessment of prostate cancer aggressiveness using 3-T diffusion-weighted magnetic resonance imaging-guided biopsies versus a systematic 10-core transrectal ultra-sound prostate biopsy cohort. Eur Urol 61:177

7.

Hambrock T, Somford DM, Hoeks C et al (2010) Magnetic resonance imaging guided prostate biopsy in men with repeat negative biopsies and increased prostate specific antigen. J Urol 183:520

8.

Elhawary H et al (2008) The case for MR-compatible robotics: a review of the state of the art. Int J Med Robot 4:105–113

9.

McGrath S, Christidis D, Clarebrough E et al (2017) Transperineal prostate biopsy—tips for analgesia. BJUI 120:164–167

10.

Hollabaugh RS Jr, Dmochowski RR, Steiner MS (1997) Neuroanatomy of the male rhabdosphincter. Urology 49:426

11.

Kubo Y, Kawakami S, Numao N et al (2009) Simple and effective local anesthesia for transperineal extended prostate biopsy: application to three-dimensional 26-core biopsy. Int J Urol 16:420–423

12.

Novella G, Ficarra V, Galfano A, Ballario R, Novara G, Cavalleri S et al (2003) Pain assessment after original transperineal prostate biopsy using a coaxial needle. Urology 62:689–692

13.

Iremashvili VV, Chepurov AK, Kobaladze KM, Gamidov SI (2010) Periprostatic local anesthesia with pudendal block for transperineal ultrasound-guided prostate biopsy: a randomized trial. Urology 75:1023–1027

14.

Smith JB, Popert R, Nuttall MC, Vyas L, Kinsella J, Cahill D (2014) Transperineal sector prostate biopsies: a local anesthetic outpatient technique. Urology 83:1344–1349

15.

Bass EJ, Donaldson IA, Freeman A, Jameson C, Punwani S, Moore C, Arya M, Emberton M, Ahmed HU (2017) Magnetic resonance imaging targeted transperineal prostate biopsy: a local anaesthetic approach. Prostate Cancer Prostate Dis 20:311–317

16.

Shen PF, Zhu YC, Wei WR et al (2012) The results of transperineal versus transrectal prostate biopsy: a systematic review and meta-analysis. Asian J Androl 14:310–315

17.

Xue J, Qin Z, Cai H et al (2017) Comparison between transrectal and transperineal prostate biopsy for detection of prostate cancer: a metaanalysis and trial sequential analysis. Oncotarget 8:23322–23336

18.

Galfano A, Novara G, Iafrate M et al (2007) Prostate biopsy: the transperineal approach. EAU-EBU Update Ser 5:241–249

19.

Meyer AR, Joice GA, Schwen ZR, Partin AW, Allaf ME, Gorin MA (2018) Initial experience performing in-office ultrasound-guided transperineal prostate biopsy under local anesthesia using the precision point transperineal access system. Urology 115:8–13

20.

Ekwueme K, Simpson H, Zakhour H, Parr NJ (2013) Transperineal template-guided saturation biopsy using a modified technique: outcome of 270 cases requiring repeat prostate biopsy. BJU Int 111(8):E365–E373

21.

Merrick GS, Taubenslag W, Andreini H et al (2008) The morbidity of transperineal template-guided prostate mapping biopsy. BJU Int 101:1524–1529

22.

Willis S, Bott S, Montgomery B (2013) Urinary retention following transperineal template prostate biopsy—study of risk factors. J Clin Urol 6(1):55–58

23.

Borboroglu PG, Comer SW, Riffenburgh RH, Amling CL (2000) Extensive repeat transrectal ultrasound guided prostate biopsy in patients with previous benign sextant biopsies. J Urol 163:158–162

24.

Takenaka A, Hara R, Ishimura T, Fujii T, Jo Y et al (2008) A prospective randomized comparison of diagnostic efficacy between transperineal and transrectal 12-core prostate biopsy. Prostate Cancer Prostatic Dis 11:134–138

25.

Vyas L, Acher P, Kinsella J, Challacombe B, Chang RT et al (2014) Indications, results and safety profile of transperineal sector biopsies (TPSB) of the prostate: a single centre experience of 634 cases. BJU Int 114:32–37
Ethics declarations
Conflict of interest
XinYan Yang, Lee Yuanming Alvin, Law Yan Mee, Sim Soon Phang Allen, Tay Kae Jack, Lau Kam On Weber, Ho Sun Sien Henry, Yuen Shyi Peng John, Kenneth Chen declare that they have no conflict of interest.
Ethical standards
All procedures followed were in accordance with the ethical standards of the responsible committee on human experimentation (institutional and national) and with the Helsinki Declaration of 1975, as revised in 2000.
Informed consent
Informed consent was obtained from all patients for being included in the study.
Additional information
Publisher's Note
Springer Nature remains neutral with regard to jurisdictional claims in published maps and institutional affiliations.
About this article
Cite this article
Yang, X., Lee, A.Y., Law, Y.M. et al. Stereotactic robot-assisted transperineal prostate biopsy under local anaesthesia and sedation: moving robotic biopsy from operating theatre to clinic. J Robotic Surg 14, 767–772 (2020). https://doi.org/10.1007/s11701-020-01052-z
Received:

Accepted:

Published:

Issue Date:
Keywords
Robot-assisted

Transperineal prostate biopsy

Prostate cancer

Local anaesthesia

Cancer detection