Abstract
Turnover time (TOT) has remained the subject of numerous research articles and operating room (OR) committee discussions. Inefficiencies associated with TOT are multiplied when complex technology, such as surgical robots, is involved. Using a human factors approach, this study investigated impediments to efficient robotic TOT and team members' perceptions surrounding this topic. Researchers observed 20 robotic turnovers over 2 months at a tertiary hospital. TOT, cleaning time, number of staff present, bed set-up time, instrument set-up time and any major delays were recorded. Additionally, 79 OR team members completed a questionnaire regarding perceptions of OR turnover. Average TOT was 72 min (s, 24 min). Overall, cleaning required the most time (average of 27.4 min, 37.96% of TOT), followed by instrument set-up (15.4 min, 21.34% of TOT) and RN retrieval of the patient from pre-op (12 min, 17.72% of TOT). OR team members estimated that turnovers require 60.36 min. Physicians believed the greatest contributor to TOT was "time to set up the OR", while OR staff rated "instrument availability" as the greatest issue, both of which were inaccurate. OR team members' perceptions of robotic TOT and contributing factors were different from reality based on observed contributors. Data demonstrated several areas of opportunity for process improvement. These data can be used to guide the implementation of targeted interventions to improve TOT efficiency.
Access options
Buy single article
Instant access to the full article PDF.
US$ 39.95
Tax calculation will be finalised during checkout.
Subscribe to journal
Immediate online access to all issues from 2019. Subscription will auto renew annually.
US$ 79
Tax calculation will be finalised during checkout.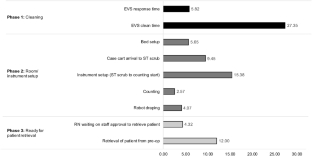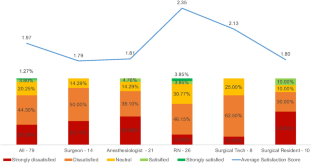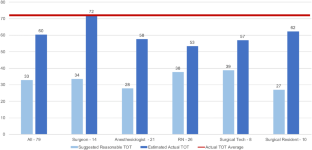 Abbreviations
OR:

Operating room

TOT:

Turnover time
References
1.

Kodali BS, Kim D, Bleday R, Flanagan H, Urman RD (2014) Successful strategies for the reduction of operating room turnover times in a tertiary care academic medical center. J Surg Res 187:403–411

2.

Ninan D, Zhu J, Kore A, Wasson E, Fullerton T, Ninan B (2017) The role of organizational culture in operating room turnaround time. Cureus 9(5):1–4

3.

Childers CP, Maggard-Gibbons M (2018) Understanding costs of care in the operating room. JAMA Surg 153:e176233–e176233

4.

Cerfolio RJ, Ferrari-Light D, Ren-Fielding C et al (2019) Improving operating room turnover time in a New York City Academic Hospital via Lean. Ann Thorac Surg 107:1011–1016

5.

Dexter F, Abouleish AE, Epstein RH, Whitten CW, Lubarsky DA (2003) Use of operating room information system data to predict the impact of reducing turnover times on staffing costs. Anesth Analg 97:1119–1126

6.

Harders M, Malangoni MA, Weight S, Sidhu T (2006) Improving operating room efficiency through process redesign. Surgery 140:509–516

7.

Souders CP, Catchpole KR, Wood LN et al (2017) Reducing operating room turnover time for robotic surgery using a motor racing pit stop model. World J Surg 41:1943–1949

8.

Friedman DM, Sokal SM, Chang Y, Berger DL (2006) Increasing operating room efficiency through parallel processing. Ann Surg 243:10

9.

Cendán JC, Good M (2006) Interdisciplinary work flow assessment and redesign decreases operating room turnover time and allows for additional caseload. Arch Surg 141:65–69

10.

Adams R, Warner P, Hubbard B, Goulding T (2004) Decreasing turnaround time between general surgery cases: a six sigma initiative. J Nurs Adm 34:140–148

11.

Weld LR, Stringer MT, Ebertowski JS et al (2016) TeamSTEPPS improves operating room efficiency and patient safety. Am J Med Qual 31:408–414

12.

Shams A, Ahmed M, Scalzitti NJ, Stringer M, Howard NS, Maturo S (2016) How does teamstepps affect operating room efficiency? Otolaryngol Head Neck Surg 154:355–358

13.

Price M, Bates A, Clagett M (2018) Improving efficiency and standardization in a robotics program: a quality improvement project. AORN J 108:652–660

14.

Rebuck DA, Zhao LC, Helfand BT et al (2011) Simple modifications in operating room processes to reduce the times and costs associated with robot-assisted laparoscopic radical prostatectomy. J Endourol 25:955–960

15.

Carayon P, Hundt AS, Karsh BT et al (2006) Work system design for patient safety: the SEIPS model. BMJ Qual Saf 15:i50–i58

16.

Catchpole K, Neyens DM, Abernathy J, Allison D, Joseph A, Reeves ST (2017) Framework for direct observation of performance and safety in healthcare. BMJ Qual Saf 26:1015

17.

Carthey J (2013) The role of structured observational research in health care. Qual Saf Health Care 12(Suppl 2):ii13–ii16

18.

Roethlisberger FJ, Dickson WJ (2003) The early sociology of management and organizations. Routledge, New Fetter Lane, London

19.

Sokal SM, Craft DL, Chang Y, Sandberg WS, Berger DL (2006) Maximizing operating room and recovery room capacity in an era of constrained resources. JAMA Surg 141:389–395

20.

Association of periOperative Registered Nurses (2013) The guideline for environmental cleaning. https://aornguidelines.org/guidelines/content?sectionid=173715702&view=book. Accessed 11 Oct 2019

21.

Cima RR, Brown MJ, Hebl JR et al (2011) Use of lean and six sigma methodology to improve operating room efficiency in a high-volume tertiary-care academic medical center. J Am Coll Surg 213:83–92

22.

Matlow AG, Wray R, Richardson SE (2012) Attitudes and beliefs, not just knowledge, influence the effectiveness of environmental cleaning by environmental service workers. Am J Infect Control 40:260–262

23.

Gottschalk MB, Hinds RM, Muppavarapu RC et al (2016) Factors affecting hand surgeon operating room turnover time. Hand 11:489–494
Funding
No funding was received for this study.
Ethics declarations
Conflict of interest
Jennifer Anger serves as an expert witness for Boston Scientific, Daniel Shouhed has received an Educational Honorarium from Intuitive, and Yosef Nasseri has received an honorarium from intuitive for being a key opinion leader. Tara N. Cohen, Kevin Shamash, Kate A. Cohen, Sarah E. Francis, Maureen Fimpler, Raymund Avenido, and Bruce L. Gewertz declare that they have no conflict of interest.
Authorship statement
The manuscript has been read and approved by all authors, each of whom contributed to the manuscript: Tara Cohen was responsible for study design, data collection, data analysis, manuscript writing and editing; Jennifer Anger was responsible for study design, data analysis and manuscript editing, Kevin Shamash was responsible for data collection, manuscript writing and editing, Kate Cohen was responsible for data collection, data analysis, manuscript writing and editing, Yoseph Nasseri was involved in the study design, data analysis and manuscript editing, Sarah Francis was responsible for study design, data collection and manuscript editing; Maureen Fimpler was involved with data collection, data analysis and manuscript editing; Ray Avenido was responsible for study design, and manuscript editing; Bruce Gewertz was responsible for study design and manuscript editing; and Daniel Shouhed was responsible for study design, data analysis, manuscript writing and manuscript editing.
Ethical approval
All procedures performed in studies involving human participants were in accordance with the ethical standards of the institutional and/or national research committee (Cedars-Sinai Institutional Review Board: #Pro00053956 and #Pro00053520) and with the 1964 Helsinki Declaration and its later amendments or comparable ethical standards.
Additional information
Publisher's Note
Springer Nature remains neutral with regard to jurisdictional claims in published maps and institutional affiliations.
About this article
Cite this article
Cohen, T.N., Anger, J.T., Shamash, K. et al. Discovering the barriers to efficient robotic operating room turnover time: perceptions vs. reality. J Robotic Surg 14, 717–724 (2020). https://doi.org/10.1007/s11701-020-01045-y
Received:

Accepted:

Published:

Issue Date:
Keywords
Human factors

Robotic surgery

Turnover time

Quality improvement

Operating room