Abstract
Robotic lung resection for lung cancer has gained popularity over the last 10 years. As with many surgical techniques, there are improvements in outcomes associated with increased operative volume. We sought to investigate lymph-node harvest and upstaging rates for robotic lobectomies performed at hospitals with varying robotic experience. The National Cancer Data Base was queried for patients with early stage non-small cell lung cancer who received lobectomy between 2010 and 2015. Hospitals were stratified into volume categories based on the number of robotic resections performed, as a proxy for robotic experience: low at  ≤ 12, low–middle 13–26, middle–high 27–52, and high volume at greater than or equal to 53. Lymph-node counts and nodal upstaging were compared among these volume categories. 8360 robotic lobectomies were performed. Mean lymph-node counts were for low, low–middle, middle–high, and high-volume robotic lobectomies were 9.8, 11.4, 12.9, and 12.6, respectively (P  < 0.001), while nodal-upstaging rates were 10.3%, 10.2%, 12.8%, and 13.4%, respectively (P < 0.001). Compared to low-volume hospitals, on multivariable analysis, high-volume robotic centers had increased nodal harvest (P < 0.001) and nodal-upstaging rates (P < 0.001). Robotic lobectomies performed at high-volume hospitals have greater lymph-node harvest and upstaging than low-volume hospitals.
This is a preview of subscription content, log in to check access.
Access options
Buy single article
Instant access to the full article PDF.
US$ 39.95
Tax calculation will be finalised during checkout.
Subscribe to journal
Immediate online access to all issues from 2019. Subscription will auto renew annually.
US$ 79
Tax calculation will be finalised during checkout.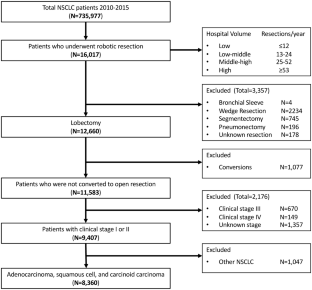 References
1.

Rajaram R, Mohanty S, Bentrem DJ et al (2017) Nationwide assessment of robotic lobectomy for non-small cell lung cancer. Ann Thorac Surg 103:1092–1100

2.

Sarkaria IS (2016) Deconstructing robotic lobectomy. J Thorac Cardiovasc Surg 152:998

3.

Louie BE, Wilson JL, Kim S et al (2016) Comparison of video-assisted thoracoscopic surgery and robotic approaches for clinical stage i and stage ii non-small cell lung cancer using the society of thoracic surgeons database. Ann Thorac Surg 102:917–924

4.

Oh DS, Reddy RM, Gorrepati ML et al (2017) Robotic-assisted, video-assisted thoracoscopic and open lobectomy: propensity-matched analysis of recent premier data. Ann Thorac Surg 104:1733–1740

5.

Yang CF, Sun Z, Speicher PJ et al (2016) Use and outcomes of minimally invasive lobectomy for stage i non-small cell lung cancer in the national cancer data base. Ann Thorac Surg 101:1037–1042

6.

Yang HX, Woo KM, Sima CS et al (2017) Long-term survival based on the surgical approach to lobectomy for clinical stage I non-small cell lung cancer: comparison of robotic, video-assisted thoracic surgery, and thoracotomy lobectomy. Ann Surg 265:431–437

7.

Keller DS, Hashemi L, Lu M et al (2013) Short-term outcomes for robotic colorectal surgery by provider volume. J Am Coll Surg 217:1063–1069

8.

Yu HY, Hevelone ND, Lipsitz SR et al (2012) Hospital volume, utilization, costs and outcomes of robot-assisted laparoscopic radical prostatectomy. J Urol 187:1632–1637

9.

Unger CA, Lachiewicz MP, Ridgeway B (2016) Risk factors for robotic gynecologic procedures requiring conversion to other surgical procedures. Int J Gynaecol Obstet 135:299–303

10.

Reddy RM, Gorrepati ML, Oh DS et al (2018) Robotic-assisted versus thoracoscopic lobectomy outcomes from high-volume thoracic surgeons. Ann Thorac Surg 106:902–908

11.

Tchouta LN, Park HS, Boffa DJ et al (2017) Hospital volume and outcomes of robot-assisted lobectomies. Chest 151:329–339

12.

Fernandez FG, Kozower BD, Crabtree TD et al (2015) Utility of mediastinoscopy in clinical stage I lung cancers at risk for occult mediastinal nodal metastases. J Thorac Cardiovasc Surg 149:35–41

13.

Medbery RL, Gillespie TW, Liu Y et al (2016) Nodal upstaging is more common with thoracotomy than with vats during lobectomy for early-stage lung cancer: an analysis from the national cancer data base. J Thorac Oncol 11:222–233

14.

Boffa DJ, Kosinski AS, Paul S et al (2012) Lymph node evaluation by open or video-assisted approaches in 11,500 anatomic lung cancer resections. Ann Thorac Surg 94:347–353. (Discussion 353)

15.

Douillard JY, Rosell R, De Lena M et al (2006) Adjuvant vinorelbine plus cisplatin versus observation in patients with completely resected stage IB-IIIA non-small-cell lung cancer [Adjuvant Navelbine International Trialist Association (ANITA)]: a randomised controlled trial. Lancet Oncol 7:719–727

16.

Novello B, Renner A, Maurer G et al (2018) Development of the youth emotion picture set. Perception 47:1029–1042

17.

Wilson JL, Louie BE, Cerfolio RJ et al (2014) The prevalence of nodal upstaging during robotic lung resection in early stage non-small cell lung cancer. Ann Thorac Surg 97:1901–1906. (Discussion 1906–1907)

18.

Bilimoria KY, Stewart AK, Winchester DP et al (2008) The National Cancer Data Base: a powerful initiative to improve cancer care in the United States. Ann Surg Oncol 15:683–690

19.

Zirafa C, Aprile V, Ricciardi S et al (2019) Nodal upstaging evaluation in NSCLC patients treated by robotic lobectomy. Surg Endosc 33:153–158

20.

Darling GE, Allen MS, Decker PA et al (2011) Randomized trial of mediastinal lymph node sampling versus complete lymphadenectomy during pulmonary resection in the patient with N0 or N1 (less than hilar) non-small cell carcinoma: results of the American College of Surgery Oncology Group Z0030 Trial. J Thorac Cardiovasc Surg 141:662–670
Ethics declarations
Conflict of interest
Author ISS has a consultative relationship with Intuitive and CMR robotics. Authors Olugbenga T Okusanya MD, Waseem Lutfi BS, Nicholas Baker MD, Rajeev Dhupar MD, Neil A Christie MD, Ryan M Levy MD, Deirdre Martinez-Meehan MPH, Nalyn Siripong PhD, and James D Luketich MD declare that they have no relevant funding or potential conflicts of interests to disclose.
Additional information
Publisher's Note
Springer Nature remains neutral with regard to jurisdictional claims in published maps and institutional affiliations.
About this article
Cite this article
Okusanya, O.T., Lutfi, W., Baker, N. et al. The association of robotic lobectomy volume and nodal upstaging in non-small cell lung cancer. J Robotic Surg 14, 709–715 (2020). https://doi.org/10.1007/s11701-020-01044-z
Received:

Accepted:

Published:

Issue Date:
Keywords
Robotic surgery

Lobectomy

Non-small cell lung cancer

Lymph-node harvest

Upstaging