Abstract
Partial nephrectomy has become the preferred treatment option for small renal masses. In particular, minimally invasive partial nephrectomy (MIPN) using laparoscopic or robotic approaches has shown decreased blood loss, shorter hospital stay, and faster return to normal activity compared to open surgery. However, MIPN still carries risk of postoperative complications including hemorrhage and urine leakage. Closure of the renal remnant, often called renorrhaphy, is a critical step to avoid these complications. The purpose of the study was to provide quantitative data on suture properties during partial nephrectomy. Multiple suture techniques have been proposed for renal closure during robotic-assisted partial nephrectomy. There is no consensus for preferred closure technique and this decision is at the discretion of the surgeon. Simulated partial nephrectomies were performed on porcine kidneys. Renorrhaphy was completed with barbed suture using a simple running, interrupted sliding-clip, or horizontal mattress technique. Suture tension was obtained prior to tissue failure with force sensors measuring in newtons (N). The interrupted sliding-clip and horizontal mattress techniques performed similarly with median force values of 11.06 N and 12.20 N, respectively. The simple running technique performed with a median force of 3.62 N. ANOVA proved statistical significance. Interrupted sliding-clip and horizontal mattress sutures exert similar forces prior to tissue failure during renorrhaphy. Both techniques were able to achieve forces great enough to overcome the hydrostatic pressure of perfused renal tissue. Simple running sutures failed at significantly lower forces. When closing renal defects after partial nephrectomy, sliding-clip and horizontal mattress should be utilized over simple running sutures.
This is a preview of subscription content, log in to check access.
Access options
Buy single article
Instant access to the full article PDF.
US$ 39.95
Tax calculation will be finalised during checkout.
Subscribe to journal
Immediate online access to all issues from 2019. Subscription will auto renew annually.
US$ 79
Tax calculation will be finalised during checkout.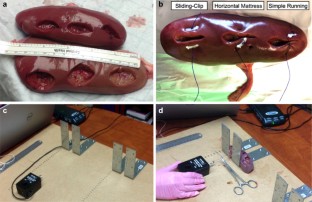 References
1.

National Cancer Institute SEER (2016) Stat Fact Sheets: Kidney and Renal Pelvis Cancer. Cancer Statistics. http://seer.cancer.gov/statfacts/html/kidrp.html. Accessed 9 Jan 2018

2.

Mathew A, Devesa SS, Fraumeni JF Jr, Chow WH (2002) Global increases in kidney cancer incidence, 1973–1992. Eur J Cancer Prev 11(2):171–178

3.

Lee CT, Katz J, Shi W, Thaler HT, Reuter VE, Russo P (2000) Surgical management of renal tumors 4 cm. or less in a contemporary cohort. J Urol 163(3):730–736

4.

Lau WK, Blute ML, Weaver AL, Torres VE, Zincke H (2000) Matched comparison of radical nephrectomy vs nephron-sparing surgery in patients with unilateral renal cell carcinoma and a normal contralateral kidney. Mayo Clin Proc 75(12):1236–1242 (Elsevier)

5.

McKiernan J, Simmons R, Katz J, Russo P (2002) Natural history of chronic renal insufficiency after partial and radical nephrectomy. Urology 59(6):816–820

6.

Winfield HN, Donovan JF, Godet AS, Clayman RV (1993) Laparoscopic partial nephrectomy: Initial case report for benign disease. J Endourol 7:521

7.

Gill IS, Kavoussi LR, Lane BR, Blute ML, Babineau D, Colombo JR Jr, Kattan MW et al (2007) Comparison of 1800 laparoscopic and open partial nephrectomies for single renal tumors. J Urol 178(1):41–46

8.

Zimmermann R, Janetschek G (2008) Complications of laparoscopic partial nephrectomy. World J Urol 26(6):531–537

9.

Weld KJ, Venkatesh R, Huang J, Landman J (2006) Evolution of surgical technique and patient outcomes for laparoscopic partial nephrectomy. Urology 67(3):502–506

10.

Pierorazio PM, Johnson MH, Patel HD, Sozio SM, Sharma R, Iyoha E, Allaf ME et al (2016) Management of renal masses and localized renal cancer: systematic review and meta-analysis. J Urol 196(4):989–999

11.

Zincke H, Ruckle HC (1995) Use of exogenous material to bolster closure of the parenchymal defect following partial nephrectomy. Urology 46(1):96–98

12.

Janetschek G (2007) Laparoscopic partial nephrectomy for RCC: how can we avoid ischemic damage of the renal parenchyma? Eur Urol 52(5):1303–1305

13.

Mulholland TL, See WA (1998) Pledgeted sutures for parenchymal compression facilitate partial nephrectomy. Br J Urol 81(4):630

14.

Wandschneider G (1968) A contribution on the suture technic in partial kidney resections. Zentralbl Chir 93(32):1102–1106

15.

Kaygisiz O, Çelen S, Vuruşkan BA, Vuruşkan H (2017) Comparison of two different suture techniques in laparoscopic partial nephrectomy. Int Braz J Urol 43(5):863–870

16.

Simon J, Finter F, Ignatius A, Meilinger M, Dürselen L (2011) Maximum tensile force of different suture techniques in reconstruction of the renal remnant after nephron-sparing surgery. Surg Endosc 25(2):503–507

17.

Canales BK, Lynch AC, Fernandes E, Anderson JK, Ramani AP (2007) Novel technique of knotless hemostatic renal parenchymal suture repair during laparoscopic partial nephrectomy. Urology 70(2):358–359

18.

Endres DM II, Bossemeyer RW Jr, Tobert CM, Baer WH, Lane BR (2014) Investigation of forces involved in closure of the renal remnant after simulated partial nephrectomy. Urology 84(4):971–975

19.

Patel MN, Menon M, Rogers CG (2010) Robotic partial nephrectomy: a comparison to current techniques. Urol Oncol Semin Orig Investig 28(1):74–76 (Elsevier)

20.

Tanaka K, Teishima J, Takenaka A, Shiroki R, Kobayashi Y, Hattori K, Fujisawa M et al (2018) Prospective study of robotic partial nephrectomy for renal cancer in Japan: comparison with a historical control undergoing laparoscopic partial nephrectomy. Int J Urol 25(5):472–478

21.

Kim KS, Choi SW, Kim JH, Bae WJ, Cho HJ, Lee JY, Hong SH et al (2015) Running-clip renorrhaphy reducing warm ischemic time during laparoscopic partial nephrectomy. J Laparoendosc Adv Surg Tech 25(1):50–54

22.

Sammon J, Petros F, Sukumar S, Bhandari A, Kaul S, Menon M, Rogers C (2011) Barbed suture for renorrhaphy during robot-assisted partial nephrectomy. J Endourol 25(3):529–533

23.

Lee JK, Oh JJ, Lee S, Lee SB, Byun SS, Lee SE, Jeong CW (2016) A new sliding-loop technique in renorrhaphy for partial nephrectomy: a feasibility study in a porcine model. Surg Innov 23(2):130–133
Acknowledgements
The corresponding author would like to thank Todd Mickley for providing technical support.
Ethics declarations
Conflict of interest
Joseph Zanghi D.O., James Boyer D.O., Cynthia Martinez, Christopher Petit, Aayush Patel, James Siegert D.O., F.A.C.O.S, and Thai Nguyen M.D. declare that they have no conflict of interest.
Human and animal rights statement
This article does not contain any studies with human participants or animals performed by any of the authors.
Informed consent
Informed consent was not applicable in the study.
Additional information
Publisher's Note
Springer Nature remains neutral with regard to jurisdictional claims in published maps and institutional affiliations.
About this article
Cite this article
Zanghi, J., Boyer, J., Martinez, C. et al. Tensile force exerted by suture during renorrhaphy using current techniques. J Robotic Surg 14, 383–386 (2020). https://doi.org/10.1007/s11701-019-00999-y
Received:

Accepted:

Published:

Issue Date:
Keywords
Renorrhaphy

Tensile force

Partial nephrectomy

Suture