Abstract
Gd3+ doped Y2SiO5 powders were prepared by combustion synthesis method. The photoluminescence of as prepared and annealed sample was investigated under UV excitation. Under 254 nm excitation, the phosphor showed main emission peak in UV region at 316 nm attributed transition of Gd3+. According to the relative emission intensity of the sample with different Gd3+ concentration, the optimal Gd3+ substitution for Gd3+ was obtained at 5 mol%. The excitation spectra have peaks at 249 nm, 257 nm and 275 nm. The peak at 257 nm is the intense one and attributed to the charge transfer transition of Gd-O. Mechanism of the emission process is also discussed.
Access options
Buy single article
Instant access to the full article PDF.
US$ 39.95
Tax calculation will be finalised during checkout.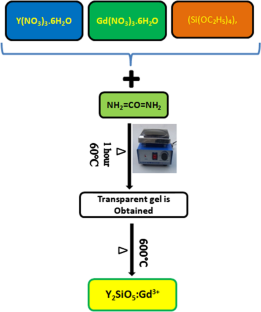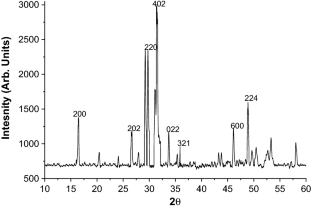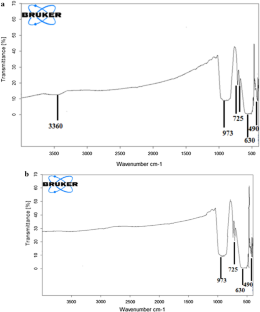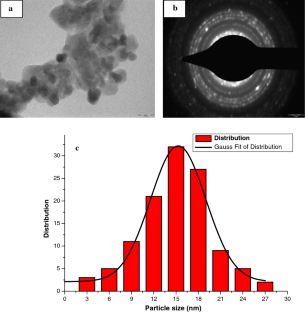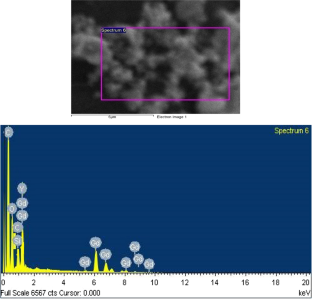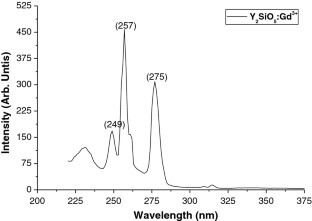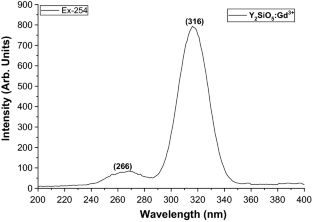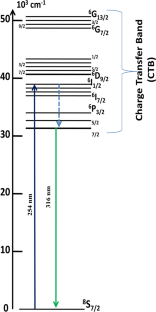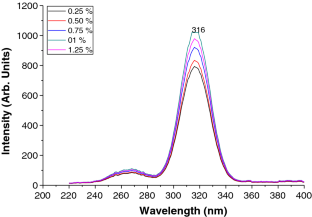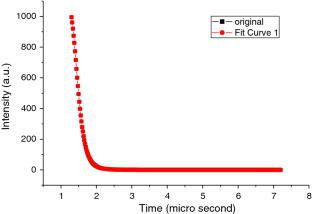 References
Blasse G (1969) Energy transfer in oxidic phosphors. Philips Res Rep 24:131–144

Blasse G, Grabmaier BC (1994) Luminescent materials. Springer, Berlin

Bosze EJ, McKittrick J, Hirata GA (2003) Investigation of the physical properties of a blue-emitting phosphor produced using a rapid exothermic reaction. Mater Sci Eng B 97:265

Chauhan AO, Bajaj NS, Omanwar SK (2017) Synthesis and photoluminescence study of narrow-band UVB-emitting LiSr4(BO3)3:Gd3+, Pr3+ phosphor. Bull Mater Sci 40(1):1–6

Cozzoli PD, Curri ML, Agostiano A (2003) ZnO nanocrystals by a non-hydrolytic route: synthesis and characterization. J Phys Chem B 107:4756

Fu MK, Parker JM (2001) A role of Gd3+ in scintillating processes in Tb-doped Na–Gd phosphate glasses. J Luminesc 94:321

JCPDS, International Center for Diffraction Data (www.icdd.com), No. 00-052-1810 (Y2SiO5) 107, 108, 113

Jiao H, Wang X, Ye S, Jing X (2007) Morphology of Gd3+- doped Y2SiO5:Ce. J Lumin 122–123:113–116

Kang YC, Lenggoro IW, Okuyama K, Park SB (1999) Tb phosphor particles directly prepared by the spray pyrolysis method. J Electrochem Soc 146:1227

Kumar S, Sahare PD (2014) Gd3+ incorporated ZnO nanoparticles: a versatile material. Mater Res Bull 51:217–223

Kumar Tamrakar R, Upadhyay K (2017a) Combustion synthesized ZrO 2 Gd 3+ nanophosphors: structural and photoluminescence studies. J Mater Sci Mater Electron 28(17):12545–12550

Kumar Tamrakar R, Upadhyay L (2017b) Combustion synthesized tetragonal Y2O3: Gd3+ nanophosphors: structural and photoluminescence studies. Optik 143:125–130

Lauren ES (1998) Low-voltage cathodoluminescent phosphors: a 20-year chronology of low-voltage cathodoluminescence efficiency. The Electrochemical Society Interface, London, p 24

Lee RY, Zhang FL, Penczek J, Wagner BK (1998) Investigation of Ce-doped silicates for low voltage field emission displays. J Vac Sci Technol B16:855

Leskelaa M (1998) Rare earths in electroluminescent and field emission display phosphors. J Alloys Compd 275–277:702

Liu L, Yu PY, Ma Z, Mao SS (2008) Ferromagnetism in GaN: Gd: a density functional theory study. Phys Rev Lett 100:127203

Mckittrick J, Shea LE, Bacalski CF, Bosze EJ (1999) The influence of processing parameters on luminescent oxides produced by combustion synthesis. Display 19:169

Paul J, Silver J, Vecht AN, Newport A (2002) Cathodoluminescence studies of yttrium silicate: cerium phosphors synthesised by a sol–gel process. J Lumin 97:229

Rakov N, Maciel GS, Guimarães RB, Carvalho ICS (2010) Upconversion emission from Tm3+:Yb3+ and Tm3+:Er3+:Yb3+ doped Y2SiO5 powders prepared by combustion synthesis. Mater Chem Phys 123:199–202

Ramakrishna G, Nagabhushana H, Daruka Prasad B, Vidya YS, Sharma SC, Anantharaju KS, Prashantha SC, Choudhary N (2017) Spectroscopic properties of red emitting Eu3+ doped Y2SiO5 nanophosphors for WLED's on the basis of Judd–Ofelt analysis: calotropis gigantea latex mediated synthesis. J Luminesc 181:153–163

Rao CA, Kumar SR, Murthy KVR, Subba Rao B (2018) Effect of flux on Sr2CeO4:Gd3+ (05 mol%) phosphor prepared by solid state reaction method. Int J Pure Appl Phys 14(1):51–64

Seo SY, Lee S, Park HD, Shin N, Sohn KS (2002) Luminescence of pulsed laser deposited Gd 2 O 3: Eu 3+ thin film phosphors on quartz glass substrates. J Appl Phys 92:5248

Singha N, Sivaramaiahb G, Raoc JL, Watanabed S, Gundu Raod TK, Patele RV, Singha V (2017) Gadolinium activated ZrO2 ultraviolet B emitting powder phosphor—A luminescence and ESR investigation. J Luminesc 188:423–428

Singha V, Sivaramaiahb G, Singha N, Pathaka MS, Rao JL, Jirimali HD, Natarajan V (2018) Investigation of ultraviolet emitting Gd doped Sr2MgSi2O7 Phosphors. Optik Int J Light Electron Opt 169:397–402

Weichenthal M, Schwarz T (2005) Phototherapy: how does UV work? Photodermatol Photoimmunol Photomed 21:260

Xie R (2006) Enhancement and patterning of ultraviolet emission in ZnO with an electron beam. Appl Phys Lett 88:134103

Zhang R, Fang D, Chen X, Pei Y, Wang Z, Wang Y (2013) Microstructure and properties of highly porous Y2SiO5 ceramics produced by a new water-based freeze casting. Mater Des 46:746–750
Acknowledgement
The author express their sincere gratitude to the DST-SERB, Government of India (PDF/2017/000095) for giving me financial support under the national post- doctoral fellowship scheme. The author also thankful to Bhilai institute of technology for providing lab facility for synthesis process.
Additional information
Publisher's Note
Springer Nature remains neutral with regard to jurisdictional claims in published maps and institutional affiliations.
About this article
Cite this article
Upadhyay, K., Thomas, S., Tamrakar, R.K. et al. Investigation of photoluminescence behavior of Gd3+ doped Y2SiO5 phosphor prepared by combustion synthesis method. Chem. Pap. (2021). https://doi.org/10.1007/s11696-021-01551-9
Received:

Accepted:

Published:
Keywords
Optical materials

Photoluminescence spectroscopy

Y2SiO5 powder