Abstract
In this work, a new label free electrochemical immunosensor was designed to detect Newcastle disease virus (NDV). The immunosensor was constructed by modification of a glassy carbon electrode surface with multi wall carbon nanotubes, gold nanoparticles (AuNPs), 11-Mercapto Undecanoic acid (MUA) and 3-Mercapto Propionic acid. Then, it was stabilized by self-assembly and protein G (PrG) immobilized using 1-ethyl3-(3-dimethylaminopropyl) carbodiimide (EDC) and N-Hydroxy Succinimide to oriented fixation of the antibody. The quantitative measurement of NDV was evaluated by square wave voltammetry method. The determination step was based on the formation of immunocomplex between the antigen and oriented antibody, which caused current decreased in [Fe(CN)6]/K4[Fe(CN)6] redox reaction. The response value was directly proportional to the concentrations of NDV. Scanning electron microscope, XRD, UV and FTIR methods were used to characterize the electrode surface. Also, the electrochemical electrode surface behavior at each step of modification was evaluated by cyclic voltammetry and electrochemical impedance spectroscopy methods. The parameters affecting the performance of the immunosensor such as amount of MWCNT, electrodeposition time of AuNPs, concentration and loading time of PrG, the antibody concentration and antigen incubation time were optimized. The biosensor showed detection limit of 1.6 EID50ml−1 and linear range of 10 to 105 EID50ml−1. The proposed immunosensor showed adequate reproducibility (RSD 6%) and stability (up to one month), which showed that it could be used as a sensitive device for agriculture applications.
Access options
Buy single article
Instant access to the full article PDF.
US$ 39.95
Tax calculation will be finalised during checkout.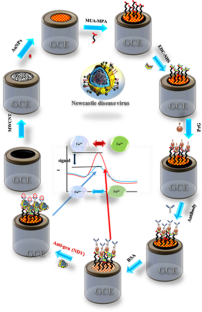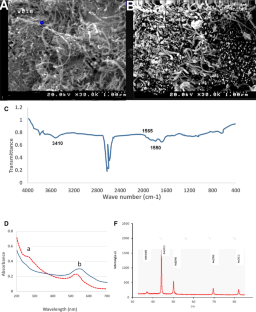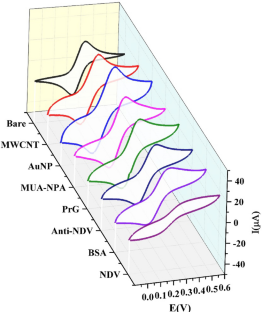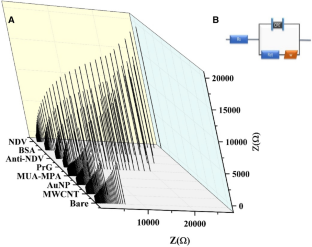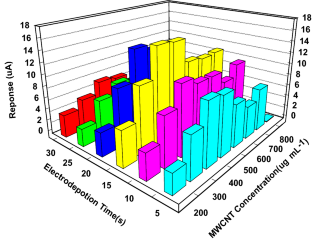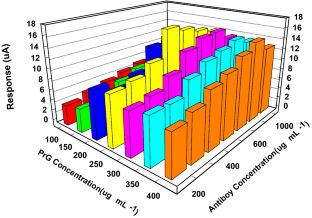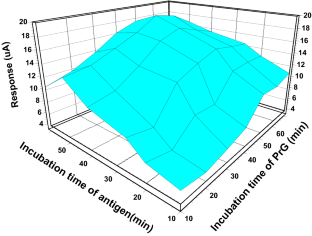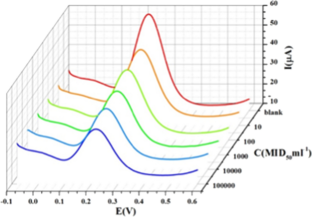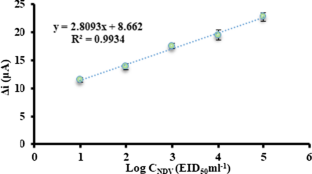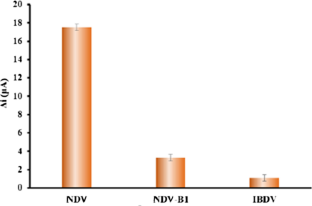 References
Afkhami A, Hashemi P, Bagheri H, Salimian J, Ahmadi A, Madrakian T (2017) Impedimetric immunosensor for the label-free and direct detection of botulinum neurotoxin serotype A using Au nanoparticles/graphene-chitosan composite. Biosensors Bioelectron 93:124–131

Akerström B, Björck L (1986) A physicochemical study of protein G, a molecule with unique immunoglobulin G-binding properties. J Biol Chem 261:10240–10247

Alves RC, Pimentel FB, Nouws HP, Silva TH, Oliveira MBP, Delerue-Matos C (2017) Improving the extraction of Ara h 6 (a peanut allergen) from a chocolate-based matrix for immunosensing detection: Influence of time, temperature and additives. Food Chem 218:242–248

Armstrong B (2008) Antigen–antibody reactions. ISBT Sci Ser 3:21–32

Baniukevic J, Boyaci IH, Bozkurt AG, Tamer U, Ramanavicius A, Ramanaviciene A (2013) Magnetic gold nanoparticles in SERS-based sandwich immunoassay for antigen detection by well oriented antibodies. Biosens Bioelectron 43:281–288

Berto M et al (2019) Label free detection of plant viruses with organic transistor biosensors. Sensors Actuat B Chem 281:150–156

Chaka H, Thompson PN, Goutard F, Grosbois V (2015) Evaluation of enzyme-linked immunosorbent assays and a haemagglutination inhibition tests for the detection of antibodies to Newcastle disease virus in village chickens using a Bayesian approach. Prevent Veterinary Med 119:21–30

Chen H-t, Zhang J, Sun D-h, Ma L-n, Liu X-t, Cai X-p, Liu Y-s (2008) Development of reverse transcription loop-mediated isothermal amplification for rapid detection of H9 avian influenza virus. J Virol Methods 151:200–203

Chen J et al (2018) Development and application of a SYBR green real-time PCR for detection of the emerging avian leukosis virus subgroup K. Poult Sci 97:2568–2574

Cong F, Zhu Y, Liu X, Li X, Chen M, Huang R, Guo P (2018) Development of an xTAG-multiplex PCR array for the detection of four avian respiratory viruses. Mol Cell Probes 37:1–5

De Wit J, Davelaar F, Braunius W (1992) Comparison of the enzyme linked immunosorbent assay, the haemagglutination inhibition test and the agar gel precipitation test for the detection of antibodies against infectious bronchitis and Newcastle disease in commercial broilers. Avian Pathol 21:651–658

Dhar PK, Dutta A, Das A, Jalal MS, Barua H, Biswas PK (2018) Validation of real-time reverse transcription polymerase chain reaction to detect virus titer and thermostability of Newcastle disease live virus vaccine Veterinary. World 11:1597

Ebrahimi M, Norouzi P, Safarnejad MR, Tabaei O, Haji-Hashemi H (2019) Fabrication of a label-free electrochemical immunosensor for direct detection of Candidatus Phytoplasma Aurantifolia. J Electroanal Chem 851:113451

Eissa S et al (2018) Carbon nanofiber-based multiplexed immunosensor for the detection of survival motor neuron 1, cystic fibrosis transmembrane conductance regulator and duchenne muscular dystrophy proteins. Biosensors Bioelectron 117:84–90

Eissa S, Alshehri N, Rahman AMA, Dasouki M, Abu-Salah KM, Zourob M (2018) Electrochemical immunosensors for the detection of survival motor neuron (SMN) protein using different carbon nanomaterials-modified electrodes. Biosensors Bioelectron 101:282–289

Fan Z, Keum YS, Li QX, Shelver WL, Guo L-H (2012) Sensitive immunoassay detection of multiple environmental chemicals on protein microarrays using DNA/dye conjugate as a fluorescent label. J Environ Monit 14:1345–1352

Fellahi S et al (2016) Comparison of SYBR green I real-time RT-PCR with conventional agarose gel-based RT-PCR for the diagnosis of infectious bronchitis virus infection in chickens in Morocco. BMC Res Notes 9:231

Garnier R et al (2017) Interpreting ELISA analyses from wild animal samples: Some recurrent issues and solutions. Funct Ecol 31:2255–2262

Ghanavati M, Tadayon F, Bagheri H (2020) A novel label-free impedimetric immunosensor for sensitive detection of prostate specific antigen using Au nanoparticles/MWCNTs-graphene quantum dots nanocomposite. Microchem J 159:105301

González-MartÍnez MA, Penalva J, Puchades R, Maquieira A, Ballesteros B, Marco MP, Barceló D (1998) An immunosensor for the automatic determination of the antifouling agent Irgarol 1051 in natural waters. Environ Sci Technol 32:3442–3447

Haji-Hashemi H, Norouzi P, Safarnejad MR, Ganjali MR (2017) Label-free electrochemical immunosensor for direct detection of Citrus tristeza virus using modified gold electrode. Sensors Actuat B Chem 244:211–216

Haji-Hashemi H, Norouzi P, Safarnejad MR, Larijani B, Habibi MM, Raeisi H, Ganjali MR (2018) Sensitive electrochemical immunosensor for citrus bacterial canker disease detection using fast Fourier transformation square-wave voltammetry method. J Electroanal Chem 820:111–117

Haji-Hashemi H, Safarnejad MR, Norouzi P, Ebrahimi M, Shahmirzaie M, Ganjali MR (2019) Simple and effective label free electrochemical immunosensor for Fig mosaic virus detection. Anal Biochem 566:102–106

Hosu O, Tertiș M, Melinte G, Feier B, Săndulescu R, Cristea C (2017) Mucin 4 detection with a label-free electrochemical immunosensor. Electrochem Commun 80:39–43

Huang J et al (2020) Electrochemical immunosensor with Cu (I)/Cu (II)-chitosan-graphene nanocomposite-based signal amplification for the detection of newcastle disease virus. Sci Rep 10:1–12

Kausaite-Minkstimiene A, Ramanaviciene A, Kirlyte J, Ramanavicius A (2010) Comparative study of random and oriented antibody immobilization techniques on the binding capacity of immunosensor. Anal Chem 82:6401–6408

Kothlow S, Häuslaigner R, Kaspers B, Grund C (2008) Evaluation of Newcastle disease virus immunoassays for waterfowl using a monoclonal antibody specific for the duck immunoglobulin light chain. Avian Pathol 37:323–328

Laamiri N, Aouini R, Marnissi B, Ghram A, Hmila I (2018) A multiplex real-time RT-PCR for simultaneous detection of four most common avian respiratory viruses. Virology 515:29–37

Li Q et al (2019) Evaluation of an immunochromatographic strip for detection of avian avulavirus 1 (Newcastle disease virus). J Veterinary Diagnostic Investigat 31:475–480

Lin D, Pillai RG, Lee WE, Jemere AB (2019) An impedimetric biosensor for E. coli O157: H7 based on the use of self-assembled gold nanoparticles and protein G. Microchim Acta 186:1–9

Mackiewicz M, Marcisz K, Strawski M, Romanski J, Stojek Z, Karbarz M (2018) Modification of gold electrode with a monolayer of self-assembled microgels. Electrochim Acta 268:531–538

Makaraviciute A, Ruzgas T, Ramanavicius A, Ramanaviciene A (2014) Antibody fragment immobilization on planar gold and gold nanoparticle modified quartz crystal microbalance with dissipation sensor surfaces for immunosensor applications. Anal Methods 6:2134–2140

Martínez Rojas FJ (2020) Desarrollo de un inmunosensor electroquímico para la detección de biomarcador específico de cáncer

Mirzaei S, Shoushtari A, Nouri A (2018) Development and evaluation of real-time RT-PCR test for quantitative and qualitative recognition of current H9N2 subtype avian influenza viruses in Iran. Arch Razi Inst 73:177–182

Mirzaei S, Shoushtari A, Nouri A (2020) Development and evaluation of real-time reverse transcription polymerase chain reaction test for quantitative and qualitative recognition of H5 subtype of avian influenza viruses. Arch Razi Inst 75:17–22

Mollarasouli F, Serafín V, Campuzano S, Yáñez-Sedeño P, Pingarrón JM, Asadpour-Zeynali K (2018) Ultrasensitive determination of receptor tyrosine kinase with a label-free electrochemical immunosensor using graphene quantum dots-modified screen-printed electrodes. Anal Chim Acta 1011:28–34

Paiva TO, Almeida I, Marquês JT, Liu W, Niu Y, Jin G, Viana AS (2017) Nanostructured interfaces with site-specific bioreceptors for immunosensing. Appl Surf Sci 412:455–463

Sutton DA et al (2019) Development of an avian avulavirus 1 (AAvV-1) L-gene real-time RT-PCR assay using minor groove binding probes for application as a routine diagnostic tool. J Virol Methods 265:9–14

Taghdisi SM, Danesh NM, Ramezani M, Abnous K (2018) A new amplified fluorescent aptasensor based on hairpin structure of G-quadruplex oligonucleotide-Aptamer chimera and silica nanoparticles for sensitive detection of aflatoxin B1 in the grape juice. Food Chem 268:342–346

Tang S et al (2018) A novel cytosensor based on Pt@ Ag nanoflowers and AuNPs/Acetylene black for ultrasensitive and highly specific detection of circulating tumor cells. Biosensors Bioelectron 104:72–78

Thinh TQ, Quan TVV, Thuy TH, Xuan CT, Tuan MA A label-free electrochemical immunosensor for detection of Newcastle disease virus. In: International Conference on the Development of Biomedical Engineering in Vietnam, 2018. Springer, pp 699–703

Thirumurugan G, Jayakumar R, Kumanan K, Venugopalan A, Nachimuthu K (1997) Latex immunoassay for rapid detection of Newcastle disease virus Tropical animal health and production. Tropical Animal Health Product 29:227–230

Wang H et al (2019) Establishment of xMAP for the simultaneous detection of antibodies to Newcastle disease virus and avian influenza virus. Poult Sci 98:1494–1499

Wang J, Wang J, Chen P, Liu L, Yuan W (2017) Development of a TaqMan-based real-time PCR assay for rapid and specific detection of fowl aviadenovirus serotype 4. Avian Pathol 46:338–343

Wang R, Feng J-J, Xue Y, Wu L, Wang A-J (2018) A label-free electrochemical immunosensor based on AgPt nanorings supported on reduced graphene oxide for ultrasensitive analysis of tumor marker. Sensors Actuat B Chem 254:1174–1181

Wei S, Xiao H, Cao L, Chen Z (2020) A label-free immunosensor based on graphene oxide/Fe3O4/prussian blue nanocomposites for the electrochemical determination of HBsAg. Biosensors 10:24

Xiao H, Wei S, Chen Z, Cao L (2020) Label-free electrochemical immunosensor based on gold and iron-oxide nanoparticle co-modified rGO-TEPA hybrid for sensitive detection of carcinoembryonic antigen. Electrocatalysis 11(5):513–521

Yao M, Zhang X, Gao Y, Song S, Xu D, Yan L (2019) Development and application of multiplex PCR method for simultaneous detection of seven viruses in ducks. BMC Veterinary Res 15:103

Zhang W et al (2017) Establishment of a high sensitive indirect ELISA for detecting specific antibodies against H9 subtype avian influenza virus Sheng wu Gong Cheng xue bao= Chinese. J Biotechnol 33:1253–1264

Zhang X, Yao M, Tang Z, Xu D, Luo Y, Gao Y, Yan L (2020) Development and application of a triplex real-time PCR assay for simultaneous detection of avian influenza virus, Newcastle disease virus, and duck Tembusu virus. BMC Veterinary Res 16(1):1–12

Zhang Z et al (2019) Multiplex one-step real-time PCR assay for rapid simultaneous detection of velogenic and mesogenic Newcastle disease virus and H5-subtype avian influenza virus. Archives Virol 164:1111–1119
Acknowledgements
The authors would like to appreciate the Research Council of University of Tehran for the financial support of this work.
Additional information
Publisher's Note
Springer Nature remains neutral with regard to jurisdictional claims in published maps and institutional affiliations.
About this article
Cite this article
Norouzi, P., Nezamoddini, M. & Safarnejad, M.R. Antibody-oriented immobilization for newcastle disease virus detection using label free electrochemical immunosensor. Chem. Pap. (2021). https://doi.org/10.1007/s11696-021-01546-6
Received:

Accepted:

Published:
Keywords
Newcastle disease virus

Label free electrochemical immunosensors

Antibody-oriented immobilization

Protein G