Abstract
In this work, the modification of chitosan using 2-acetyl pyridine has been used to prepare an intermediate, chitosan pyridyl imine (CPI), in first step and then in second step it is further reacted with Pd(OAc)2 to develop chitosan pyridyl imine palladium (CPIP) complex catalyst in a very simplistic way. The formed CPIP has been extensively characterized with respect to raw chitosan utilizing methods including FT-IR, pyrolysis GC–MS, XRD, XPS, FE-SEM, EDS, TGA-DTG and DSC. TG-DSC study suggested that the catalyst is thermally stable up to 300 °C. This catalyst shows an excellent activity in the reduction of toxic pollutant nitrobenzene to less toxic aniline. CPIP complex has also been found to give magnificent results in Suzuki–Miyaura and Heck cross-coupling reactions, and therefore, using this green catalyst, the toxic phosphine ligand can be excluded from cross-coupling reactions. This study furnishes an economic and eco-friendly catalyst for organic transformation in sustainable chemistry.
Access options
Buy single article
Instant access to the full article PDF.
US$ 39.95
Tax calculation will be finalised during checkout.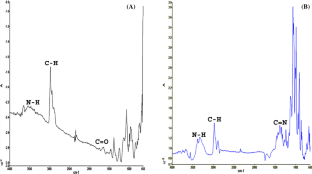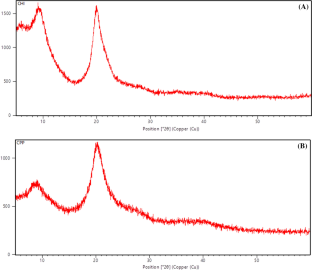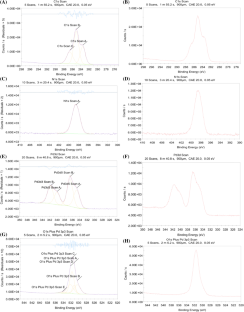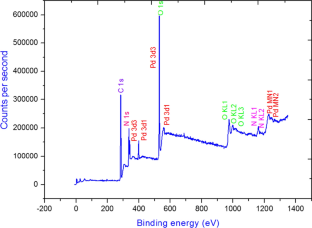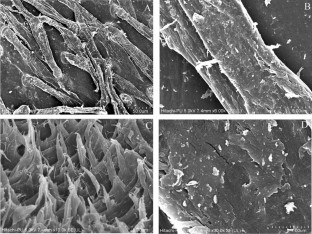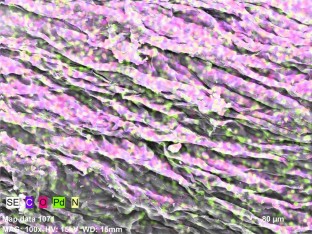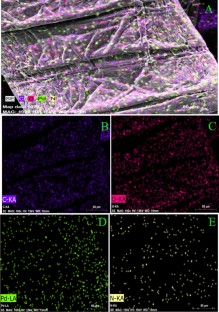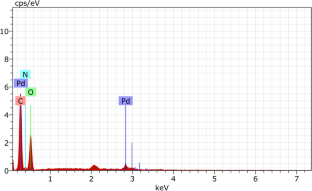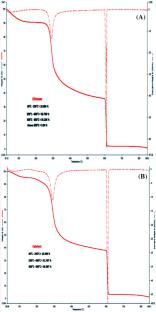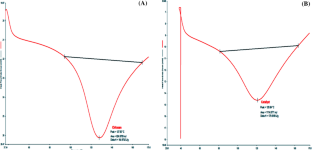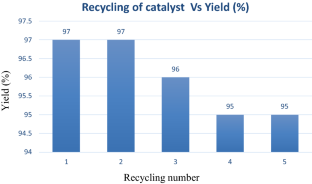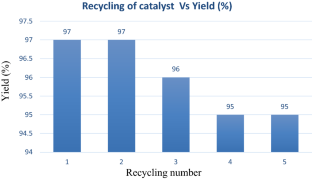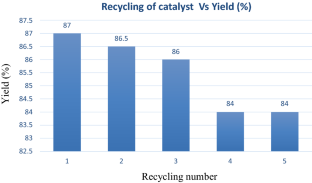 References
Affrose A, Suresh P, Azath IA, Pitchumani K (2015) Palladium nanoparticles embedded on thiourea-modified chitosan: a green and sustainable heterogeneous catalyst for the Suzuki reaction in water. RSC Adv 5:27533–27539

An Y, Yuan D, Huang MY, Jiang YY (1994) Selective hydrogenation of chloronitrobenzenes catalyzed by palladium complex of silica-supported chitosan. Macromol Symp 80:257–263

Anderson EL (2006) Phosphine toxicity: ethical questions. Environ Health Perspect 114:A 84-A

Baig RN, Vaddula BR, Nadagouda MN, Varma RS (2015) The copper–nicotinamide complex: sustainable applications in coupling and cycloaddition reactions. Green Chem 17:1243–1248

Barder TE, Walker SD, Martinelli JR, Buchwald SL (2005) Catalysts for Suzuki–Miyaura coupling processes: scope and studies of the effect of ligand structure. J Am Chem Soc 127:4685–4696

Buchwald SL (2008) Cross coupling. Acc Chem Res 41:1439

Buisson P, Quignard F (2002) Polysaccharides: natural polymeric supports for aqueous phase catalysts in the allylic substitution reaction. Aust J Chem 55:73–78

Chang Y, Wang Y, Su Z (2002) Preparation of chitosan-bound nitrobenzaldehyde metal complexes and studies on its catalytic oxidative activity and reactive mechanism. J Appl Polym Sci 83:2188–2194

Chauhan NPS (2013) Structural and thermal characterization of macro-branched functional terpolymer containing 8-hydroxyquinoline moieties with enhancing biocidal properties. J Ind Eng Chem 19:1014–1023

Chauhan NPS, Chundawat NS (2019) Inorganic and organometallic polymers. Walter de Gruyter GmbH & Co KG, Berlin

Chauhan NP, Ameta R, Ameta SC (2011) Synthesis, characterization, and thermal degradation of p-chloroacetophenone oxime based polymers having biological activities. J Appl Polym Sci 122:573–585

Chauhan NP, Kataria P, Chaudhary J, Ameta SC (2012) Synthesis, characterization, and thermal studies of terpolymers derived from vanillin, furfural, and halo-substituted acetophenones. Int J Polym Mater 61:57–71

Chauhan N, Hosmane N, Mozafari M (2019) Boron-based polymers: opportunities and challenges. Mater Today Chem 14:100184

Corbet J-P, Mignani G (2006) Selected patented cross-coupling reaction technologies. Chem Rev 106:2651–2710

Dorta R, Stevens ED, Scott NM, Costabile C, Cavallo L, Hoff CD et al (2005) Steric and electronic properties of N-heterocyclic carbenes (NHC): a detailed study on their interaction with Ni(CO)4. J Am Chem Soc 127:2485–2495

Fortman GC, Nolan SP (2011) N-Heterocyclic carbene (NHC) ligands and palladium in homogeneous cross-coupling catalysis: a perfect union. Chem Soc Rev 40:5151–5169

Furuhashi T, Beran A, Blazso M, Czegeny Z, Schwarzinger C, Steiner G (2009) Pyrolysis GC/MS and IR spectroscopy in chitin analysis of molluscan shells. Biosci Biotechnol Biochem 73:93–103

Hada D, Rathore K, Barupal T, Chundawat NS, Sharma K, Chauhan NPS (2019) Grafted biopolymers I: methodology and factors affecting grafting. In: Mozafari M, Chauhan NPS (eds) Advanced functional polymers for biomedical applications. Elsevier, Amsterdam, pp 21–42

Hajipour A, Boostani E, Mohammadsaleh F (2015) Proline-functionalized chitosan–palladium (ii) complex, a novel nanocatalyst for C–C bond formation in water. RSC Adv 5:24742–24748

Han HS, Jiang SN, Huang MY, Jiang YY (1996) Catalytic hydrogenation of aromatic nitro compounds by non-noble metal complexes of chitosan. Polym Adv Technol 7:704–706

Hasan K (2020) Methyl salicylate functionalized magnetic chitosan immobilized palladium nanoparticles: an efficient catalyst for the Suzuki and heck coupling reactions in water. ChemistrySelect 5:7129–7140

Hasan K, Shehadi IA, Al-Bab ND, Elgamouz A (2019) Magnetic chitosan-supported silver nanoparticles: a heterogeneous catalyst for the reduction of 4-nitrophenol. Catalysts 9:839

Hu D, Cui Y, Dong X, Fang Y (2001) Studies on CoSalen immobilized onto N-(4-pyridylmethylidene)–chitosan. React Funct Polym 48:201–207

Hu X, Castro-Rodriguez I, Olsen K, Meyer K (2004) Group 11 metal complexes of N-heterocyclic carbene ligands: nature of the metal carbene bond. Organometallics 23:755–764

Huang Y, Ma H, Wang S, Shen M, Guo R, Cao X et al (2012) Efficient catalytic reduction of hexavalent chromium using palladium nanoparticle-immobilized electrospun polymer nanofibers. ACS Appl Mater Interfaces 4:3054–3061

Jalali N, Rezvani Z, Chauhan NPS, Mozafari M (2016) Synthesis and characterization of surface-modified poly (lactide-co-glycolide) nanoparticles by chitosan molecules for on-demand drug delivery applications. Biointerface Res Appl Chem 6:1200–1202

Jansen R, Van Bekkum H (1995) XPS of nitrogen-containing functional groups on activated carbon. Carbon 33:1021–1027

Kashin AS, Degtyareva ES, Eremin DB, Ananikov VP (2018) Exploring the performance of nanostructured reagents with organic-group-defined morphology in cross-coupling reaction. Nat Commun 9:1–12

Kawatsura M, Ata F, Hirakawa T, Hayase S, Itoh T (2008) Ruthenium-catalyzed linear selective allylic aminations of monosubstituted allyl acetates. Tetrahedron Lett 49:4873–4875

Kim J-H, Jun B-H, Byun J-W, Lee Y-S (2004) N-Heterocyclic carbene–palladium complex on polystyrene resin surface as polymer-supported catalyst and its application in Suzuki cross-coupling reaction. Tetrahedron Lett 45:5827–5831

Krogul-Sobczak A, Cedrowski J, Kasperska P, Litwinienko G (2019) Reduction of nitrobenzene to aniline by CO/H2O in the presence of palladium nanoparticles. Catalysts 9:404

Kumar MNR (2000) A review of chitin and chitosan applications. React Funct Polym 46:1–27

Kurandina D, Rivas M, Radzhabov M, Gevorgyan V (2018) Heck reaction of electronically diverse tertiary alkyl halides. Org Lett 20:357–360

Li J-H, Liu W-J (2004) Dabco as an inexpensive and highly efficient ligand for palladium-catalyzed Suzuki–Miyaura cross-coupling reaction. Org Lett 6:2809–2811

Li H, Johansson Seechurn CC, Colacot TJ (2012) Development of preformed Pd catalysts for cross-coupling reactions, beyond the 2010 Nobel prize. ACS Catal 2:1147–1164

Lipshutz BH, Abela AR, Bošković ŽV, Nishikata T, Duplais C, Krasovskiy A (2010) "Greening up" cross-coupling chemistry. Top Catal 53:985–990

Magano J, Dunetz JR (2011) Large-scale applications of transition metal-catalyzed couplings for the synthesis of pharmaceuticals. Chem Rev 111:2177–2250

Mai S, Li W, Li X, Zhao Y, Song Q (2019) Palladium-catalyzed Suzuki–Miyaura coupling of thioureas or thioamides. Nat Commun 10:1–12

Marziale AN, Jantke D, Faul SH, Reiner T, Herdtweck E, Eppinger J (2011) An efficient protocol for the palladium-catalysed Suzuki–Miyaura cross-coupling. Green Chem 13:169–177

Mauriello F, Ariga H, Musolino M, Pietropaolo R, Takakusagi S, Asakura K (2015) Exploring the catalytic properties of supported palladium catalysts in the transfer hydrogenolysis of glycerol. Appl Catal B 166:121–131

Molnár Á (2019) The use of chitosan-based metal catalysts in organic transformations. Coord Chem Rev 388:126–171

Molnár Á, Papp A (2017) Catalyst recycling—a survey of recent progress and current status. Coord Chem Rev 349:1–65

Mozafari M, Chauhan NPS (2019) Advanced functional polymers for biomedical applications. Elsevier, Amsterdam

Pathan SI, Chundawat NS, Chauhan NPS, Singh GP (2020) A review on synthetic approaches of heterocycles via insertion–cyclization reaction. Synth Commun 50:1251–1285

Peris E, Crabtree RH (2004) Recent homogeneous catalytic applications of chelate and pincer N-heterocyclic carbenes. Coord Chem Rev 248:2239–2246

Plietker B (2006) Eine hochregioselektive, salzfreie Eisen-katalysierte allylische Alkylierung. Angew Chem 118:1497–1501

Polet D, Alexakis A, Tissot-Croset K, Corminboeuf C, Ditrich K (2006) Phosphoramidite ligands in iridium-catalyzed allylic substitution. Chem Eur J 12:3596–3609

Quignard F, Choplin A, Domard A (2000) Chitosan: a natural polymeric support of catalysts for the synthesis of fine chemicals. Langmuir 16:9106–9108

Sedghi R, Heidari B, Shahmohamadi H, Zarshenas P, Varma RS (2019) Pd nanocatalyst adorned on magnetic chitosan@ N-heterocyclic carbene: eco-compatible Suzuki cross-coupling reaction. Molecules 24:3048

Shao L, Qi C (2017) Chitosan microspheres-supported palladium species as an efficient and recyclable catalyst for Mizoroki-Heck reaction. New J Chem 41:8156–8165

Sin E, Yi S-S, Lee Y-S (2010) Chitosan-g-mPEG-supported palladium (0) catalyst for Suzuki cross-coupling reaction in water. J Mol Catal A: Chem 315:99–104

Someya H, Ohmiya H, Yorimitsu H, Oshima K (2007) N-heterocyclic carbene ligands in cobalt-catalyzed sequential cyclization/cross-coupling reactions of 6-halo-1-hexene derivatives with Grignard reagents. Org Lett 9:1565–1567

Su Y, Li X, Wang Y, Zhong H, Wang R (2016) Gold nanoparticles supported by imidazolium-based porous organic polymers for nitroarene reduction. Dalton Trans 45:16896–16903

Sudheesh N, Sharma SK, Shukla RS (2010) Chitosan as an eco-friendly solid base catalyst for the solvent-free synthesis of jasminaldehyde. J Mol Catal A: Chem 321:77–82

Sun W, Xia C-G, Wang H-W (2002) Efficient heterogeneous catalysts for the cyclopropanation of olefins. New J Chem 26:755–758

Sun J, Fu Y, He G, Sun X, Wang X (2014) Catalytic hydrogenation of nitrophenols and nitrotoluenes over a palladium/graphene nanocomposite. Catal Sci Technol 4:1742–1748

Sun J, Fu Y, He G, Sun X, Wang X (2015) Green Suzuki–Miyaura coupling reaction catalyzed by palladium nanoparticles supported on graphitic carbon nitride. Appl Catal B 165:661–667

Sun L, Song H, Li Q, Li A (2016) Fe/Cu bimetallic catalysis for reductive degradation of nitrobenzene under oxic conditions. Chem Eng J 283:366–374

Sun Y, Yang Z, Tian P, Sheng Y, Xu J, Han Y-F (2019) Oxidative degradation of nitrobenzene by a Fenton-like reaction with Fe–Cu bimetallic catalysts. Appl Catal B 244:1–10

Sydnes MO (2017) The Use of palladium on magnetic support as catalyst for Suzuki–Miyaura cross-coupling reactions. Catalysts 7:35

Tang LM, Huang MY, Jiang YY (1994) Selective hydrogenation of phenol to cyclohexanone catalyzed by a silica-supported chitosan-palladium complex. Macromol Rapid Commun 15:527–529

Torborg C, Beller M (2009) Recent applications of palladium-catalyzed coupling reactions in the pharmaceutical, agrochemical, and fine chemical industries. Adv Synth Catal 351:3027–3043

Vincent T, Guibal E (2001) Cr(VI) extraction using Aliquat 336 in a hollow fiber module made of chitosan. Ind Eng Chem Res 40:1406–1411

Wang Z, Chen X, Liu B, Liu Q-B, Solan GA, Yang X et al (2017) Cooperative interplay between a flexible PNN-Ru (ii) complex and a NaBH4 additive in the efficient catalytic hydrogenation of esters. Catal Sci Technol 7:1297–1304

Welter C, Koch O, Lipowsky G, Helmchen G (2004) First intramolecular enantioselective iridium-catalysed allylic aminations. Chem Commun 7:896–897

Yin M-Y, Yuan G-L, Wu Y-Q, Huang M-Y, Jiang Y-Y (1999) Asymmetric hydrogenation of ketones catalyzed by a silica-supported chitosan–palladium complex. J Mol Catal A: Chem 147:93–98
Acknowledgements
The authors are thankful to SAIF, Punjab University, Chandigarh for characterization like SEM, TEM, FT-IR and XRD. We are also thankful to CECRI, Karaikudi, for XPS. Authors are also thankful R &D, BKT tyre for py (GC-MS), TG-DTG, DSC, nitrogen adsorption and FT-IR for analyses.
Additional information
Publisher's Note
Springer Nature remains neutral with regard to jurisdictional claims in published maps and institutional affiliations.
About this article
Cite this article
Chundawat, N.S., Pathan, S., Singh, G.P. et al. Synthesis and characterization of chitosan pyridyl imine palladium (CPIP) complex as green catalyst for organic transformations. Chem. Pap. (2021). https://doi.org/10.1007/s11696-021-01526-w
Received:

Accepted:

Published:
Keywords
Chitosan

Pyridyl

Characterization

Palladium catalyst

Suzuki

Heck reaction

Reduction

Azo dye