Abstract
In recent years, there have been many attempts to reduce the cost of renewable energy storage conversion and devices. To resolve this problem, research works are mainly focused on supercapacitors (SCs), fuel cells, solar cells and also various types of organic batteries. Supercapacitors exhibit conspicuous properties of ability of storing energies, having notable power densities and fast charging and discharging. Electrochemical investigation of Tetra chlorobenzoxazolamine nickel phthalocyanine (NiTCBPc) composite with MWCNTs is done. The product can be structurally characterized by X-ray diffraction, Fourier transform infrared radiation and ultraviolet studies and thermal stability done by thermogravimetric method. The morphological studies done by Field emission scanning electron microscope method, electrochemical behaviour studied by cyclic voltammetry and galvanostatic charge and discharge method. Supercapacitive behaviour of NiTCBPc/GCE and NiTCBPc/MWCNTs/GCE has been studied and got an excellent specific capacitance of 262.4 Fg−1 and 378.25 Fg−1, respectively and with an energy density of 116.28 Wkg−1 and a tolerable cyclic stability up to 1000 continuous cycles. When compared NiTCBPc/GCE with the composites of NiTCBPc/MWCNTs/GCE, the composites of NiTCBPc/MWCNTs/GCE exhibited better supercapacitive behaviour.
Graphic abstract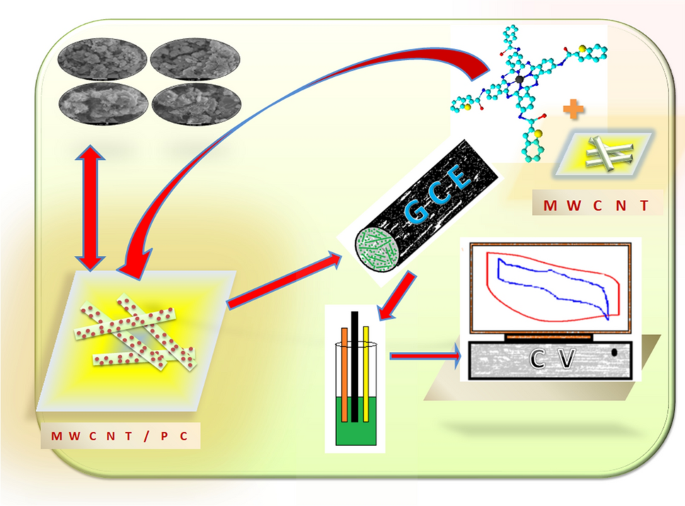 We're sorry, something doesn't seem to be working properly.
Please try refreshing the page. If that doesn't work, please contact support so we can address the problem.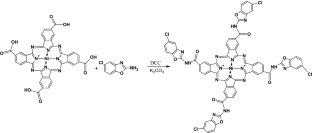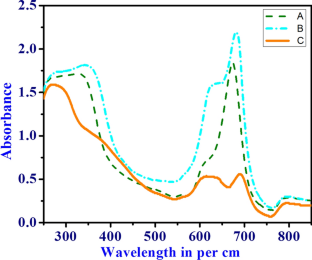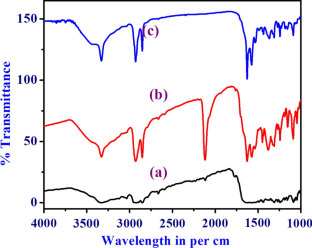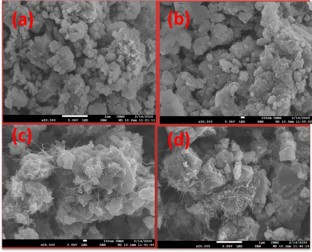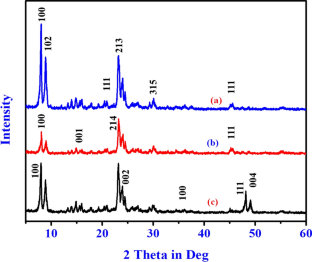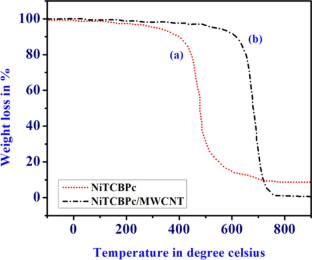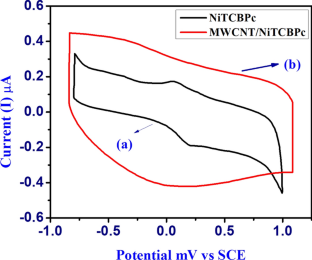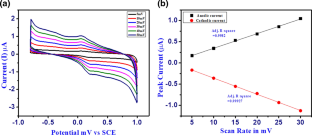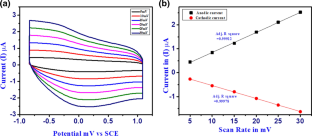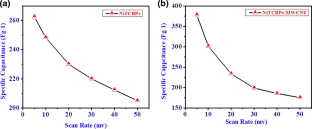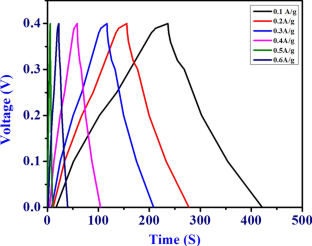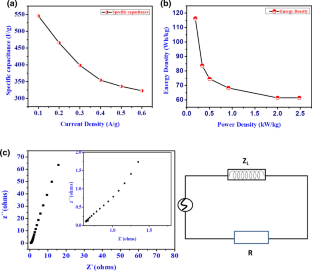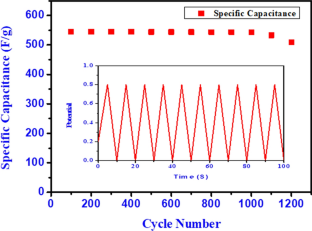 References
Achar BN, Lokesh KS (2004) Studies on tetra-amine phthalocyanines. J Organomet Chem 689(21):3357–3361

Andrzej L, Galinski M (2007) Practical theoretical limits for electrochemical double layer capacitors. J Power Sources 173(2):822–828

Babu Reddy LP, Megha R, Chetan B, Raj Prakash HG, Ravikiran YT, Ramana CHVV, Kim D (2018) Role of molybdenum trioxide in enhancing the humidity sensing performance of magnesium ferrite/molybdenum trioxide composite. Inorg Chem Commun 98:68–74. https://doi.org/10.1016/j.inoche.2018.10.007

Babu Reddy LP, Megha R, Raj Prakash HG, Ravikiran YT, Ramana CHVV, Vijayakumari SC, Kim D (2019) Copper ferrite-yttrium oxide (CFYO) nanocomposite as remarkable humidity sensor. Inorg Chem Commun 99:180–188. https://doi.org/10.1016/j.inoche.2018.11.024

Babu Reddy LP, Raj Prakash HG, Ravikiran YT, Ganiger SK, JagadeeshaAngadi V (2020) Structural and humidity sensing properties of niobium pentoxide-mixed nickel ferrite prepared by mechano chemical method. Mater Electron J Mater Sci. https://doi.org/10.1007/s10854-020-04701-z

Bahadoran F, Dialameh S (2005) Microwave assisted synthesis of substituted metallophthalocyanines and their catalytic activity in epoxidation reaction. J Porphyrins Phthalocyanines 9(3):163–169

Bahr JL, Tour JM (2002) Covalent chemistry of single-wall carbon nanotubes. J Mater Chem 12(7):1952–1958

Behnajady MA, Modirshahla N, Shokri M, Rad B (2008) Enhancement of photocatalytic activity Of Tio2 nanoparticles by silver doping photodeposition versus liquid impregnation methods. Global Nest J 10(1):1–7

Behzadi Pour G, FekriAval L, Mirazaee M (2018) Flexible grapheme supercapacitor based on the PVA electrolyte and BaTio3/PEDOT: composite separator. J Mater Sci Mater Electron 29:17432–17437. https://doi.org/10.1007/s10854-018-9842-1

BhvimaneSannaJilani M, Malathesh P, Mruthyunjayachari CD, Venugopala Reddy KR (2020) Cobalt (II) tetra methyl-quinoline oxy bridged phthalocyanine carbon nanoparticles modified glassy carbon electrode for sensing nitrite A voltammetric study. Mater Chem Phys 239:121920

Bohlen O, Kowal J, Sauer DrikUwe (2007) Ageing behaviour of electrochemical double layer capacitors part1 experimental study and ageing model. J Power Sources 172(1):468–475

Chen X, Chen K, Wang H, Song S, Xue D (2014) Crystallisation of Fe+3 in an alkaline aqueous pseudocapacitor system. Crystengcomm 16(29):6707–6715

Chen S, Huang Y, Huang J (2017) Novel preparation of multiwalled carbon nanotubes bacterial cellulose nanocomposite for phthalocyanine immobilization. Funct Mater Lett 10(4):1750038

Chidananda B, Venugopala Reddy KR, Harish MNK, Pradeep KM, Mruthyunjayachari CD, Ganesh SD (2014) Synthesis characterization novel interaction of dna antioxidant and antimicrobial studies of new water soluble metallophthalocyanines posture eight hydroxyphenyl moiety via 1,3,4-oxadiazole bridge. J Heterocyclic Chem 52(6):1782–17913

Chidembo AT, Ozoemena KL, Agboola BO, Gupta V, Wildgoose GG, Compton RGN (2010) Nickel(Ii) tetra-aminophthalocyanine modified MWCNTs as potential nanocomposite materials for the development of supercapacitors. Energy Environ Sci 3(2):228–236

Dai S, Xu W, Xi Y, Wang M, Gu X, Guo D, Hu C (2016) Charge storage in KCu7S as redox active material for a flexible all –solid state supercapacitor. Nano Energy 19:363–372

de la Torre G, Tomastorres WB (2003) A survey on the functionalisation of single walled nanotubes the clinical attachment of phthalocyanine moieties. Nanotechnology 14(7):765–771

Elouarzaki K, Haddad R, Holzinger M, Le Goff A, Thery J, Cosnier S (2014) MWCNTS supported phthalocyanine cobalt as air-breathing cathodic catalyst in glucose O2 fuel cells. J Power Sources 255:24–28

Erdogmuş A, Durmuş M, Ugur AL, Avciata O, Avciata U, Nyokong T (2010) Synthesis, photophysics photochemistry and fluorescence quenching studies on highly soluble substituted oxo titanium (Iv) phthalocyanine complexes. Synth Met 160(17–18):1868–1876

EyeleMezui S, Vialat P, Bourzami CR, Leuvrey C, Parizel N, Taurek P, Rabu P, Rogez G, Mousty C (2015) New metal phthalocyanine/metal simple hydroxide multilayers evidence of dipolar field driven magnetic behaviour. J Phys Chem C 119(23):13335–13342

Fan S, Chapline MG, Nathan R, Franklin TW, Cassel AM, Dai H (1999) Self oriented regular arrays of carbon nanotubes and their field emission properties. Science 283(5401):512–514

FekriAval L, Ghorannevis M, Behzadi Pour G (2018) Graphite nanoparticles paper supercapcitor based on gel electrolyte. Mater Renew Sustain Energy. https://doi.org/10.1007/s40243-018-0136-6

FekriAval L, Ghoranneviss M, Behzadi Pour G (2018) High- performance supercapacitors based on the carbon nanotubes, grapheme and graphite nanoparticles electrodes. Heliyon 4(11):e00862. https://doi.org/10.1016/j.heliyon.2018.e00862

FekriAval L, Ghoranneeviss M, Behzadi Pour G (2018a) High performance supercapacitors based on the carbon nanotubes. Graphene Gr Nanoparticles Electrodes Helion 4:E00862

Gerlach A, Hosokai T, Duhm S, Kera S, Hofmann OT, Zojer E, Zegenhagen J, Schreiber F (2011) Oriental ordering of nonpolar phthalocyanines on Cu(III) strength and orientation of the dipole moment. Physical Rev Lett 106(15):1561021–1561024

Ghazal B, Azizi K, Ewies EF, Youssef ASA, Mwalukuku VM, Demadrille R, Torres T, Makhseed S (2020) Push-pull zinc phthalocyanine bearing hexa-tertiary substituted carbazolyl donor groups for dye sensitized solar cells. Molecules 25(7):1692

Gok A, Orman EB, Salan E, Ozkaya AR, Bulut M (2016) Synthesis characterization and electrochemical properties of tetra 7-Oxy-3-biphenylcoumarin substituted metal-free zinc(II) cobalt(II) and indium(III) phthalocyanines. Dyes And Pigments 133:311–323

Hunt C, Mattejat M, Anderson C, Sepunaru L, Ménard G (2019) Symmetric phthalocyanine charge carrier for dual redox flow battery/capacitor applications. ACS Appl Energy Mater 2(8):5391–5396

Jilani BS, Malatesh P, Venugopala Reddy KR, Lokesh KS (2019) Simultaneous and sensitive detection of ascorbic acid in presence of dopamine using MWCNTSs-decorated cobalt (II) phthalocyanine modified GCE. Microchem J 147:755–763

Jin HG, Jiang X, Kühne IA, Clair S, Monnier V, Chendo C, Novitchi G, Powell AK, Kadish KM, Balaban TS (2017) Microwave-mediated synthesis of bulky lanthanide porphyrinphthalocyanine triple-deckers electrochemical and magnetic properties. Inorg Chem 56(9):4864–4873

Justin P, Meher SK, RangaRao G (2010) Tunning of capacitacce behaviour of nio using anionic cationic and non ionic surfactants by hydrothermal synthesis. J Phys Chem 114(11):5203–5210

Kim SS, Kim YR, Chung TD, Sohn BH (2014) Tunable decoration of reducedgraphene oxide with au nanoparticles for the oxygen reduction reaction. Adv Funct Mater 24:2764–2771

Klyamer D, AleksandrSukhikh NataliyaNikolaeva, Morozova N, Basova T (2020) VanadylPhthalocyanine films and their hybrid structures with Pd nanoparticles structure and sensing properties. Sensors 20(7):1893

Kotz R, Nahm KS, Park JK, Sun GQ, Xin Q (2006) Electrochemical energy conversion and storage. ElectrochimicaActa 52(4):1439–1824

Leelamaohanareddy A, Ramaprabhu S (2017) Nanocrystalline Metal Oxides Dispersed Multiwalled carbon nanotubes as supercapacitor electrodes. J Phys Chem 111(21):7727–7734

Li WJ, Chou SL, Wang JZ, Kang YM, Wang JL, Liu Y, Qin Fen Gu, Liu HK, Dou SX (2015) facile method to synthesize na enriched Na1+xFeFe(CN)6 frameworks as cathode with superior electrochemical performance for sodium-ion batteries. Chem Mater 7(24):1997–2003

Mirazaee M, Behzadi Pour G (2018) Design and Fabrication of Ultracapacitorbased on paper substrate and BaTiO3/PEDOT PSS Separator Film. Recent Patents Nanotechnol. https://doi.org/10.2174/1872210512666180925103431

Nieto CR, Garcia R, Angeles Herranz M, Ehli C, Ruppert M, Hirsch A, Guldi DM, Martin N (2012) Tetra thiafulvalene based nano tweezers noncovalent binding of carbon nanotubes in aqueous media with charge transfer implification. J Am Chem Soc 134(22):9183–9192

Niu Z, Zhang Y, Zhang Y, Xiuzhen Lu, Liu J (2020) Enhanced electrochemical performance of three dimensional graphene/ carbon nanotube composites for supercapacitor application. J Alloys Compd 820:153114

Nombona N, Tau P, Sehlotho N, Nyokong T (2008) Electrochemical and electrical properties of α substituted manganese and titanium phthalocyanines. ElectrochimicActa 53(7):3139–3148

Pan ZW, Xie SS, Lu L, Chang BH, Sun LF, Zhou WY, Wang G, Zhang DL (1999) Tensile tests of ropes of very long aligned multiwall carbon nanotubes. Appl Phys Lett 74(21):3152

Radi A, Eissa A, Wahdan T (2020) Electrocatalytic oxidation of zearalenone on cobalt phthalocyanine modified screen printed carbon electrode. Monatsh Chem 151:45–50

Rangaraji Satish K, Mergu N, Min KS, Son Y-A (2020) Electrochemical Photophysical and Theoretical Studies of Novel Zinc Phthalocyanines. J Nanosci Nanotechnol 20:5402–5410

Reddy VR (2020) Electrochemical Investigation of modified GCE onCarboxamide PEG2 Biotin CoPc using Composite MWCNTSs: sensitive detection for Glucose and Hydrogen Peroxide. New J Chem 44(8):3330–3340

Reddy VR (2020) Sensitive and reliable electrochemical detection of Nitrite and H2O2 Embellish-CoPc coupled with appliance of composite MWCNTSs. Anal Chim Acta 1108:98–107

SagarMitra SS (2004) Electrochemical capacitors based on exfoliated graphite electrodes. Electrochem Solid State Lett 7(9):264–268

Saka ETG, Biyiklioglu Z, Kantekin H (2014) Microwave-Assisted synthesis and characterization of Co(II) phthalocyanine and investigation of its catalytic activity on 4-nitrophenol Oxidation. Turkish J Chem 38:1166–1173

Salvo Comino C, Garcia Hernandez C, Garcia-Cabezon C, Rodriguez Mendez ML (2020) Promoting laccase sensing activity for catechol detection using LBL assemblies of chitosan ionic liquid/phthalocyanine as immobilization surfaces. Bioelectrochemistry 132:107407

Sharma M, Sundriya S, Panwar A, Gaur A (2018) Enhanced supercapacitive performance Of Ni 0.5 Mg 0.5 Co2O4 flowers and rods As an electrode material for high energy density supercapacitors rod morphology holds the key. J Alloys Compd 766:859–867

Siddeshwara DMK, Venkatesh T, Vishnu Mahesh KR, Mylarappa M, Anatharaju KS, Shravnakumara KN, Raghavendra N, Shivakumar MS (2017) Applications of electrochemical and photocatalytic studies. Mater Today 4(11):11799–11805

Song Ling YE, Huang JJ, Lin LUO, Huijun FU, Yuan Ming SUN, Yu Dong SHEN, Hong Tao LEI, Zhen XU (2017) Preparation of carbon dots and their application in food analysis as signal probe. Chin J Anal Chem 45(10):1571–1581

Wang Y, Hu N, Zhou Z, Xu D, Wang Z, Yang Z, Wei H, Kong SW, Zhang Y (2011) Single walled carbon nanotube/cobalt phthalocyanine derivative hybrid material: preparation characterization and its gas sensing properties. J Mater Chem 21(11):3779–3787

Wen Y, Wang B, Huang C, Wang L, Jurcakova DH (2015) Synthesis of phosphorus dopedgraphene and its wide potential window in aqueous supercapacitors. Chem Eur J 21(9):80–85

Xu J, Gao B, Huo KF, Chu PK (2020) Recent progress in electrode materials for nonaqueous lithium ion capacitors. J NanoSci Nanotechnol 20(5):2652–2667

Yan J, Khoo E, AfriyantiSumboja PS, Lee, (2010) Facile coating of manganese oxide on tin oxide nanowires with high performance capacitive behaviour. ACS Nano 4(7):4247–4255

Zagal JH, Guulppi MA, ChrstelleDepretz DominqueLelievre (1999) Synthesis and electrocatalytic properties of octaalkoxycobaltphthalocyanine for the oxidation of 2-mercaptoethanol. J Porphyrines Phthalocyanines 3:355–363

Zagal JH, Griveau S, Ozoemena KI, Nyokong T, Fethi B (2009) Carbon nanotubes phthalocyanines and porphyrins attractive hybrid materials for electrocatalysis and electroanalysis. J Nanosci Nanotechnol 9(4):2201–2214

Zai X, Duan Z, Chen W, Yu J, Fu Y (2019) Pyrolyzed Iron Phthalocyanine Modified Multi-walled Carbon Nanotubes as Composite Anode in Marine Sediment Microbial Fuel Cells and its Electrochemical Performance. J Ocean Univ China 18(6):1395–1401

Zhang Y, Feng H, Wu X, Wang L, Zhang A, Xia T, Huichao D, Xiaofeng L, Zhang L (2009) Progress Of Electrochemical Capacitor Electrode Materials. Int J Hydrog Energy. 34(11):4889–4899

Zhang Y, Feng H, Wu X, Wang L, Zhang A, Xia T, Huichao D, Xiaofeng L, Zhang L (2009) Progress of electrochemical capacitor electrode materials. Int J Hydrog Energy 34(11):4889–4899

Zhou Q, Gould RD (1998) The effects of oxygen doping and annealing on the surface and bulk electrical conductivity in planar copper phthalocyanine thin films for gas sensing applications. Thin Solid Films 317(1–2):432–435

Zia TUH, Khan AN, Hussain M, HassanGul IIH (2016) Enhancing dielectric and mechanical behaviours of hybrid polymer nanocomposites based on polystyrene polyaniline and carbon nanotubes coated with polyaniline. Chin J Polymer Sci 34(12):1500–1509
Acknowledgements
One of the author Praveen Kumar N Y thankful for financially support by the VGST (GRD No: 229), Government of Karnataka CISEE Project.
Ethics declarations
Conflict of interest
The authors declare that they have no known competing financial interests or personal relationships that could have appeared to influence the work reported in this paper.
Additional information
Publisher's Note
Springer Nature remains neutral with regard to jurisdictional claims in published maps and institutional affiliations.
About this article
Cite this article
Praveen Kumar, N.Y., Mounesh, M., Sharanakumar, T.M. et al. Tetra chlorobenzoxazolamine nickel (II) phthalocyanine supercapacitor with aqueous electrolyte and MWCNTs. Chem. Pap. (2021). https://doi.org/10.1007/s11696-021-01523-z
Received:

Accepted:

Published:
Keywords
NiTCBPc

Cvs

Supercapacitor

FESEM

Mwcnts