Abstract
Room Temperature Ionic liquids (RTIL) are molten salts that are liquid at around room temperature and consist of asymmetric anions and cations. Low volatility and wide electrochemical potential behaviour of RTIL make them preferable in reaction synthesis and electrochemical applications. In this study, cobalt was electrochemically deposited on an inexpensive stainless steel mesh substrate. The resultant modified electrode was studied for supercapacitor applications by measuring its capacitance performance. Choline chloride and ethylene glycol-based ionic liquid called Ethaline was used as the deposition electrolyte, and the ionic liquid was contained a cobalt salt (CoCl2) for cobalt growth. The deposition conditions of cobalt in Ethaline ionic liquid were found by cyclic voltammogram study. The cobalt in an ionic liquid was obtained by applying − 1.50 V potential on the stainless steel mesh by potentiostatic method. The uncoated and cobalt-coated steel mesh electrodes were then tested in KOH electrolyte to find appropriate potential window of the modified electrode. The cobalt-based material coated mesh electrode was scanned in 1 M KOH electrolyte between − 0.20 and 0.60 V and reported to have high electrochemical activity than uncoated mesh. The surface morphology of coated and uncoated mesh electrode was examined. Electrochemical characterizations of modified mesh electrodes were investigated using cyclic voltammetry. As a result, the obtained cobalt-coated mesh electrode had an areal capacitance of 650 mF cm−2 at scan rate of 5 mV s−1. The cobalt-coated steel mesh electrode may have potential application in OH−-based electrolyte for energy storage devices.
Access options
Buy single article
Instant access to the full article PDF.
US$ 39.95
Tax calculation will be finalised during checkout.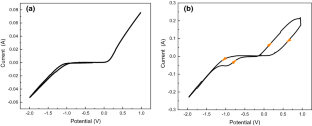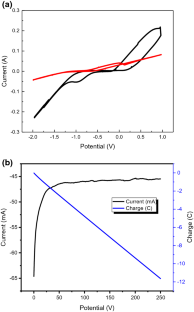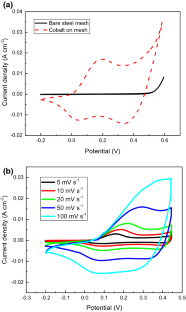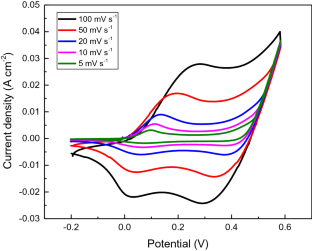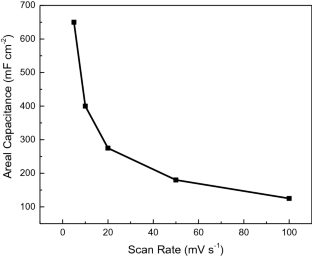 References
Abas A, Sheng H, Ma Y, Zhang X, Wei Y, Su Q, Lan W, Xie E (2019) PEDOT: PSS coated CuO nanowire arrays grown on Cu foam for high-performance supercapacitor electrodes. J Mater Sci Mater Electron 30:10953–10960

Abbott AP, Alhaji AI, Ryder KS, Horne M, Rodopoulos T (2016) Electrodeposition of copper–tin alloys using deep eutectic solvents. Trans IMF 94(2):104–113

Abbott AP, Capper G, McKenzie KJ, Ryder KS (2006) Voltammetric and impedance studies of the electropolishing of type 316 stainless steel in a choline chloride based ionic liquid. Electrochim Acta 51(21):4420–4425

Abbott AP, McKenzie KJ (2006) Application of ionic liquids to the electrodeposition of metals. Phys Chem Chem Phys 8(37):4265–4279

Alesary HF, Cihangir S, Ballantyne AD, Harris RC, Weston DP, Abbott AP, Ryder KS (2019) Influence of additives on the electrodeposition of zinc from a deep eutectic solvent. Electrochim Acta 304:118–130

Boota M, Paranthaman MP, Naskar AK, Li Y, Akato K, Gogotsi Y (2015) Waste tire derived carbon-polymer composite paper as pseudocapacitive electrode with long cycle life. Chemsuschem 8(21):3576–3581. https://doi.org/10.1002/cssc.201500866

Boukhalfa S, Evanoff K, Yushin G (2012) Atomic layer deposition of vanadium oxide on carbon nanotubes for high-power supercapacitor electrodes. Energy Environ Sci 5(5):6872–6879

Cai YM, Qin ZY, Chen L (2011) Effect of electrolytes on electrochemical properties of graphene sheet covered with polypyrrole thin layer. Prog Nat Sci Mater Int 21(6):460–466. https://doi.org/10.1016/S1002-0071(12)60083-5

Chen H, Wei Z, Zheng X, Yang S (2015) A scalable electrodeposition route to the low-cost, versatile and controllable fabrication of perovskite solar cells. Nano Energy 15:216–226

Chen K, Xue D (2016) Colloidal supercapacitor electrode materials. Mater Res Bull 83:201–206

Chen L, Zeng J, Guo M, Xue R, Deng R, Zhang Q (2020) Deep eutectic solvent-assisted in-situ synthesis of nanosheet-packed Ni3S2 porous spheres on Ni foam for high performance supercapacitors. J Colloid Interface Sci 583:594–604

Chodankar NR, Dubal DP, Kwon Y, Kim DH (2017) Direct growth of FeCo2O4 nanowire arrays on flexible stainless steel mesh for high-performance asymmetric supercapacitor. NPG Asia Mater 9(8):e419. https://doi.org/10.1038/am.2017.145

Dharaskar SA (2012) Ionic liquids (a review): the green solvents for petroleum and hydrocarbon industries. Res J Chem Sci 2(8):80–85

Godillot G, Guerlou-Demourgues L, Taberna PL, Simon P, Delmas C (2011) Original conductive nano-Co3O4 investigated as electrode material for hybrid supercapacitors. Electrochem Solid-State Lett 14(10):A139. https://doi.org/10.1149/1.3609259

Guerrero MA, Romero E, Barrero F, Milanes MI, Gonzalez E (2009) Supercapacitors: alternative energy storage systems. Prz Elektrotech 85(10):188–195

Hiralal P, Wang H, Unalan HE, Liu Y, Rouvala M, Wei D, Andrew P, Amaratunga GAJ (2011) Enhanced supercapacitors from hierarchical carbon nanotube and nanohorn architectures. J Mater Chem 21(44):17810–17815

Kuo S, Wu N (2003) Composite supercapacitor containing tin oxide and electroplated ruthenium oxide. Electrochem Solid-State Lett 6(5):A85. https://doi.org/10.1149/1.1563872

Li W, Chen D, Li Z, Shi Y, Wan Y, Wang G, Jiang Z, Zhao D (2007) Nitrogen-containing carbon spheres with very large uniform mesopores: the superior electrode materials for EDLC in organic electrolyte. Carbon 45(9):1757–1763

Liu L, Wang X, Zhang X, Zhang X, Chen S (2019a) Ionic liquid electrodeposition of Ge nano-film on Cu wire mesh as stable anodes for lithium-ion batteries. Ionics 26:2225–2231

Liu X, Wang J, Yang G (2018) In situ growth of the Ni3V2O8@ PANI composite electrode for flexible and transparent symmetric supercapacitors. ACS Appl Mater Interfaces 10(24):20688–20695

Liu Y, Wang Y, Nie Y, Wang C, Ji X, Zhou L, Pan F, Zhang S (2019b) Preparation of MWCNTs-graphene-cellulose fiber with ionic liquids. ACS Sustain Chem Eng 7(24):20013–20021

Lobiak EV, Bulusheva LG, Fedorovskaya EO, Shubin YV, Plyusnin PE, Lonchambon P, Senkovskiy BV, Ismagilov ZR, Flahaut E, Okotrub AV (2017) One-step chemical vapor deposition synthesis and supercapacitor performance of nitrogen-doped porous carbon–carbon nanotube hybrids. Beilstein J Nanotechnol 8(1):2669–2679

Mele A, Tran CD, De Paoli Lacerda SH (2003) The structure of a room-temperature ionic liquid with and without trace amounts of water: the role of C-H⋯O and C-H⋯F interactions in 1-n-butyl-3-methylimidazolium tetrafluoroborate. Angew Chem 115(36):4500–4502

Meng S, Mo Z, Li Z, Guo R, Liu N (2019) Binder-free electrodes based on Mn3O4/γ-MnOOH composites on carbon cloth for supercapacitor application. J Solid State Chem 274:134–141

Nayak S, Soam A, Nanda J, Mahender C, Singh M, Mohapatra D, Kumar R (2018) Sol–gel synthesized BiFeO3–graphene nanocomposite as efficient electrode for supercapacitor application. J Mater Sci Mater Electron 29(11):9361–9368

Safavi A, Kazemi SH, Kazemi H (2011) Electrochemically deposited hybrid nickel-cobalt hexacyanoferrate nanostructures for electrochemical supercapacitors. Electrochim Acta 56(25):9191–9196. https://doi.org/10.1016/j.electacta.2011.07.122

Shukla AK, Sampath S, Vijayamohanan K (2000) Electrochemical supercapacitors: energy storage beyond batteries. Curr Sci 79(12):1656–1661

Simon P, Gogotsi Y (2010) Materials for electrochemical capacitors. Nanoscience and technology: a collection of reviews from nature journals. World Scientific, Singapore, pp 320–329

Smolin YY, Van Aken KL, Boota M, Soroush M, Gogotsi Y, Lau KKS (2017) Engineering ultrathin polyaniline in micro/mesoporous carbon supercapacitor electrodes using oxidative chemical vapor deposition. Adv Mater Interfaces 4(8):1601201

Vastag G, Shaban A, Vraneš M, Tot A, Belić S, Gadžurić S (2018) Influence of the N-3 alkyl chain length on improving inhibition properties of imidazolium-based ionic liquids on copper corrosion. J Mol Liq 264:526–533

Vattikuti SP, Nagajyothi PC, Anil Kumar Reddy P, Kotesh Kumar M, Shim J, Byon C (2018) Tiny MoO3 nanocrystals self-assembled on folded molybdenum disulfide nanosheets via a hydrothermal method for supercapacitor. Mater Res Lett 6(8):432–441

Wang Y, Guo J, Wang T, Shao J, Wang D, Yang YW (2015) Mesoporous transition metal oxides for supercapacitors. Nanomaterials 5(4):1667–1689. https://doi.org/10.3390/nano5041667

Wei W, Cui X, Chen W, Ivey DG (2011) Manganese oxide-based materials as electrochemical supercapacitor electrodes. Chem Soc Rev 40(3):1697–1721

Xu K, Ma S, Shen Y, Ren Q, Yang J, Chen X, Hu J (2019) CuCo2O4 nanowire arrays wrapped in metal oxide nanosheets as hierarchical multicomponent electrodes for supercapacitors. Chem Eng J 369:363–369

Yavuz A, Kaplan K, Bedir M (2019) Annealing of electrodeposited nickel on low carbon steel for supercapacitor applications. Dig J Nanomater Biostructures 14(4):1061–1068

Yu J, Wu J, Wang H, Zhou A, Huang C, Bai H, Li L (2016) Metallic fabrics as the current collector for high-performance graphene-based flexible solid-state supercapacitor. ACS Appl Mater Interfaces 8(7):4724–4729

Zang X, Li P, Chen Q, Wang K, Wei J, Wu D, Zhu H (2014) Evaluation of layer-by-layer graphene structures as supercapacitor electrode materials. J Appl Phys 115(2):24305

Zein El Abedin S, Endres F (2007) Ionic liquids: the link to high-temperature molten salts? Acc Chem Res 40(11):1106–1113

Zhang K, Zhang LL, Zhao XS, Wu J (2010) Graphene/polyaniline nanofiber composites as supercapacitor electrodes. Chem Mater 22(4):1392–1401

Zhang X, Gao M, Tong L, Cai K (2019) Polypyrrole/nylon membrane composite film for ultra-flexible all-solid supercapacitor. J Materiomics 6(2):339–347

Zhao T, Jiang H, Ma J (2011) Surfactant-assisted electrochemical deposition of α-cobalt hydroxide for supercapacitors. J Power Sources 196(2):860–864. https://doi.org/10.1016/j.jpowsour.2010.06.042

Zhou WJ, Xu MW, Zhao DD, Xu CL, Li HL (2009) Electrodeposition and characterization of ordered mesoporous cobalt hydroxide films on different substrates for supercapacitors. Micropor Mesopor Mat 117(1–2):55–60. https://doi.org/10.1016/j.micromeso.2008.06.004
Acknowledgement
Perihan Yilmaz Erdogan and Naime Ozdemir wish to thank YOK-Turkey for 100/2000 scholarship program.
Additional information
Publisher's Note
Springer Nature remains neutral with regard to jurisdictional claims in published maps and institutional affiliations.
About this article
Cite this article
Erdogan, P.Y., Yavuz, A., Ozdemir, N. et al. Synthesis of CoOx from ethaline on a stainless steel mesh for supercapacitor applications. Chem. Pap. (2021). https://doi.org/10.1007/s11696-021-01512-2
Received:

Accepted:

Published:
Keywords
Electrodeposition

Supercapacitor

Ionic liquid

Stainless steel mesh