Abstract
Liver cancer is one of the most important cancers that easily affects many organs in the body. Valproate is a well-known branched fatty acid and is commonly used as an antiepileptic in liver cancer therapy. Similar to many drugs, this chemical drug can induce fulminant liver failure in patients with liver cancer. So, finding new therapeutic agents with fewer side effects is of great attention. This study explains synthesis and characterization of a new effective nanocatalyst ZnO@SiO2–NH2, which can be a suitable candidate for valproate. The prepared nanocatalyst was characterized by FT-IR, TEM, XRD and FE-SEM and formation of the desired nanoparticles with a medium grain size of 70–90 nm is justified. Then, the synthesized nanocatalyst is checked in the multi-component synthesis of some important model drugs involving substituted 2-aminothiophenes, as effective compounds against human liver cancer. The present methodology showed good generality and wide scope, nearly short span of time, good yield, easy workup and environmental friendly conditions for the preparation of the target compounds. At the final part of this study, the in vitro cytotoxicity potential of the prepared nanoparticle is investigated against a well-known human cancer cell line HepG2 via the MTT assay. The experiments reveal that ZnO@SiO2–NH2 nanoparticles have significant cytotoxicity towards the selected cell line. As a result, although ZnO@SiO2–NH2 can be used to treat liver cancer cells, however, this nanoparticle can be utilized to synthesize 2-aminothiophenes, as effective anti-liver cancer drugs like valproate.
Access options
Buy single article
Instant access to the full article PDF.
US$ 39.95
Tax calculation will be finalised during checkout.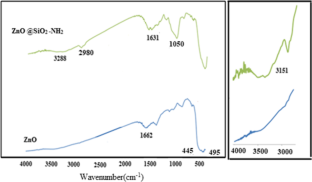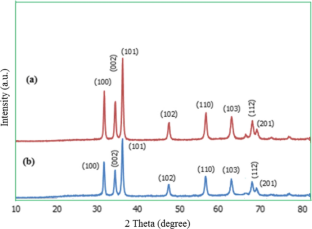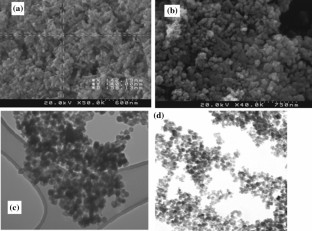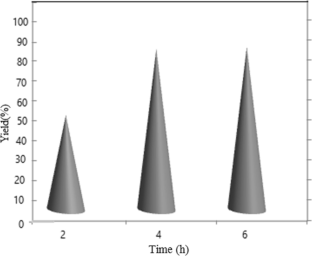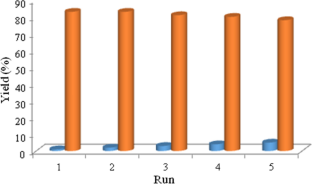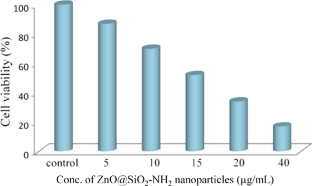 References
Anirudh BV, Ezhilarasan D (2020) Reactive oxygen species-mediated mitochondrial dysfunction triggers sodium valproate-induced cytotoxicity in human colorectal adenocarcinoma cells. J Gastrointest Cancer. https://doi.org/10.1007/s12029-020-00505-w

Anwanwan D, Singh SK, Singh S, Saikam V (1873) Singh R (2020) Challenges in liver cancer and possible treatment approaches. BiochimBiophysActa Rev Cancer 1:188314

Bai R, Liu P, Yang J, Liu C, Gu Y (2015) Facile synthesis of 2-aminothiophenes using NaAlO2 as an eco-effective and recyclable catalyst. ACS Sustain ChemEng 3(7):1292–1297

Balagura G, Iapadre G, Verrotti A, Striano P (2019) Moving beyond sodium valproate: choosing the right anti-epileptic drug in children. Expert OpinPharmacother 20:1449–1456

Benchaabane A, Hajlaoui ME, Hnainia N, Al-Tabbakh A, Zeinert A, Bouchriha H (2020) Optical properties enhancement of hybrid nanocomposites thin films based on P3HT matrix and ZnO@SiO2 core-shell nanoparticles. Opt Mater 102:109829

Bozorov K, Nie LF, Zhao J, Aisa HA (2017) 2-Aminothiophene scaffolds: diverse biological and pharmacological attributes in medicinal chemistry. Eur J Med Chem 140:465–493

Erfaninia N, Tayebee R, Foletto EL, Amini MM, Dusek M, Zonoz FM (2018) Preparation of magnetically recyclable ZnFe2O4 nanoparticles by easy single-step co-precipitation method and their catalytic performance in the synthesis of 2-aminothiophenes. ApplOrganometChem 32(2):e4047

Hu C, Hu X, Li R, Xing Y (2020) MOF derived ZnO/C nanocomposite with enhanced adsorption capacity and photocatalytic performance under sunlight. J Hazard Mater 385:121599

Hwang J, Borgelt L, Wu P (2020) Multicomponent Petasis reaction for the synthesis of functionalized 2-aminothiophenes and thienodiazepines. ACS Comb Sci 22(10):495–499

Jain A, Haque I, Tayal V, Roy V (2019) Valproic acid-induced acute pancreatitis. Indian J Psychiatry 61(4):421–422

Javadi F, Tayebee R (2016) Preparation and characterization of ZnO/nanoclinoptilolite as a new nanocomposite and studying its catalytic performance in the synthesis of 2-aminothiophenes via Gewald reaction. MicroporousMesoporous Mater 231:100–109

Ji C, Ren F, Ma H, Xu M (2010) The roles of p38MAPK and caspase-3 in DADS-induced apoptosis in human HepG2 cells. J Exp Clin Cancer Res 29(1):50

Khalifa ME, Algothami WM (2020) Gewald synthesis, antitumor profile and molecular modeling of novel 5-acetyl-4-((4-acetylphenyl)amino)-2-aminothiophene-3-carbonitrile scaffolds. J MolStruct 1207:127784

Klingshrin C (2007) ZnO: material, physics and applications. ChemPhysChem 8:782

Li B, Tayebee R, Esmaeili E, Namaghi MS, Maleki B (2020) Selective photocatalytic oxidation of aromatic alcohols to aldehydes with air by magnetic WO3ZnO/Fe3O4. In situ photochemical synthesis of 2-substituted benzimidazoles. RSC Adv 10(67):40725

Mishra YK, Adelung R (2018) ZnO tetrapod materials for functional applications. Mater Today 21(6):631–651

Mohamed AA, Abu-Elghait M, Ahmed NE, Salem SS (2020) Eco-friendly mycogenic synthesis of ZnO and CuO nanoparticles for in vitro antibacterial, antibiofilm, and antifungal applications. Biol Trace Elem Res. https://doi.org/10.1007/s12011-020-02369-4

Mosmann T (1983) Rapid colorimetric assay for cellular growth and survival: application to proliferation and cytotoxicity assays. J Immunol Methods 65(1–2):55–63

Parvulescu VI (2020) Advances in heterogeneous catalysis: concepts of nanocatalysis and single-atom catalysis. In: Sudarsanam P, Singh L (eds) Advanced heterogeneous catalysts, volume 1: applications at the nano-scale. American Chemical Society, Washington, pp 1–49

Rajagopal R, Jyothi T, Daniel T, Srinivasan K, Rao B (2001) Calcined Mg–Al hydrotalcite as a heterogeneous base catalyst for Gewaldaminothiophene synthesis. SynCommun 31:3113–3117

Rezaei-Seresht E, Tayebee R, Yasemi M (2013) KG-60-piperazine as a new heterogeneous catalyst for Gewald three-component reaction. SynCommun 43(13):1859–1864

Rithanya P, Ezhilarasan D (2020) Sodium valproate, a histone deacetylase inhibitor, provokes reactive oxygen species-mediated cytotoxicity in human hepatocellular carcinoma cells. J Gastrointest Cancer 2020(3):1–7

Saadati-Moshtaghin HR, Maleki B, Tayebee R, Kahrobaei S, Abbasinohoji F (2020) 6-methylguanamine-Supported CoFe2O4: An efficient catalyst for one-pot three-component synthesis of isoxazol-5(4H)-one derivatives. Polycyclic Aromat Compd 2020(2):1–2

Shah R, Verma PK (2019) Synthesis of thiophene derivatives and their anti-microbial, antioxidant, anticorrosion and anticancer activity. BMC Chem 13(1):54

Siddiqui MA, Singh G, Kashyap MP, Khanna VK, Yadav S, Chandra D, Pant AB (2008) ToxicolIn Vitro 22:1681

Tantray AM, Shah MA (2020) Photo electrochemical stability response of ZnOnanoflowers fabricated through single step electrochemical anodization. Chem Pap. https://doi.org/10.1007/s11696-020-01419-4

Tayebee R, Nasr AH (2020) Studying adsorption and detoxification of sulfur mustard chemical warfare onto ZnO nanostructures. J MolLiq 319:114357

Tayebee R, Ahmadi SJ, RezaeiSeresht E, Javadi F, Yasemi MA, Hosseinpour M (2012) Commercial zinc oxide: a facile, efficient, and eco-friendly catalyst for the one-pot three-component synthesis of multisubstituted 2-aminothiophenes via the Gewald reaction. IndEngChem Res 51:14577–14582

Thomas J, Jana S, Sonawane M, Fiey B, Balzarini J, Liekens S, Dehaen W (2017) A new four-component reaction involving the Michael addition and the Gewald reaction, leading to diverse biologically active 2-aminothiophenes. Org BiomolChem 15(18):3892–3900

Wang C, Vegna S, Jin H, Benedict B, Lieftink C, Ramirez C, de Oliveira RL, Morris B, Gadiot J, Wang W, du Chatinier A (2019) Inducing and exploiting vulnerabilities for the treatment of liver cancer. Nature 574(7777):268–272

Xie X, Zhang L, Zhang W, Tayebee R, Hoseininasr A, Vatanpour HH, Behjati Z, Li S, Nasrabadi M, Liu L (2020) Fabrication of temperature and pH sensitive decorated magnetic nanoparticles as effective biosensors for targeted delivery of acyclovir anti-cancer drug. J MolLiq 309:113024

Younus HA, Al-Rashida M, Hameed A, Uroos M, Salar U, Rana S, Khan KM (2020) Multicomponent reactions (MCR) in medicinal chemistry: a patent review (2010–2020). Expert Opin Ther Patents 2020(29):1–23
Funding
The Project Supported By Planned Self-Financing Foundation of Baoding Science And Technology 2019 (1941ZF087).
Ethics declarations
Conflict of interest
On behalf of all authors, the corresponding author states that there is no conflict of interest.
Additional information
Publisher's Note
Springer Nature remains neutral with regard to jurisdictional claims in published maps and institutional affiliations.
About this article
Cite this article
Gao, F., Yang, J., Geng, Y. et al. Green synthesis of biologically important 2-aminothiophenes by the mediation of ZnO@SiO2–NH2 nanoparticle as an important anti-liver cancer alternative for valproate. Chem. Pap. (2021). https://doi.org/10.1007/s11696-021-01509-x
Received:

Accepted:

Published:
Keywords
ZnO@SiO2–NH2

Multi-component

Nanoparticles

Anti-liver cancer

Valproate

HepG2

MTT assay