Abstract
The regularities of the influence of the colloid-chemical state on the analytical signal of cationic surfactants in solutions of associates with the counterion have been investigated. These studies have carried out to create rational conditions for the determination of organic cations using analytical systems with reduced influence of colloidal aggregation of analytical forms. The significant influence of turbidity of solutions on the magnitude of the fluorescence and spectrophotometry analytical signal of cationic surfactants in the association reaction with eosin Y and the accuracy of its measurement has been shown. Herewith, the maximum value of turbidity corresponds to the formation of the reagent–cationic surfactant electroneutral associate and the minimum value of turbidity coincides with the formation of the charged associate. It has been shown that the minimal turbidity of aqueous solutions of reagent–cationic surfactant associates of different hydrophobicity corresponds to the formation of associates of the smallest size. The influence of the colloid-chemical state on the analytical signal of cationic surfactants in solutions of associates with the reagent in the presence of Triton X-100 has been investigated to eliminate the negative effects of colloidal aggregation. The non-ionic surfactant concentration dependences made it possible to trace the largest changes of the scattering factor when adding Triton X-100 to the solution in the field of stoichiometric molar ratios of the associate's components. It has been found that non-ionic surfactants of the Triton X-100 type eliminate the influence of turbidity and scattering factor on the analytical signal of cationic surfactants.
This is a preview of subscription content, log in to check access.
Access options
Buy single article
Instant access to the full article PDF.
US$ 39.95
Price includes VAT for USA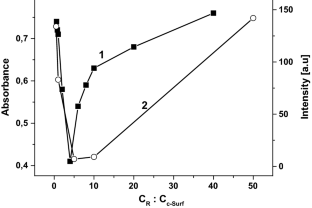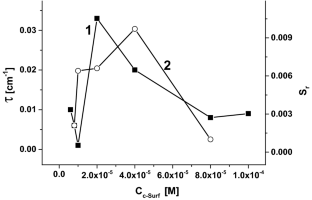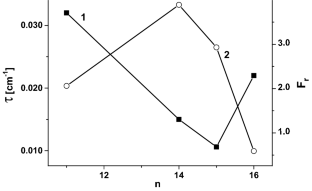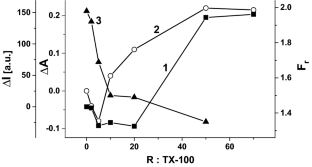 References
Aveyard B (2019) Surfactants: in solution, at interfaces and in colloidal dispersions. University Press, Oxford

Azuma N, Ruba M, Asiri A, Bawazeer W (2017) Micellar and interfacial properties of amphiphilic drug–non-ionic surfactants mixed systems: surface tension, fluorescence and UV–vis studies. Colloids Surf A 522:183–192. https://doi.org/10.1016/j.colsurfa.2017.02.093

Bkhaitan M, Mirza A (2018) Spectrophotometric method for determination of meclizine in pure and dosage form via ion pair complex formation using eosin Y. Curr Pharm 14:95–100. https://doi.org/10.2174/1573412912666161024145837

Bogatyrev VA, Shchyogolev SY, Dykman LA, Shkodina OG, Ptitchkina NM (1998) Supramolecular structure of gel-forming systems of pectins of different origin. Food Hydrocoll 12:309–312. https://doi.org/10.1016/S0268-005X(98)00019-8

Brycki B, Kowalczyk IH, Szulc A, Kaczerewska O, Pakiet M (2017) Multifunctional gemini surfactants: structure, synthesis, properties and applications. Appl Charact Surfactants 4:97–156. https://doi.org/10.5772/intechopen.68755

Burmistrova N, Mushtakova S, Shtykov S, Kozhina L, Rodnikova V (2001) Physicochemical and analytical properties of surfactant-modified redox reagents of the diphenylamine series. J Anal Chem 56:651–657. https://doi.org/10.1023/A:1016796306656

Chaiyamate P, Seebunrueng K, Srijaranai S (2018) Vortex-assisted low density solvent and surfactant based dispersive liquid–liquid microextraction for sensitive spectrophotometric determination of cobalt. RSC Adv 8:7243–7251. https://doi.org/10.1039/C7RA11896A

Chakraborty M, Panda AK (2011) Spectral behaviour of eosin Y in different solvents and aqueous surfactant media. Spectrochim Acta A 81:458–465. https://doi.org/10.1016/j.saa.2011.06.038

Clint J (2012) Surfactant aggregation. Springer, Netherlands

De S, Das S, Girigoswami A (2005) Environmental effects on the aggregation of some xanthene dyes used in lasers. Spectrochim Acta A 61:1821–1833. https://doi.org/10.1016/j.saa.2004.06.054

den Engelsman J, Garidel P, Smulders R, Koll H, Smith B, Bassarab S, Seidl A, Hainzl O, Jiskoot W (2010) Strategies for the assessment of protein aggregates in pharmaceutical biotech product development. Pharm Res 28:920–933. https://doi.org/10.1007/s11095-010-0297-1

Hao X, Lei Lei J, Li NB, Luo HQ (2014) An electrochemical sensor for sodium dodecylsulfate detection based on anion exchange using eosin Y/polyethyleneimine modified electrode. Anal Chim Acta 852:63–68. https://doi.org/10.1016/j.aca.2014.09.012

Hu M, Wang X, Wang H, Chai Y, He Y, Song G (2011) Fluorescence spectroscopic studies on the interaction of Gemini surfactant 14–6-14 with bovine serum albumin. J Lumin 27:204–210. https://doi.org/10.1002/bio.1333

Kaliszczaka W, Nosal-Wiercińska A (2018) The importance of the active complexes of 6-mercaptopurine with Bi(III) with regards to kinetics and electrode mechanism changes in the presence of non-ionic surfactants. J Electroanal Chem 828:108–115. https://doi.org/10.1016/j.jelechem.2018.09.026

Kamaya M, Sugimoto H, Yamaguchi Y (2014) A simple and rapid method for the detection of non-ionic surfactants. Am J Anal Chem 5:1121–1128. https://doi.org/10.4236/ajac.2014.516119

Kangas MJ, Ernest A, Lukowicz R, Mora AV, Quossi A, Perez M, Kyes N, Holmes AE (2018) The identification of seven chemical warfare mimics using a colorimetric array. Sensors 18:4291–4298. https://doi.org/10.3390/s18124291

Klenyn V, Shchepolev S, Lavrushyn V (1977) Characteristic functions of light scattering of dispersed systems. Yzd-vo Saratov un-ta, Saratov

Klovak V, Kulichenko S, Lelyushok S, Zaporozhets O (2019a) Fluorescence characteristics of rhodamine 6G and rhodamine C in water-micellar surfactant environments. Ukr Chem J 85:84–95. https://doi.org/10.33609/0041-6045.85.11.2019.84-95(in Ukrainian)

Klovak V, Lelyushok S, Ischenko M (2017) The micellar extraction preconcentration of Pb(II) with Sulfarsazen into the phase of non-ionic surfactant Triton X-100. Methods Objects Chem Anal 12:140–144. https://doi.org/10.17721/moca.2017.140-144

Klovak V, Nechpai L, Lelyushok S, Kulichenko S, Zaporozhets O (2019b) Fluorescence characteristics of associates of eosin Y with cationic surfactants in water-micellar systems of Triton X-100. Dopov Nac akad nauk Ukr 10:74–81. https://doi.org/10.15407/dopovidi2019.10.074

Lee D (2016) Alternatives to p-value: confidence interval and effect size. Korean J Anesthesiol 69:555–562. https://doi.org/10.4097/kjae.2016.69.6.555

Mchedlov-Petrosian N, Lebed A, Lebed V (2009) Colloidal surfactants, 2nd edn. Karazin Kharkiv National University, Kharkiv

Miller AC (2008) Solubilization in Surfactant Systems. Birdi KS. Handbook of Surface and Colloid Chemistry. CRC Press, Boca Raton, FL, pp 511–539

Myers D (2006) Surfactant science and technology, 3rd edn. Wiley, Hoboken

Rhein LD (2007) Surfactants in personal care products and decorative cosmetics, 3rd edn. CRC Press, Boca Raton

Richmond J (1990) Cationic surfactants: organic chemistry. M. Dekker, New York

Savvin S, Shtykov S, Mikhailova A (2006) Organic reagents in spectrophotometric methods of analysis. Russian Chem Rev 75:380–389. https://doi.org/10.1070/RC2006v075n04ABEH001189

Shrivas K, Sahu S, Ghorai A, Shankar R (2016) Gold nanoparticles-based colorimetric determination of cationic surfactants in environmental water samples via both electrostatic and hydrophobic interactions. Microchim Acta 183:827–836. https://doi.org/10.1007/s00604-015-1689-z

Strelkova K, Varygina O, Chernova R, Koblova O, Kostritsky A (2017) On interaction of synthetic food dye E133 with cetylpiridinium cations. Izv Saratov Univ 17:376–381. https://doi.org/10.18500/1816-9775-2017-17-4-376-381

Sun CK, Kao CT, Wei ML, Chia SH, Kärtner FX, Ivanov A, Liao YH (2019) Slide-free imaging of hematoxylin-eosin stained whole-mount tissues using combined third-harmonic generation and three-photon fluorescence microscopy. J Biophotonics 12:1–15. https://doi.org/10.1002/jbio.201800341

Zdziennicka A, Szymczyk K, Krawczyk J, Jańczuk B (2012) Critical micelle concentration of some surfactants and thermodynamic parameters of their micellization. Fluid Phase Equilibr 322–323:126–134. https://doi.org/10.1016/j.fluid.2012.03.018

Zhang D (2016) A coefficient of determination for generalized linear models. Am Stat 71:310–316. https://doi.org/10.1080/00031305.2016.1256839

Zhang Q, Kim D, Li L, Patel S, Duhamel J (2019) Surfactant structure-dependent interactions with modified starch nanoparticles probed by fluorescence spectroscopy. Langmuir 35:3432–3444. https://doi.org/10.1021/acs.langmuir.8b03794

Zolgharnein J, Bagtash M, Shariatmanesh T (2015) Simultaneous removal of binary mixture of Brilliant Green and Crystal Violet using derivative spectrophotometric determination, multivariate optimization and adsorption characterization of dyes on surfactant modified nano-γ-alumina. Spectrochim Acta A 137:1016–1028. https://doi.org/10.1016/j.saa.2014.08.115
Ethics declarations
Conflict of interest
On behalf of all authors, the corresponding author states that there is no conflict of interest.
Additional information
Publisher's Note
Springer Nature remains neutral with regard to jurisdictional claims in published maps and institutional affiliations.
About this article
Cite this article
Klovak, V., Kulichenko, S. & Lelyushok, S. Influence of colloid-chemical state of solutions on fluorescence and spectrophotometry analytical signals of surfactants in reaction with eosin Y. Chem. Pap. (2020). https://doi.org/10.1007/s11696-020-01245-8
Received:

Accepted:

Published:
Keywords
Fluorescence

Spectrophotometry

Turbidity

Cationic surfactant

Triton X-100

Associate